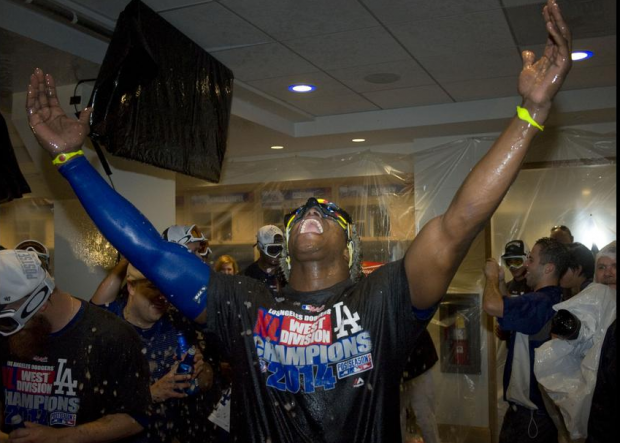 Dodgers 9, Giants 1: The Dodgers clinch. Clayton Kershaw was amazing, of course, striking out 11 and allowing one in eight innings. He also hit an RBI triple to tie the game in the 5th. Yasiel Puig homered and took a bases loaded walk. Clearly he's dangerous to the Dodgers and will be their downfall. Kershaw finishes the season 21-3 with a 1.77 ERA and 231 strikeouts and 31 walks in 198.1 innings. Those are silly, video game numbers. They'll certainly give him the Cy Young Award. They may give him the MVP.
Orioles 9, Yankees 5: The Yankees are eliminated. And, depending on what Mother Nature has in store for this evening in New York, this may have been Derek Jeter's last game in Yankee Stadium. If so it ended with an 0 for 4 and a strikeout. The Orioles top three hitters had two RBI a piece.
Braves 6, Pirates 2: The Braves put up a month's worth of runs for them. Of course they were playing against the Pirates' the day after a celebration. It was a regular lineup, but you have to assume they were a bit tired and everything following Tuesday night's festivities.
Tigers 6, White Sox 1: This win and the Royals loss put the Tigers up two with four to play. That's pretty safe. This win plus the Mariners' loss ensures the Tigers of at least a wild card, though. Justin Verlander allowed one run over eight. The Tigers weathered Chris Sale and got to the Sox' bullpen. Chris Sale plunked Victor Martinez and, apparently had it in his head that the Tigers were stealing signs. Whatever, dude. It's almost the offseason for you. You can clear your head then.
Brewers 5, Reds 0: Kyle Lohse with a two-hit shutout. Too little too late for the Brewers, but they do have at least one thing to play for: if they finish with a winning record they will almost certainly be the only non-playoff team in the NL above .500. That's more of a league accomplishment than a team accomplishment, of course. The NL sorta sucks this year.
Twins 2, Diamondbacks 1: Phil Hughes tossed eight great innings. If he had pitched eight and a third great innings he would've gotten a $500,000 contract bonus on the year. And he would've almost certainly done so but for a rain delay that took him out late. One hopes that the Twins do him a solid and just give him his $500K anyway. As it was, he did break Brett Saberhagen's record for the best K/BB ratio in a season for a starting pitcher, striking out 186 and walking only 16. He only allowed 16 homers too. As we all assumed Phil Hughes would before the season started, yes?
Phillies 2, Marlins 1: Kyle Kendrick ties up the Fish for seven innings. Kendrick also broke a 0-0 tie with an RBI double. He used Ryan Howard's bat to do it. Best use that bat has been put to in a long time. Jonathan Papelbon returned from his crotch-grabbing suspension and got the save. He grabbed nothing last night. At least when the TV cameras were on him. No word on what he grabbed later.
Angels 5, Athletics 4: Howie Kendrick doubled and drove in three runs as the Angels beat the A's for the seventh time in their last eight meetings. The A's now go on the road to Texas. They'll likely go on to Kansas City for a wild card game after that. If things go better, they could be facing the Angels again after that. If things go atrociously, the could just go straight back to Oakland. So many unknowns for that team.
Cubs 3, Cardinals 1: The Cards had a chance to open up a two-game led over Pittsburgh with three to play but couldn't manage it. Jake Arrieta pitched seven strong innings in yet another solid performance, striking out ten, allowing only two hits and just an unearned run.
Indians 6, Royals 4: Kansas City may have lost the Central here. Yan Gomes hit a three-run homer, Michael Brantley got three hits. The Indians avoid elimination with the loss. Well, postpone elimination anyway. The Indians are off today and could actually be eliminated on their off day.
Padres 4, Rockies 3: Joe Wieland got his first big league win. It was much delayed following his debut given Tommy John surgery and another, more minor elbow surgery. So you figure it had to be sweet for him.
Blue Jays 1, Mariners 0: The M's season is closing on a down note, that's for sure. They lose again, this time quite quickly. The game took one hour and fifty-nine minutes. You bet Mark Buehrle was pitching for the Jays. He struck out ten and allowed only three hits in eight shutout innings. He also passed the 200 inning mark for the 14th consecutive year.
Red Sox 11, Rays 3: The Red Sox started seven rookies and still romped. The Red Sox scored three runs on walks, one on a wild pitch and one on a passed ball. So this was a totally sharp game, y'all.
Rangers 5, Astros 1: Congratulations to Tim Bogar for taking over the Rangers, going on a nice winning tear and costing them the first pick in the draft next year.
Mets vs. Nationals: POSTPONED: Its the middle of September, I still play out in the rain as the world glides by and my end is here again.