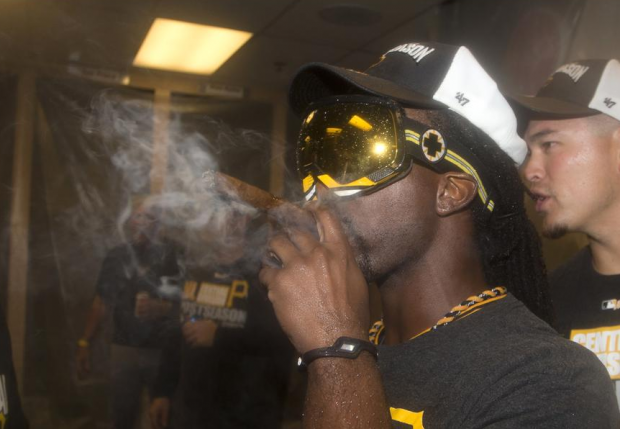 Pirates 3, Braves 2: You all can have your champagne. Andrew McCutchen is going to smoke a victor cigar, Red Auerbach-style, as the Pirates make it into the playoffs for the second year in a row. McCutchen scored twice and Gerrit Cole overcame a couple of early runs to pitch seven solid innings. The Pirates are still technically alive for the division title, and at the moment they're only one back of St. Louis in the loss column. But even if they don't do that, at the moment hold the advantage for home field for the wild card game.
Tigers 4, White Sox 3: Miguel Cabrera lined a walkoff single to keep the Tigers ahead of the Royals for another day. This after David Price, trying to complete a shutout in the ninth, allowed three runs to tie things up. Joe Nathan stopped the bleeding (how novel) before the Tigers strung together a single, a walk and Cabrera's single to win it.
Royals 7, Indians 1: Yordano Ventura shut the Indians out for seven innings and the bottom half of the Royals lineup did the damage, with Alex Gordon, Sal Perez and Omar Infante driving in two a piece. In other news, can someone tell me why Alex Gordon and Sal Perez are hitting sixth and seventh? Is this some weird psychological experiment or something? I'll cop to not watching a ton of Royals games recently, but last I checked those are two of Ned Yost's better hitters, even if they're slumping or whatever.
Angels 2, Athletics 0: Oakland drops one, but it's nowhere near as big a deal given Seattle's recent skid. The A's are now tied with Kansas City in the wild card standings. Which is OK for everyone but A's fans, as I'm pretty sure all of civilized society outside of Oakland would prefer the wild card game to be played in Kauffman Stadium instead of the Coliseum.
Blue Jays 10, Mariners 2: Seattle is imploding at exactly the wrong time. Four straight losses when they had every opportunity to grab a wild card spot. Now they sit three back with five days left in the season. And this one came with Felix Hernandez on the hill. He was rocked for eight runs and couldn't escape the fifth inning. In addition to the M's playoff chances, you wonder if this kind of outing kills King Felix's Cy Young chances too. Corey Kluber has a lot of support these days, and way more people were watching this M's game than normally watch M's games this time of year.
Dodgers 4, Giants 2: The Dodgers keep their margin over the Giants and stand one win away from clinching the NL West. This one was not uneventful, as Madison Bumgarner hit Yasiel Puig in the left foot with a low-and-inside pitch which led to the benches clearing. After that Matt Kemp hit a two-run homer. Justin Turner homered twice. Dude is hitting .333/.397/.482 on the year. Sure, he doesn't even have 300 at bats, but that's a pretty butt-kicking line for a guy who gets about zero press. The Dodgers can clinch tonight, with Clayton Kershaw on the hill.
Nationals 4, Mets 2: A win is nice for Washington, but some bad news accompanied it with Denard Span leaving the game following a tumbling catch in center. He banged his knee up pretty good and will likely miss today's game, but he waxed optimistic afterwards, saying that he thinks he'll be OK. All that matters for Washington this week is staying healthy, so they really didn't want to see that.
Orioles 5, Yankees 4: Nelson Cruz hit his 40th homer and Nick Markakis had four hits including a homer of his own.
Reds 3, Brewers 1: Johnny Cueto allowed one run over eight innings to pick up his 19th win. Probably the quietest 19-game winner in recent MLB history. He sports a 2.29 ERA too.
Marlins 2, Phillies 0: Henderson Alvarez pitched shutout ball into the eighth to outduel Cole Hamels.
Cubs 4, Cardinals 3: Wellington Castillo walks 'em off with a 10th inning single. He also had a homer. Shelby Miller, who had been dominant in September so far allowed three runs on five hits and couldn't finish five innings. The Cardinals fall, and now only lead the Pirates by one and a half. One in the loss column.
Rays 6, Red Sox 2: Tampa Bay scores all six of its runs in the eighth and ninth after Clay Buchholz ran out of gas.
Rangers 2, Astros 1: Nick Martinez allowed five hits, no walks and struck out five in six and two-thirds shutout innings. He credited a conversation with Rangers special assistant Greg Maddux before this start with changing his approach. Basically Maddux said "throw strikes, dude." And Martinez did. He's not a Hall of Famer for nothing, you guys.
Rockies 3, Padres 2: Drew Stubbs hit a tiebreaking home run leading off the eighth and Brandon Barnes robbed Rene Rivera of a homer in the bottom of the inning with this pretty spiffy catch.
Twins 6, Diamondbacks 3: Kyle Gibson struck out eight in seven one-run innings. That's, like, a week's worth of strikeouts for Twins pitchers usually.