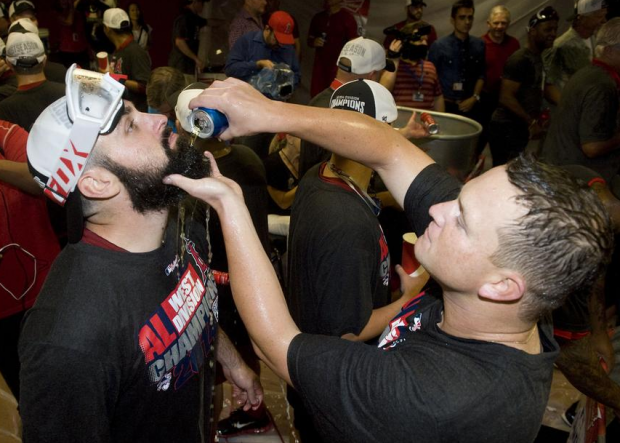 Latest Standings
Latest Wild Card Standings
Angels 5, Mariners 0; Rangers 6, Athletics 1: With their win and the A's loss, the Angels clinch the AL West. Anaheim had to wait for the A's game to end to know if they could celebrate — they watched in the clubhouse — but then they celebrated into the wee hours. They even let a few hundred fans back into the ballpark after the end of the A's game.
The win came via C.J. Wilson's seven one-hit innings and C.J. Cron's three-run shot. The A's loss came via an ugly ninth inning collapse in which Sean Doolittle allowed five runs in a mere third of an inning. Jesse Chavez allowed another. This after Jeff Samardzija shut out Texas for eight innings on ten strikeouts. It was a total meltdown which epitomized the entire second half meltdown for Oakland. They're now tied with Kansas City for the wild card. Two ahead of Seattle. They may still make the playoffs, but do they really deserve it? They've totally hit rock bottom here.
No question about the Angels, though. They have taken and throttled the AL this year, especially since the break. They have a few bruises and sore parts here and there, but they have a week and a half or so to get that right. Then it's on to bigger things, they hope.
Apologies for the abbreviated ATH this morning, but I have an early morning doctor appointment. While I'm there I'll ask my doctor if she has any pamphlets on how to help choking victims and have them Fedexed to Bob Melvin.
Orioles 6, Blue Jays 1
Rockies 16, Dodgers 2
Yankees 3, Rays 2
Giants 4, Diamondbacks 2
Braves 3, Nationals 1
Royals 6, White Sox 2
Pirates 9, Red Sox 1
Twins 8, Tigers 4
Marlins 4, Mets 3
Indians 2, Astros 0
Cubs 3, Reds 1
Cardinals 2, Brewers 0
Phillies 5, Padres 2