I think Derek Jeter himself has handled everything about his farewell tour perfectly. From his initial press conference in spring training when he basically told everyone to chill out and let him go play baseball to his speech yesterday which (a) avoided over-sentimentality; and (b) ended with the idea that, hey, we have to play baseball, he has done nothing for which he can be criticized. If he didn't announce his retirement beforehand he'd be asked about it every damn day. That he did ensured that the Yankees and Major League Baseball would make a big deal out of it and he's handled the big deal with, as always, the utmost professionalism
But man, that ceremony yesterday was weird. Not just that it was long or that it was somewhat over-the-top, what with people in space stations and sports stars from other sports putting in appearances. I mean, it's the Yankees. Their motto may as well be "Go big or go home." I'd expect nothing less from them.
No, it was weird because the visuals made it seem like a funeral. I mean, would you bat an eye if the first time you saw this wreath thing was at some point in the future when Jeter actually died and it was sitting on his grave?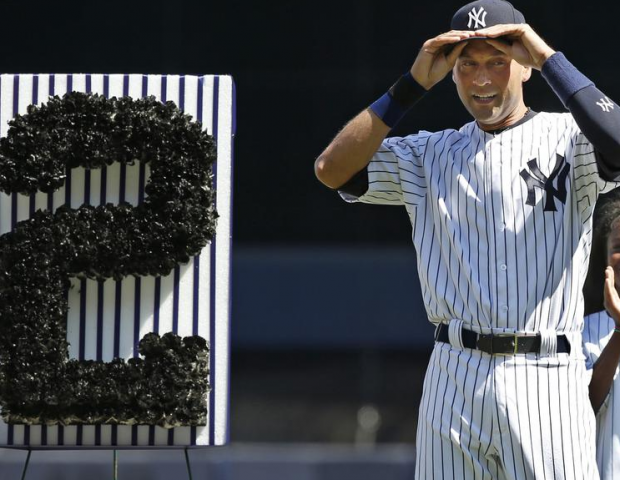 And the luminaries who attended, what with their dark suits and dark glasses in folding chairs:
#JeterDay proud day to be a Yankee. Bernie day next year? pic.twitter.com/vHAxS9RiKS

— David Cone (@dcone36) September 8, 2014
;
Didn't they look like the first row of mourners at the Don's funeral in "The Godfather?" All that was missing was Tessio coming over for a meeting.
This is almost over. And while it will be sad to see Jeter play his last game, it won't be at all sad to see people trying to make it far more momentous and sentimental than Jeter himself would likely ever want.