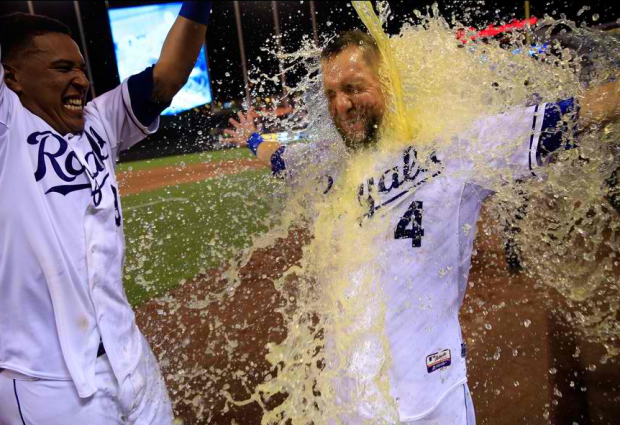 Royals 2, Twins 1: Alex Gordon with the walkoff two-run homer. This one, apparently, was called by the bat boy. Here's Yost's telling of it:
"The bat boy who never says anything turns around and says, `Esky is going to get a hit and Gordo's taking him in the fountain," Yost said. "I said, `OK. Sounds like a pretty good plan."
"Esky" for Escobar? It's sad that the convention of lazy baseball nicknames is reaching yet another generation.
Giants 3, Rockies 0: MadBum — which is another lazy nicknaming convention but not as lazy as simply adding a "y" to the first syllable — was perfect into the eighth and finished with a one-hit shutout in which he struck out 13 dudes. He needed only 103 pitches to do it which, given the strikeout total, is really damn impressive. One hanging breaking ball that Justin Morneau hit for a double was all that stood between Bumgarner and perfection.
Angels 8, Marlins 2: The Angels are back alone atop the AL West and all of baseball thanks to yet another nice start from Matt Shoemaker, who allowed only two hits over seven shutout innings. Mike Trout and Albert Pujols both went 3 for 4.
Astros 4, Athletics 2: Chris Carter helped put the Angels in first too, and knocked the A's out of this one, with a three-run homer in the eighth. Carter has homered in four of his past five games against his old team. He has 32 on the year.
Orioles 4, Rays 2: I've been complaining a lot about the pace of play lately, but here the guys in the game were too, following a 4-2, nine-inning game which lasted three hours and thirty-seven minutes. Here's Buck Showalter:
"It was a mentally challenging game because it's such a grind. A lot of time, a lot of deep counts, a lot of catcher visits."
Here's catcher Caleb Joseph:
"Coming off last night, we had such a great game and you want to kind of repeat it, but the pace of the game kind of slows your excitement down a little bit. You've got to stay into it, and our guys did a great job."
If the manager of the winning team and the guy who drove in two for the winning team are talking about the pace of the game being a barrier to enjoying it, how are fans supposed to feel?
Padres 4, Brewers 1: Tyson Ross pitched well, but he also doubled and scored in the third and walked in the fifth. He's now 4 for 10 with two walks in the month of August. Viva La National League.
Mariners 5, Rangers 0: Endy Chavez hit a two-run double, Robinson Cano socked a homer and James Paxton tossed six and two-thirds shutout innings. The Rangers didn't get a runner past first base until the ninth inning.
Dodgers 9, Diamondbacks 5: The Dodgers hung six on the Dbacks in the fourth inning, thanks in part to two calls — a play at the plate and a bunt single to first base — which were overturned on replay, allowing the rally to continue. Not that there was anything particularly controversial about it. It was really more about Trevor Cahill getting knocked around like crazy which was the problem.
Mets 3, Braves 2: Juan Lagares hit a two-run homer and had seven putouts in center field, one of which was a diving catch in the gap, robbing Alex Wood of a hit. Lagares is incredible out there.
Indians 8, White Sox 6: In the tenth, with a runner on second, Zach Walters was asked to bunt. He couldn't get the bunt down, so he ended up swinging away. Which was pretty darn lucky considering he hit a two-run homer that ended up winning the game. Cleveland continues to hang around, 4.5 back in the wild card.
Cubs 3, Reds 0: Travis Wood had been in a horrible funk, but he snapped out of it against his former team, allowing two hits over six shutout innings. Big day for "against his former team" yesterday.
Tigers 5, Yankees 2: The Yankees winning streak ends at five. Rick Porcello picked up his fifteenth win of the season after eight solid frames. Jacoby Ellsbury had two homers in a winning effort in a losing cause.
Pirates 5, Cardinals 2: Ike Davis hit a a tiebreaking three-run homer in the eighth. Josh Harrison added a homer. Bad news, though: Andrew McCutchen left early after aggravating that rib injury that sent him to the DL earlier this month. It's unclear if he'll be out today.
Red Sox 11, Blue Jays 7: Just your standard seven-run 11th inning. Part of it was a Mike Napoli three-run homer which went approximately fifty gabillion miles. Allen Craig hit a two-run shot in the same inning. Dustin Pedroia drove in four on the night. Fifteen pitchers appeared in this four hour, thirty-three minute affair.
Phillies 4, Nationals 3: The Phillies have won five of six. And yet another Phillies player was mad at Ryne Sandberg for how he was used in the game. Cole Hamels this time, who ended up with the no-decision after being yanked in the eighth. Sandberg's hook was a bit quick — Hamels had only thrown 84 pitches — but it's notable that this stuff is happening even with the Phillies winning a lot lately.