In case you missed it, the Rays protested Saturday's game against the Blue Jays. The reason: umpire Bob Davidson allowed the Blue Jays to challenge a pickoff play at first base despite the fact that the pitcher, Mark Buehrle, was already on the mound and the Rays hitter was in the box. Once that happens, Section II.D of the replay rules says the previous play can no longer be challenged. The Jays won the challenge and the Rays' baserunner was ruled out.
Moments ago Major League Baseball announced that the protest would be denied. No reason was given.
No reason was given, in all likelihood, because there is no reason for the ruling other than a lack of desire on Major League Baseball's part to not overturn an umpire's decision. But it's clear that Davidson messed up and allowed a challenge when the rules did not call for one. This is where the players were when Gibbons came out to challenge the call, after all: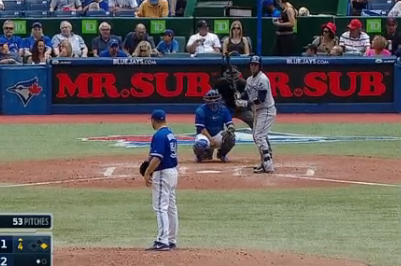 And for what it's worth, the baserunner was eliminated in a one-run game that was eventually decided by one run, so there can be no reasonable argument that the improper challenge was harmless. It could very well have made a difference in the game.
Of course this is one of the many dumb parts of having a replay rule tied to manager's challenges.
UPDATE:  Worth noting — which I did not earlier, that Section K(4) of the Replay Regulations addresses game protests. It reads as follows:
"Official Baseball Rule 4.19 shall have no applicability to these Replay Regulations. No protest shall ever be permitted on judgment decisions by the Replay Official. Moreover, a violation of any rule or procedure set forth herein shall not constitute a basis for protesting a game."
Likewise, the judgment of an Umpire is not grounds for a protest.
Which doesn't mean that Davidson got things right here. And which basically makes no sense, at least insofar as the mechanics of replay are concerned. A replay official makes a call you don't like? Fine, live with it, and don't protest. The actual rules of replay itself are misapplied? I don't understand why that should be exempted.