NORTH SIDE, CHICAGO — A rain shower has come and gone, cool air has sliced through the humidity, the seats are just a little bit wet, and the sky lightens in what feels like elapsed time video. The outfield grass glistens green like it has just been colored by magic markers. The players begin to play catch. The Cubs aren't good. Again. It doesn't matter.
"Look at this," comedian and Cubs fan Jeff Garlin shouts out. "It's perfect. Look at the way the sky is in the background. Look at the ivy. Look at the scoreboard. There's no other way to say it. It's perfect."
He looks around and then feels compelled to hold out his arms like he's about to conduct an orchestra.
"It's f——– perfect! Right?"
F——- perfect. Yes. One hundred years later.
The question is: Why?
So I've been to all thirty ballparks … and the thing that's easy to forget is baseball has never had so many gorgeous ballparks. This is the golden age. I grew up in the 1970s and early 1980s, when the Big Red Machine rolled, when Mark Fidrych talked to baseballs, when Joe Charbonneau opened beer bottles with his eyelids and when ballparks were dumps. There were almost no exceptions.
Ballparks were such dumps that you could separate them into simple dumpy categories:
Category 1: Massive old stadiums that smelled like stale beer where your view would, almost without exception, be blocked by a steel girder or limited by giant overhangs (Cleveland Municipal, Old Yankee Stadium, Old Comiskey in Chicago, County Stadium in Milwaukee, etc).
Category 2: Round multi-use stadiums with soul-sucking sameness and Astroturf where grass was supposed to be (Riverfront Stadium in Cincinnati, Veteran's Stadium in Philadelphia, Old Busch Stadium in St. Louis, etc).
Category 3: Domes. Just, ugh, domes (the Astrodome in Houston, the Kingdome in Seattle, the Metrodome in Minnesota, etc).
[ MORE: Joe Posnanski's ranking of all 30 major league baseball parks ]
Don't get me wrong – I loved these parks. I loved them madly. Why? They played baseball there, of course. Fulton-County Stadium in Atlanta lacked all charm but I saw Dale Murphy hit a home run there. I climbed about 493 ramps to get to my seats at the Astrodome and watched Jeff Bagwell hit two home runs. I could barely see the field from where I sat at Tigers Stadium in Detroit, but Al Kaline had played there and Ty Cobb had played there too. Shea Stadium was the pit of despair, but I liked that Big Apple that went up after I saw an aging Dwight Gooden give up a smash.
The whole concept of a beautiful ballpark – it wasn't fully formed yet. Most places weren't even CALLED ballparks. They were stadiums. It would have been absurd to call Cleveland Municipal Stadium a ballpark.
Hey, don't get me wrong, there were some very nice parks back in my childhood days – Royals Stadium in particular broke the mold of those utilitarian football/baseball hybrids and it had fountains – but the point is few saw the need for palatial baseball parks.
Oriole Park at Camden Yards changed all that, I think. Camden Yards was this little slice of heaven dropped next to the Baltimore Harbor, and it did what many of the best things in baseball do: It invented a new and wonderful nostalgia.
Think of Cooperstown – you walk into that town and you FEEL the baseball history. It's all around you. Main Street. The quaint shops. Ice cream parlors. Fathers and mothers pushing baby strollers. Yes, every day in Cooperstown feels like it could have been the day Abner Doubleday sat down and put a stick into the dirt and invented the game of baseball … then he ran off to become a Civil War hero. Yes, it could have happened anywhere in scenic Cooperstown.
Of course, technically, it didn't happen anywhere in Cooperstown because it didn't happen at all; Abner Doubleday, Copernicus and Sir Walter Raleigh played the exact same role in baseball's invention. Cooperstown's baseball history before building the Hall of Fame is more or less nonexistent. But you know what? It's STILL beautiful. This is how it should have been.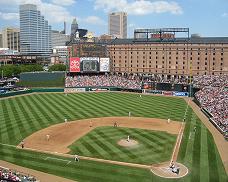 That was Camden Yards. It was called a retro-park because it was supposed to remind us of wonderful old parks like Ebbetts Field and the Polo Grounds and Shibe Park. Thing is, those parks weren't nearly as wonderful as Camden Yards. They made Camden look the way we WISHED old ballparks had looked.
Or, more to the point, it looked the way old ballparks seemed through the dreamy eyes of smitten children.
Camden Yards begat Jacobs Field (now Progressive) in Cleveland, which sparked a brief but thrilling Cleveland renaissance. Camden Yards begat Coors Field in Denver, which is one of baseball's loveliest places (even when watching 11-9 festivals). Soon, the stakes went up even higher – Safeco Field in Seattle, AT&T in San Francisco, PNC Park in Pittsburgh, these parks are even more gorgeous with even more amenities and even more of a view.
Yes, we can argue about the actual VALUE of these ballparks and whether they were worth all those public funds (short answer: probably not, no) but the point is there are now so many beautiful parks in baseball that, when I rank them, I find myself putting a perfectly nice ballpark like Atlanta's Turner Field at No. 26. Back in the 1970s, it would have been Top 5.
And, still, even in this golden age of ballparks, Wrigley Field is the perfect one. Oh, it shows its age. Wrigley has concourses so narrow that during games you can feel like the walls are closing in on you, not unlike the trash compactor room in Star Wars. The concession stands are in darkness, the walls are cracking, the luxury suites are so non-luxurious that at least one visiting baseball owner complained that he was going back to the hotel to watch on television if better accommodations weren't found.
"It's f——- perfect," just like Jeff Garlin says. And he's right.
[ MORE: What Wrigley Field did for its 100th birthday ]
So, one hundred years ago a character named Charles Weeghman decided he wanted to turn Chicago baseball inside out. Weeghman was an entertainer at heart, he was one of those early 20th Century Americans who dreamed big and lived big and lost big and made friends everywhere he went. He made his fortune in fast food – he served cold sandwiches at his Weeghman lunch counters all over Chicago. The legend goes that the day he opened his first restaurant was also the day his old boss and potentially biggest rival Charlie King died. Weeghman had Chicago to himself.
He expanded, of course, got into theater, hung out with gangsters, became a man about town. And he loved baseball. Well, he loved the idea of baseball as great American entertainment, and so he tried to buy his way into the Major Leagues but couldn't get in. So he did the next best thing – he bought a Chicago team in the competing Federal League (he also personally kept the league afloat with cash infusions). And he built a little concrete and steel ballpark on the North Side of Chicago, on the block surrounded by Addison, Sheffield, Waveland and Clark.
And, as you guessed, he called it: "Weeghman Park."
The Chicago Federals played there first. Then they were the Whalers. Then the Cubs came in. Weeghman tried all sorts of new things to bring out the fans – he was a showman. The team allowed fans to keep foul balls – first team to do that. They had permanent concession stands built in. They had giveaways and Ladies Days … all of these things were new and interesting.
Weeghman, though, was on the way down. He had overreached. He had huge money problems. One thing about Weeghman that isn't often talked about – he actually appeared in the trial of the 1919 Black Sox because he had a relationship with a couple of the people who set up the fix, including Arnold Rothstein, who was at the top. He admitted knowing about the fix weeks before the World Series began. For some reason, nobody asked him about the 1918 World Series when he had serious money problems and his Cubs lost to a seemingly inferior Red Sox team – in the decisive game, the Red Sox scored their two runs on two walks and an error. There were many rumors, none confirmed.
Weeghman was essentially bought out/driven out by William Wrigley, and the last years of his life were a blur of petty crimes like writing bad checks and failed business attempts. One other thing: His land was also used for a large Chicago Ku Klux Klan meeting that was instrumental in bringing the KKK to Chicago, though Weeghman's actual role in that is unknown (to anyone's knowledge he was not a KKK member himself). Anyway, he moved to New York and faded.
Weeghman Park became Cubs Park. Cubs Park became Wrigley Field.
In 1936, bleachers were built behind the walls and a manual scoreboard was erected. A year later, Boston Ivy covered the walls – the idea had originally come from a 13-year-old popcorn vendor named Bill Veeck. Around that same time, the Cubs started to raise a "W" or "L" flag to let people in the elevated trains know if the Cubs won or lost.
People around the neighborhood began to realize that if they went to the rooftops of some of the adjoining buildings, they could actually see the Cubs play. When night baseball became the rage in baseball, the Cubs owner Phillip Wrigley bought lights and was ready to install them. But when Pearl Harbor was bombed Wrigley donated the lights to the war effort and, not long after that, vowed (at great financial loss) that there would be no lights because he did not want to disturb people in the neighborhood. So Wrigley became the home of day games.
[ MORE: Remembering the first night game in Wrigley Field history ]
In other words, all those wonderful things about Wrigley just happened, naturally, without hype or self-congratulations or even a sense that they were especially wonderful things. Why is Wrigley so great? I think you begin there. Wrigley is REAL.
Cubs owner Tom Ricketts likes to take a bag of baseballs – each with the date etched on them – and hand them out to fans all around the ballpark. It's exactly the sort of thing you or I would do if we owned the Chicago Cubs, right? He walks around looking for cute kids, for families who look like they're visiting Chicago, for longtime Cubs fans who have never given up hope.
Ricketts fell under the spell of the Cubs in 1984, when he came from Omaha to study at the University of Chicago. That was the year of Ryne Sandberg, Rick Sutcliffe, Dennis Eckersley, Leon Durham … it was the first Cubs team to reach the postseason in almost 40 years. Of course, it ended in heartbreak, like all Cubs seasons do. But it's a funny thing about heartbreak. In some ways, it can make you fall in love even harder.
For a time, Ricketts and his brother lived in a little apartment over the Sports Corner bar across the street, so he lived the Wrigleyville life. There's a fun buzz all around Wrigley Field, even when there's no baseball. People are always walking around, talking, it's a real neighborhood. Now, of course, Rickets owns the team, and he's fighting or negotiating with countless people in order to renovate Wrigley, bring it up to date without (he insists, again and again) dulling any of the magic.
I ask him about the first time he came to Wrigley Field, he remembered details but, more, he remembered that feeling of being inside the place. That's what people remember.
"I can't really describe it," he says. "There's just this, I don't know, I just loved it."
"It makes you love baseball in a whole new way, right?" Jeff Garlin says.
"Yeah, that's right," Ricketts says. "You do feel like you're in this timeless place."
Now, listen to Matt Drew, who has lived his whole life in England and had no reason whatsoever to fall for baseball. He was backpacking and taking the train across America when he stopped in Chicago and went to a game at Wrigley Field.
"It was exactly as I had imagined watching baseball would be," he says. "True Americana. I think only Wrigley could have given me that experience – akin, in some respects, to going to the cricket at Lord's here in England … it was a trip into a world which outside of that environment doesn't really exist anymore."
Now listen to former manager Lee Elia on Wrigley Field: "Eighty-five percent of the f—— world is working. The other 15 percent come here."
Now listen to actor Joe Mantegna talk about Wrigley: "When I was a kid, my Dad used to show me the outfield fence at Wrigley Field. And he would tell me that he could remember when there was no fence out there – people used to just be there. And he would say that when they built a fence it was made of wood, and you could see through the cracks. And I would think, 'Yeah? Who gives a s—. Let's have a hot dog.
"And so all these years later … I can tell my kids, 'You know, the Cubs used to only play day games, and Wrigley Field was the only park without lights. And my kids can say, 'Yeah? Who gives a s—-. Let's have a hot dog."
Every now and again, you will hear an old song and it will do something to you. Conditions have to be right — it has to be the right old song, and it has to be at the right moment, and you have to be in a mood to let it in. But when it all comes together, this wave will roll over you, and you will literally FEEL like you are in another time. You will smell the beach. You will sense the sun. You will see the outline of an old scene … ELO's "Don't Bring Me Down," sometimes will put me in the back seat of a car on a brilliantly bright afternoon with great friends all laughing.
[ MORE: Cubs release renderings of the new and improved Wrigley Field ]
Wrigley Field is doing that to Jeff Garlin. I'm seeing it happen. He's watching Anthony Rizzo and Starin Castro and Jake Arrieta but in his eyes it just as easily could be Ernie Banks and Don Kessinger and Fergie Jenkins.
He's remembering times when he would sit in the stands and then, for no reason at all, just start waving to someone every time the person looked his way. He loved doing that – he would just wave at the person, and the guy might tentatively wave back, and then Garlin would wave again, and the guy would kind of pretend not to notice, and Garlin would wave again. Eventually, the guy would tell the person next to him, and that person would turn around, and Garlin would wave again, and they would tell the next person, and so on, until he got entire rows of people looking at him.
He actually tries this again during this game, but it doesn't really work – he's famous now, particularly in Chicago. People know his face from "Curbed Your Enthusiasm" or "The Goldbergs" or his comedy, and so the wave doesn't have the same effect. Now, the effect is: "Oh my gosh, Jeff Garlin is waving at me." Then they want his autograph. It's not the same.
Then, this gets at the heart of things. Stuff changes. Life moves in one direction. The thing that stinks about that feeling of a song taking you back is that it's fleeting. It disappears just when you try to grasp it. Memories are like that. Dreams are like that too, especially the good ones.
There are so many great ballparks in baseball right now, but Wrigley more than any of them – more even than Fenway Park, I think, though that's a great debate – is the one that clings hardest to the past. Sure, the lights can get in the way, and the advertisements on the wall can distract, and whatever renovations come will change the character of Wrigley Field slightly.
But, in the end, Wrigley Field more than any other stadium or arena in American sports, I think, lets you hold on to that corny and nostalgic and sickly romantic feeling that there are still a few wisps of yesterday in the air. And we're not really that old.
Or as Jeff Garlin says, "It's f——– perfect." Same thing.