As Greg Maddux is my favorite player of all time, I obviously took a close look at his Hall of Fame plaque when it was unveiled yesterday. And when I did, something stood out: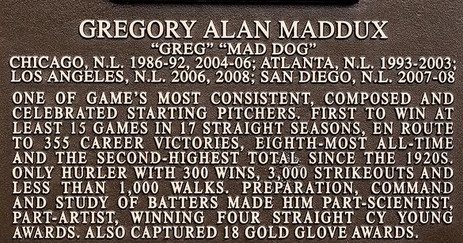 It's the "less than 1,000 walks" that bugged me. I am of the view that it should be "fewer" not less. So, as Deadspin noted, I tweeted it out. This, as most grammar disputes do, led to some pretty impassioned debate.
Most people (myself included) are of the view that one uses "fewer" if one is referring to things in the plural which can be counted and "less" if you are referring to something that either doesn't have a plural or can't be counted. Examples: "fewer kids in this class than that class," "fewer hot dogs on his plate than her plate" vs. "less time left in the game than we thought" or "I have less respect for the guy who puts ketchup on his hot dogs."
Now, as is the case with all rules, there are exceptions. If the number stands alone without the noun named in reference to the lower quantity, you can use "less" (e.g. "He had 10 dogs, I had less") or when you are referring to geographical distance or measures of time. Of course in this case such obvious exceptions do not apply. Walks are a finite thing which do not refer to distance or time, they do have a plural and they are mentioned properly at the end of the sentence.
Of course, just as there are always general exceptions, there are always increasingly obscure exceptions — or, short of that, traditions and customs of usage — which one can, if one is so inclined, find to justify their preferred usage. As this conversation evolved yesterday afternoon, many did find some slot in which to (arguably) place the Hall of Fame's choice of "less" over "fewer" on Maddux's plaque. I'm not suggesting it's the easiest call on the planet. This isn't an out or safe call here. It's more of a first base ump's call on a check swing. But I do think the majority of people who care about such rules — and the majority of the rules relating to the topic itself — falls in the "fewer" camp.
And to be 100% clear: my pointing this out was not borne of some "ah ha!" moment nor do I think it says anything negative about the Hall of Fame, the person who forged the plaque or anything like that. There's no point other than to say "hey, that's interesting." And, obviously, I do not stand on some pedestal of grammatical superiority when I note all of this. I'm a low-A grammarian at best with tremendous holes in my game. Indeed, even my tweet pointing out this grammatical error had a typo in it.
But then again, my tweets aren't literally forged in metal and placed on the wall of a museum for all eternity. Which is why I even brought this up to begin with.