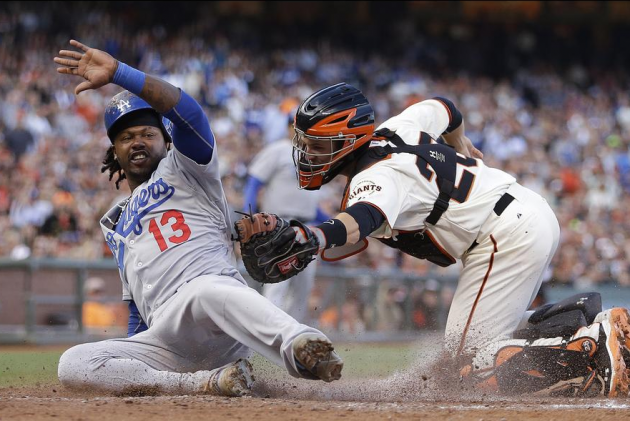 I just think that's a kickass baseball picture, don't you? Credit to Ben Margot of the Associated Press for making a grumpy morning (for reasons explained in the Pirates-Rockies recap) a bit brighter.
Dodgers 4, Giants 3: The Dodgers get the sweep in their rival's yard following three games in which they outscored the Giants 17-4. Hyun-Jin Ryu struck out seven in six innings to get his third win in a row. Jake Peavy was less-than-his best a day after joining his new team, allowing four runs (three earned) on six hits in six innings. A couple of wild pitches didn't help his cause.
Pirates 7, Rockies 5: Josh Harrison finished 4 for 6 with an RBI single, a double, the tie-breaking solo home run, two stolen bases and, as he did earlier this season, escaped a rundown. In other news, this game took place in great weather conditions in Denver: mid-70s and partly cloudy. This is aggravating to me inasmuch as my kids' vacation to Colorado to visit their grandparents was derailed yesterday when Southwest Airlines decided that the weather in Denver was "too threatening" to allow unaccompanied minors to fly there. While the policy itself makes sense — they don't want kids on a flight that could be diverted to another aiport, thus putting the airline in a supervisory position over someone's children — the flight they were barred from taking took off and landed on time. Based on multiple sources, including their grandfather in Denver who is a meteorologist who worked for the National Weather Service for 40 years, there was zero percent chance of rain before, during and after the flight they should have been on and the radar was clear. This happened to me/them in December too, with them barred from a flight on a similarly clear and meteorologically uneventful day at their intended destination. So, apart from attempting to, once again, get them out to their grandparents in Colorado this morning, I will be spending a good chunk of my day attempting to get someone at Southwest to explain to me the criteria they use to declare "weather emergencies" which prevent kids from flying unaccompanied. Because it sure as hell isn't what's actually going on in the sky.
And yes, I do feel a bit better after that rant. Carrying on:
Red Sox 3, Rays 2: David Ortiz homered. And, as is often the case, took his sweet time rounding the bases after he hit it, displeasing the Rays. I get why the Rays don't like it — Ortiz is a showboat — but they come off whiney about it. Just get him out and you don't have to worry about it. For Ortiz, well, showboating is not a federal offense even if it does make many people understandably roll their eyes. However, his post-game comment that the Rays are "too sensitive" is about as rich as it gets. Ortiz has led all of MLB in SPI (sensitive player index) for a good decade now and is probably the last dude who would be likely to take a live-and-let-live approach to some perceived slight. So, in sum: you all lose. Thanks for playing.
Phillies 4, Diamondbacks 2: Ryan Howard homered and scored another run despite getting beat by the throw home by a mile. I get that, technically speaking, the plate-blocking rule was violated here, but umpires have to be given more judgment on calls like this to determine whether (a) the block in question risked or created a situation in which a violent collision was likely; or (b) even if it did, who would have caused it. In this case the only possible way there could have been a collision was if Howard decided to put his shoulder down in an effort to avoid a certain-tag with violence. It was not a situation in which Miguel Montero's positioning created any risk at all.
Braves 8, Padres 3: Chris Johnson and Ryan Doumit each drove in two runs in a six-run third inning that decided this one. Odd day that the Braves had a better roster going in Cooperstown than they did in Atlanta.
Orioles 3, Mariners 2: I have no idea what kind of composite visiting record east coast teams have on them, but those west coast swings following the All-Star break for east coast teams always seem arduous and potentially season-altering. The O's, then, will probably take 6-4 and finishing it with a division lead only one game less than what they had before they left.
Angels 2, Tigers 1: The Angels took three of four from a potential playoff rival. They didn't score many runs but they got some great pitching performances. Last month the Tigers beat Oakland pretty convincingly and, afterward, said some stuff about how the A's moves were all made because they're worried about Detroit. If the Tigers — who scored two runs in their three losses to the Angels — re-jigger anything, I wonder if they will say the same thing about themselves.
Marlins 4, Astros 2: Garrett Jones and Marcell Ozuna homered as the Marlins completed a three game sweep of the Astros and a 6-1 road trip overall. They now play 16 straight games against winning teams in Washington, Cincinnati, Pittsburgh and St. Louis. Well, I guess Cincy is technically not a winning team as of yesterday — they're .500 — but that's not an easy stretch of games ahead.
Cardinals 1, Cubs 0: Adam Wainwright wins his 13th game in impressive style, tossing seven shutout innings. A Matt Holliday first inning homer to center constituted all of this games' scoring. It took two hours and forty-one minutes. Which, by today's standards is not long, but it is still rather remarkable that a game with a single run scored can even last that long.
Twins 4, White Sox 3: Sam Fuld hit a tiebreaking, two-run single in the seventh inning to help Minnesota avoid a four-game sweep. Baseball game stories offer a lot of "this hasn't happened since . . ." stats, and many of them are not that interesting, frankly. For example, in the Dodgers-Giants story for the AP, it is noted that the Dodgers hadn't swept the Giants since . . . 2012. Well, OK, that's not exactly earth-shattering. If the sweep had occurred, it would've been the first time the Sox swept the Twins in a four-game series ever. These guys have been playing each other for over 50 years.
Mets 2, Brewers 0: Jacob deGrom does it again: six and a third shutout innings and his fourth straight win. Lucas Duda hit his third homer in four days.
Indians 10, Royals 3: Two more home runs for Carlos Santana who is absolutely sizzling. In this four-game series he was 9 for 14 with five homers, a double, eight RBI and five walks.
Nationals 4, Reds 2: Doug Fister was on it: seven shutout innings in which he allowed only three hits. He's now 10-2 in fourteen starts. The Reds have lost eight of nine since the break. There were no homers hit in this three-game series. Which may happen in San Diego or Miami from time to time, but has never happened in homer-happy Great American Ballpark before.
Blue Jays 5, Yankees 4: Jose Bautista, as usual, affected the game with his speed on the basepaths. He stole second in the ninth inning and then came around to score on the go-ahead RBI single. The Jays blew three leads in this one but managed their second straight win in the Bronx after dropping 17 in a row there.
Athletics 9, Rangers 3: Three driven in for John Jaso, who led off. The entire top of the A's order looked good, actually, with Jaso, Stephen Vogt and Yoenis Cespedes each hitting a double and a single. Scott Kazmir won his AL-leading 12th game.