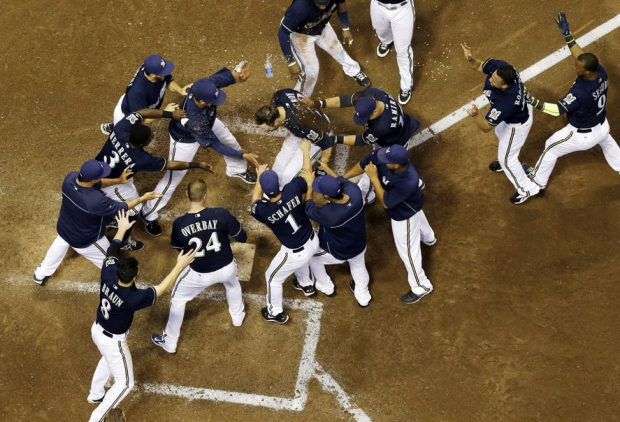 Brewers 4, Reds 3: I usually don't put up a feature photo like that but that's such a cool one I can't not. Occasioned by Jonathan Lucroy's walkoff homer to lead off the bottom of the ninth. He hit one in the sixth inning too. It wasn't a walkoff, though. If it was, whichever team was left on the field would have won due to a forfeit. Might not've been the worst thing for the Reds, though. They're 0-5 since the break. A forfeit would look pretty sweet at the moment.
Giants 9, Phillies 6: A save in this one for proven closer Tim Lincecum. He was needed in relief as this one went 14 innings. Brandon Crawford gave the Giants the lead that frame with a bases-clearing double. This whole thing went as long as it did thanks to Buster Posey hitting a homer off Jonathan Papelbon in the ninth. It was the first homer anyone had hit off him all season. Posey had four hits, including two doubles, two runs and an RBI. Crawford drove in four.
Yankees 2, Rangers 1: Another marathon. Sort of a marathon of ineptitude, as each of these teams made the other's starters look like Koufax and Drysdale as opposed to Chase Whitley and Nick Martinez. But the new guy came through: Chase Headley, just acquired earlier in the day and only having landed in New York at 6:30pm for a 7pm start, hit the game-winning single in the 14th. I suppose that's the record for becoming a True Yankee.
Blue Jays 7, Red Sox 3: The Sox' winning streak ends at five as Dioner Navarro and Jose Reyes homered and J.A. Happ tossed six shutout innings. After the game John Farrell was asked about the poor night at the plate for Sox' hitters a day after rattling off 18 hits:
"There's no bank that we can take runs and put them in and take a loan out the next day, unfortunately," Red Sox manager John Farrell said. "It would have been nice to be able to do that today."
Some people see things that are and ask, Why? Some people dream of things that never were and ask, why not? If you'll excuse me, I have a business to start.
Royals 7, White Sox 1: It was Greek Heritage Night at U.S. Cellular Field. Mike Moustakas is of Greek Heritage. Mike Moustakas also hit two homers. Opa!
Cubs 6, Padres 0: It was a big night for guys hitting two homers. Here Anthony Rizzo did it against his old organization. I'd say that would really steam the Padres GM, but at the moment the Padres GM is, like, a temp from Adecco or a team of monkeys at typewriters or something.
Marlins 6, Braves 5: Mike Minor was smacked around, giving up six runs on 10 hits and walking two. The Braves are looking sluggish just as the Nats are embarking on a pretty favorable part of their schedule. Washington now has a two-game lead in the division. My prediction that the Nats would pull away in the second half is looking pretty good, unfortunately.
Pirates 12, Dodgers 7: Gregory Polanco hit a solo home run and a two-run single in the sixth that broke a 4-4 tie. Neil Walker and Ike Davis also came up big. Josh Beckett looked rusty coming back from a hip injury and ended up lasting only three and two-thirds and giving up three homers.
Indians 8, Twins 2: Carlos Sanata homered and collected four hits and Danny Salazar, who had been exiled to Columbus of all places, made his first start in the bigs since May 15. It was a good one too, as he allowed one earned run and struck out six while pitching into the sixth. Columbus is a great place to get your head together, allowing you to go on and do better things elsewhere. Just ask James Thurber or George Bellows if you happen to run into them.
Editor's Note: Hardball Talk's partner FanDuel is hosting a one-day $30,000 Fantasy Baseball league for Wednesday night's MLB games. It's $25 to join and first prize is $5,000. Starts at 7:05pm ET on Wednesday. Here's the FanDuel link.
Orioles 4, Angels 2: Miguel Gonzalez took a two-hit shutout into the eighth against one of the best offenses in baseball. Jonathan Schoop homered and J.J. Hardy hit two RBI doubles. The loss means that the Angels' streak of ten consecutive home series wins is over.
Rays 7, Cardinals 2: Six in a row for the Rays whose hot streak is going on two months now. That's pretty great, and they're better off now than they were in early June when they were 15 games back. But they still have only gained a game and a half on the division leader in the month of July and still sit eight back. Such is the difficulty of digging out of holes several months into the season. Five and a half out of the wild card but, again, a lot of teams to climb over.
Astros 3, Athletics 2: L.J. Hoes with a homer in the 12th. It was a requested home run. Hoes after the game:
"It's a really good feeling considering it was my mom's birthday, and that was the last thing she told me to do, to get a homer for her," Hoes said. "To be able to do that for her was a special thing."
I got my mom a set of those wireless headphones old ladies who are going deaf can use so they can hear the T.V. I suppose a homer is nice too, but my mom can now watch "Jeopardy!" cranked to 11 in the living room while my dad watches documentaries about trains in the bedroom without being disturbed. Who got the better gift L.J.? Hmmm?
Nationals 7, Rockies 4: Adam LaRoche with a tiebreaking homer in the seventh. It was the Nats' fourth straight win. Some bad news though: Ryan Zimmerman left the game with a strained hamstring. He'll have an MRI this morning.
Mets 3, Mariners 1: Jacob DeGrom continues his nice run of late, allowing one run in seven innings while striking out seven. Over his last six starts he's 4-1 with a 1.59 ERA. He's 3-0 with a 0.86 ERA over his past three, walking three and striking out 26.
Diamondbacks 5, Tigers 4: Three RBI and a game-ending gem of a play at second base for Aaron Hill. David Peralta had two triples and continued the streak of "Every Player in Major League Baseball Named Peralta Reminding Me of the Giant Powell-Peralta Bones Brigade Poster I Had on my Wall in High School: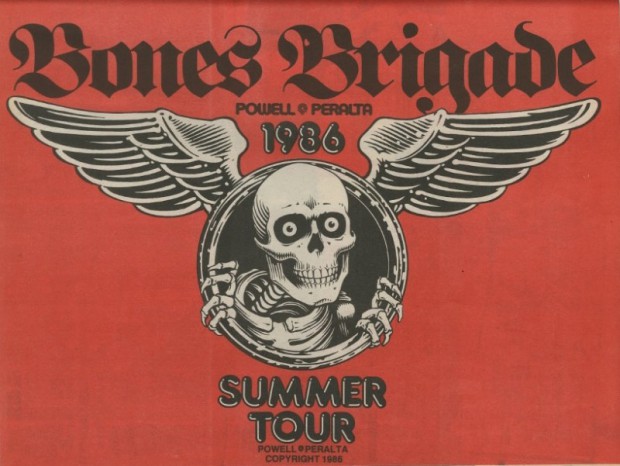 No, I wasn't a big skater. But a lot of my friends were and I hung out with them at the skate store with the half-pipe in the back. While they were skating I found out the store was going out of business and was able to buy the poster off the owner super cheap. Then I flipped it to a kid I knew who was a real skater when I left home for college. Since then I just wait for a baseball team to pair up a player named Powell and a player named Peralta in a double play combo so I can call them the "Bones Brigade" which will amuse around five readers. At most.