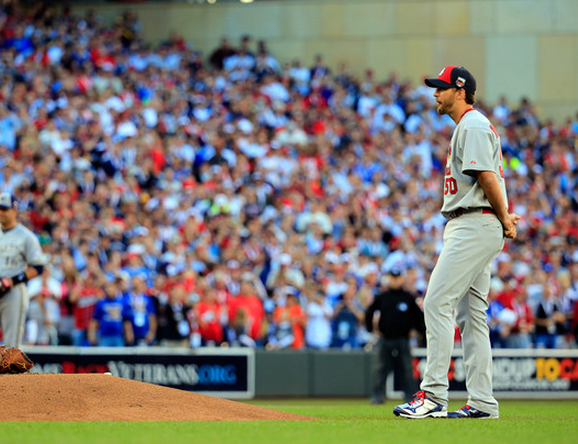 MINNEAPOLIS — Baseball has so many crazy unwritten rules that it's really almost impossible to keep up. For instance, if you ask Hall of Famer Joe Morgan about a moment in baseball he really regrets, he will likely talk about the time he swung for the fences on a 3-0 pitch against an aging Jim Palmer with a seven-run lead. That's not something you or I would have likely noticed, but the way Morgan sees it that just wasn't respectful to a great pitcher. After the game, he apologized to Palmer, who Morgan says both understood and accepted the apology.
Here's another one: One time, the legendary Stan Musial was picked off second base. Later he went over to the second baseman who tagged him out and said: "Don't ever embarrass me like that again."
And one more: Pete Rose had a 44-game hitting streak ended in a 16-4 loss against Atlanta. After the game, he ripped the Braves pitchers — particularly closer Gene Garber — for not throwing him fastballs. I've been stunned how many people I've talked to in baseball who think Rose actually had a point.
Yes, there are unwritten rules.
And so, when St. Louis ace Adam Wainwright threw a 91-mph fastball over the plate against Derek Jeter to lead off the All-Star Game Tuesday night in Minnesota, and Jeter cranked that pitch to right field, I immediately texted a friend: "He totally grooved that pitch." Well, it seemed obvious. He was utterly following the unwritten rules of the game.
[ MORE: Wainwright admits grooving pitch to Derek Jeter ]
What was the point of this night, anyway? It was to celebrate the legend of Derek Jeter. It was respectful and joyous and over the top. Before the first pitch, the National League catcher and umpire backed away from home plate to give him the full stage. Cheers rained down, and he waved his helmet uncomfortably, and it lasted for a long time. Later, Jeter had another moment when he came off the field.
So what was Wainwright going to do for this game? Throw the curveball that embarrassed Carlos Beltran? No, he was going to throw a fastball over the plate. Now, before going any further into this, we should define what a major league "grooved fastball" really is. A grooved fastball is not a batting practice fastball. It's not anything improper. It's a style of pitching, something pitchers will do sometimes when they have a lead, something pitchers will do when they are trying to conserve pitches, something pitchers will often do when facing hitters at the bottom of the lineup. Pitchers know: It's not that easy for someone to hit a 91-mph fastball.
All Wainwright was doing there, in my opinion, was pitching Jeter exactly as he should considering the moment and the game. Let's face it: He wasn't going to try and trick Jeter. He wasn't going to try and break him down and strike him out. This was Derek Jeter's last All-Star Game, and Wainwright (like any other pitcher, I suspect) was going to throw a 90-or-so mph fastball over the plate and see if Jeter could hit it.* On this night, it turns out, he could hit it for a double.
*It is worth noting that afterward Jeter called it a "98-mph two-seamer that stayed on really good." It was actually a 91-mph four-seamer that stayed up. It's always fun to see the way hitters describe the pitches they hit.
[ MORE: Watch Derek Jeter's pregame speech to the AL All-Stars ]
As it turned out, Wainwright didn't have it Tuesday night. He gave up a triple to Mike Trout — Jeter came around to score — and a home run to Miguel Cabrera. That was a three-run American League inning. The American League won the game by two runs, 5-3.
Anyway, that double was a cool moment for Jeter, for the fans, for baseball. He scorched a major league fastball to right, ran it out; hey, it's the bleeping All-Star Game and that's what this is supposed to be about.
Only two things happened that kind of created a minor mess.
One of those things happened Tuesday, shortly after the Jeter hit. Wainwright admitted he grooved the fastball. Wainwright's a good guy, a stand-up guy, a thoughtful and fun guy –and it's clear that he simply did not see how his comments would come out. "I was going to give him a couple of pipe shots," he said, referring to pitches down-the-pipe. "I just thought he deserved it. I didn't know he was going to hit a double or I would have changed my mind."
Wainwright was doing what Wainwright does, just talking from gut, having a little fun, being self-deprecating. But this quote was about to go into the Twitterverse, and it was not going to look good there. Stripped of the context, the history, the way baseball turned the game into a Derek Jeter Love Fest, it sounded like Wainwright was saying that he purposely laid down. I don't think he did that at all. He threw a fastball over the plate and challenged Jeter to hit it.
Worse for Wainwright, though, in short form it also sounded like he was disrespecting Jeter, suggesting that Jeter is some kind of charity case whose greatness has earned him the right to have fastballs grooved to him in the All-Star Game. Again, I feel sure this wasn't at all what Wainwright intended to say. But he said the words.
[ MORE: Derek Jeter's final All-Star game ends in fourth inning ]
After that, he went on FOX to try and salvage something by backtracking and, unfortunately, by bashing social media. I felt terrible for him, but he knows as well as anyone that this is the world we live in. If you say what people see as the wrong thing at the wrong time, the backlash is fierce and it's immediate. Wainwright knew that before Tuesday night.
The second thing that messed things up, though, actually happened a dozen years ago. That was the All-Star Game tie. It was such an embarrassment for the game that Bud Selig and company decided they had to do something drastic, something to make the All-Star Game count — "This Time It Counts" was even their slogan — and so they decided to give the league that won the All-Star Game home-field advantage in the World Series.
On the surface, this wasn't such a bad idea — after all, before the change home-field advantage was simply alternated — one year the American League would get it, the next year the National League would get it – and that's obviously ridiculous. So, sure, tying it to the All-Star Game was random but no more random than the previous system.
Only, that's wrong. It IS more random. The All-Star Game doesn't count. It doesn't matter. Nobody cares who wins. Nobody plays to win. Nobody manages to win. Starting pitchers go one inning. The best players sit. Every team sends at least one player. You don't have to say anything other than this: Derek Jeter started in the All-Star Game even though he has an anemic .322 slugging percentage this year. That's because the All-Star Game is not a game. It's a show, it's a celebration, it's for fun.
By throwing in this ridiculous home-field advantage twist, the game now is less fun. Adam Wainwright throws fastballs to Derek Jeter because it's his last All-Star Game. Now, Game 7 of the World Series will be in Oakland or Detroit or Anaheim or Baltimore or Toronto or, dare I say it, Kansas City? How is that good for the game in any way? It would actually make MORE sense to have the game somewhere because it's an even-numbered year.
Wainwright may have sparked the pipe-shot mess with what he said after he pitched. But he was just doing what baseball players have been doing forever — treating the great older players with respect they have earned. Bud Selig and the people of baseball caused the mess by attaching too much meaning to a game that doesn't count, shouldn't count and never will count.