11:51: Cespedes wins 9-1. Frazier never had a chance. It's Cespdes' second win in a row. He's the first to repeat since Ken Griffey Jr. in 1998-99. They are the only two to have done it.
11:39 PM: Cespedes has five homers against four outs in the finals and is looking strong.
11:30 PM: So the final is Cespedes vs. Frazier. Gotta like the defending champ here. Frazier won the coin toss and elected to go second in the final round.
11:27 PM: Bautista has only three homers against five outs. Maybe he's cold too. He got that first round bye. So he last hit in, like, 1979.
11:23 PM: Cespedes got seven homers. Now it's Bautista's turn. I feel like seven is enough on this night, especially seeing as though Bautista has had a long layoff. But what the hell do I know? I thought that Stanton was going to crush his enemies, see them driven before him and hear the lamentations of their women.
11:19 PM: Tweet of the night here, from our own D.J. Short:
Idea for the Home Run Derby. Four players. 10 outs each. Most win. But it's just warm-up for the Futures Game, which is the main attraction.

— D.J. Short (@djshort) July 15, 2014
11:17 PM: This is gonna end around midnight Eastern. Back in the 1950s they did Home Run Derbies during the day so the kids could see them.
11:15 PM: Bring back steroids.
11:11 PM: If I hadn't spent all day calling the Home Run Derby dumb, I'd make some trenchant argument about how the new format with the bye for the first round winners iced Stanton and put him at a disadvantage, but I really can't do that. Let's just call it all dumb and hail our new Todd Frazier overlords.
11:09: PM: Stanton hits … zero homers. He is done. I have no words. If this contest wasn't already stupid, I'd call it stupid.
11: 04 PM: The pace of this thing has really slowed down. Todd Frazier takes his semifinals hacks. He got one homer. Now it's Stanton's turn. Maybe the long delay iced Giancarlo, but I kinda doubt it. He'll hit more than one homer if he uses his foot to hold the bat.
10:56 PM: The fates were not on Jones' side. Three homers. He gone. The semis are now set: Frazier vs. Stanton in the NL, Cespedes vs. Bautista in the AL.
10: 50 PM: Cesepedes hit nine homers, including a 472-foot job. Adam Jones: good luck, dude.
10:43 PM: Now Cespedes and Adam Jones, head-to-head. But before this we had a high school drum line on the field. Because this isn't going on long enough.
10:37 PM: Todd Frazier beats Tulo in the second round, 6 homers to 2. Frazier was my darkhorse. He'll get murdered by Stanton, but I like that he's advancing.
10:30 PM: So, second round. In the A.L., it's Cespedes vs. Adam Jones with the winner facing Jose Bautista in the semi finals. In the N.L. It's Todd Frazier vs. Tulowitzki. The winner of that goes on to be eaten, alive and whole, by a naked, fire-breathing Giancarlo Stanton..
10:23 PM: Todd Frazier got one homer in his three swings, Morneau none, so Morneau is done and Frazier advances. In the AL swing-off Donaldson got one homer in three swings. Cespedes: two. The defending champ goes on. He's still alive.
10:17 PM: We have two ties in the first round. In the NL it's Todd Frazier and Morneau in a swing-off to see who advances. In the AL it's Cespedes and teammate Josh Donaldson. Each player gets three swings. If they're still tied after three they get one more. If still tied one swing at a time until someone advances. Kind of like a spelling bee.
10:16 PM: Yoenis Cespedes is up. He's the last guy in the first round. He's also last year's champ. This year: three bombs.
10:09 PM: Justin Morneau comes up and, again, gets a big huge round of applause. He only hit two homers, though, so that's kind of a letdown for the former Twin and former Home Run Derby champ. A nice parting round of applause too.
10:07 PM: I skipped the high schoolers' final round to go get a hot cocoa. Because it's freezing. It's July 14 and it's freezing. I'm way better with this than I was with the heat last year, but man, it's cold here.
10:oo PM: Josh Donaldson finishes with three homers, but everyone is still talking about Giancarlo Stanton.
9:55 PM: Stanton's sixth and final homer of the first round went to the tippy tip of the upper deck in left. That was just insanely far. All of the assembled All-Stars are freaking out. It's probably worth noting that Stanton's pitcher, Mike Redmond, was throwing a lot harder than Derby pitchers usually do.
9:52 PM: A fan gets Stanton's second homer by going over a rail and almost killing himself. Stanton's third homer is 465 feet into the top deck in left. This is fun.
9:50 PM: Giancarlo Stanton is coming up next. Hold on to your butts, you guys.
9:47 PM: The other high school kid, Luken Baker, gets six homers. So both the high school kids beat the snot out of Puig, Dozier and Frazier.
9:43 PM: Adam Jones had a nice round. He was ripping it deal pull to left for the most part, which is the smart move. He finishes with four.
9:37 PM: Puig turned in the worst first round so far. Zero homers. He was not very selective swinging at everything. When he made contact he went to center and the opposite field. Worst of all: no bat flips. I need a moment. 🙁
9:35 PM: PUIG TIME PUIG TIME PUIG TIME PUIG TIME
9:33 PM: Two high school kids are now competing in the between-the-big-leaguers portion of the evening. Josh Naylor and Luken Bakaer. Naylor hit three, so I guess that's better than Frazier and Dozier.
9:30 PM: Bautista finishes with ten homers. Lots of line drives. Boom.
9:28 PM: Jose Bautista is putting on a clinic. He has eight homers and only five outs so far. Some of his bombs havae gone far.
9:25 PM: In between hitters they panned to a luxury box in which Bud Selig and Hank Aaron were sitting. They announced Hank and the crowd went wild. But Hank didn't know he was on the JumboTron until Bud Selig nudged him and pointed, like every kid you ever see on the JumboTron. Cute.
9:22: Tulo hit four. He now has the NL lead. Remember: you don't just want to advance. If you lead your league after the first round, you get a bye into the semis.
9:18 PM: Now it's Troy Tulowitzki. His first one didn't go out, but was a towering fly ball to the wall. The kids manning the outfield missed it. I think the announcers should taunt those kids more.
9:13 PM: They probably should've kept chanting. He ends his first round with two. Now that this is getting going, it is going faster now that there's only seven outs. So I suppose there's that.
9:11 PM: The crowd is chanting "DO-ZIER! DO-ZIER!" I guess it's helping. He now has two homers.
9:09 PM: Brian Dozier leads off for the AL. It's still raining, BTW.
9:08 PM: Welp, maybe not. Frazier only managers two homers before his seven outs were up.
9:06 PM: There is a giant rainbow over Target Field. All the rain was worth it, you guys.
9:03 PM: Todd Frazier leads off. His brother Charlie is pitching to him. I like Frazier in this, by the way. Maybe not to win, but I bet he does well.
9:00 PM: Ceremonial first pitches from Dave Winfield, Jack Morris, Paul Molitor and Joe Mauer. Jack Morris threw his out to the score.
8:56 PM: Justin Morneau was just introduced. He got a TREMENDOUS round of applause from the folks in Minnesota. Very nice moment. Three guys later Brian Dozier was introduced. Almost — not quite, but almost — as big a round of applause.
8:52 PM: They are beginning to take the little tarps off the mound and the batters box. Which, under normal circumstances, I'd say meant we'd be underway soon. Except they have a trophy thing sitting out there and keep saying the "pre-event festivities" will get going soon. So who knows when the big strong men will start hitting bombs. Which is all we really wanna see now.
8:34 PM: As the rain continues to fall, they are now showing the old "Home Run Derby" TV show on the JumboTron. It's the Mickey Mantle vs. Harmon Killebrew episode. This is way cooler than the actual one, to be honest.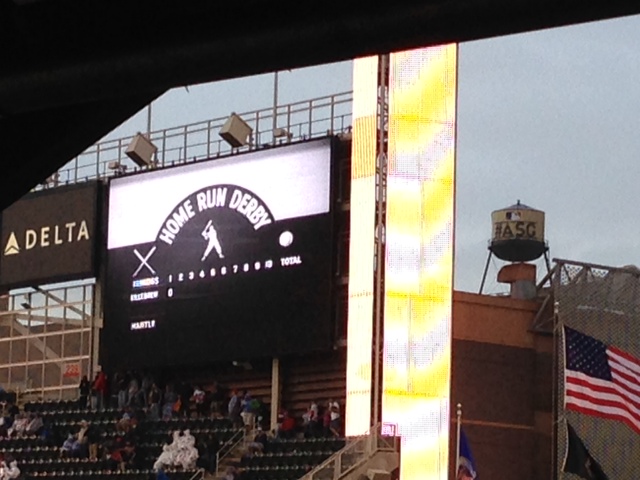 8:24 PM: This is the current radar: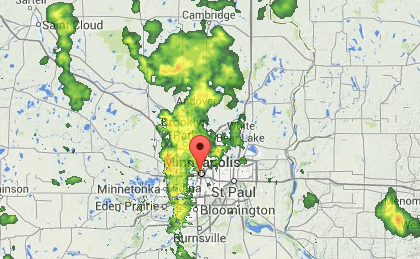 I'm guessing they're not going to bang this thing but it ain't gonna get going at 8:30 either.
8:02 PM: Welp, we're off with a bang. First official announcement of the evening: the Derby being delayed until 8:30. Where did I put that card with $4.50 left on it for the self-serve beer machine?
7:50 PM: Why live blog this? Like I said earlier this afternoon, the Home Run Derby is kinda boring, so if I don't commit to live-blogging it I'll have a hard time paying attention. Give me a task and I can keep my mind focused on anything. Even this.
If you haven't already, do check out our Home Run Derby preview. And think who you might pick to win it in the unlikely event Giancarlo Stanton falls into an open manhole before it begins. Because I think he's got it in the bag.
BUT THAT'S WHY THEY PLAY THE GAME! Or, in this case, that's why they hold the exhibition. And who knows? Maybe the weather has totally thrown this out of whack. It's cold here right now — about 60 degrees and falling, with a steady wind and on-and-off rain — so maybe that will change the equation. Maybe the guy from Canada will do better.
Keep refreshing this post for stunning insights and analysis as the evening wears on. And on.
And on.