MINNEAPOLIS, MN — The first thing I planned to do once I got into town and set my suitcase down on Saturday evening was to go get a Jucy Lucy. What is a Jucy Lucy, you ask? It's a cheeseburger that has the cheese inside the meat patty in addition to on top. It's a thing here in the Twin Cities.
A couple of places lay claim to inventing it, but my survey of locals told me that I needed to get it either at Matt's Bar in South Minneapolis or The Blue Door Pub in St. Paul. I was closer to Matt's so I decided to go there. Oh, and the reason I'm spelling it "Jucy" is because that's how Matt's spells it. I don't know why. I just go with it and try not to insert myself into local politics as much as possible.
Getting my Jucy Lucy was a process. It started by me getting into the elevator in my hotel and encountering my friend Keith Law, of ESPN. If you know Keith you know that his passion for and knowledge of fine cuisine is just as great as it is of and for baseball. I have dined with Keith before and his judgment has never steered me wrong, so I was more than a little unsettled when our conversation went like this:
Me: Hey, Keith. Good to see you!
Keith: Good to see you too!
Me: Where are you headed?
Keith: To a restaurant called Saffron to meet some friends. How about you?
Me: To Matt's Bar to get one of those Jucy Lucys.
Keith: [a beat or two of silence] . . . Those sound absolutely disgusting. Oh well, if you survive, let's meet up tomorrow!
All I can say is (a) I am still alive; and (b) I didn't see Keith anywhere yesterday, so maybe he was killed by the Sautéed Parisian Gnocchi with spring vegetables, soft herbs and black truffle-taleggio cheese fondue at Saffron. Maybe he shoulda gotten one of those cheese-stuffed burgers? Just a thought.
A short cab ride got me to Matt's, which looked like this at 7PM on Saturday night: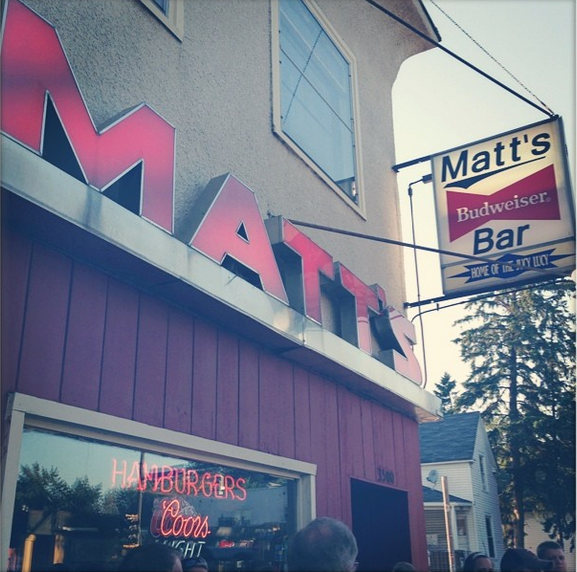 Those heads on the bottom were part of a long, long line out the door. A long, long line that did not budge for a good while. As I waited for it to move, a Twitter correspondent told me that, if I didn't feel like waiting, I should walk about a mile to the southeast and go to Northbound Smokehouse and Brewpub instead. That sounded like a capital plan, so I did. I'm glad I did!
Northbound has some fantastic beer, one of which is called the Ground Rule Double IPA. Since it had a baseball name I decided that NBC was paying for it. And I decided to have two. Research, you see. As I sipped my beer, two "small world" incidents occurred in the space of ten minutes.
First, a woman with whom I struck up a conversation said "Oh, you write about baseball? I used to know a guy here in town years and years ago — sorta dated him for a while — who I think writes about baseball. A blogger maybe?" I was prepared for her to say "Aaron Gleeman," but then I realized that "years and years ago" for a woman her age would've put Gleeman in Zubaz and Timberwolves jerseys in the fourth grade, so it couldn't have been him. But she then said "Bonnes. John Bonnes." Some of you may know John as "Twins Geek" from Twins Daily, and the podcast partner of Aaron's on his "Gleeman and the Geek" podcast. Second person I talked to in town knows one of the two Twins bloggers I've ever met.
The second small world incident was more of a quirky thing. The bartender took my credit card and said "Craig Calcaterra? Weird. That was the name of my math professor at Metro State." I know who this is, actually, as he is around my age, got his math PhD at about the same time I was coming out of law school and, because the Internet was new for most of us back in the mid 90s, he and I found each other while ego-surfing, thought it was quite funny and decided that, given our extremely different careers and skill sets, we were opposite poles of the quite small Craig Calcaterra Karass existing in the universe. I've never met him, but we used to do things like comment on each other's websites and friend each other on Facebook in order to confuse people. Make fun of us if you must, but do appreciate that two Craig Calcaterras finding one another in the universe is somewhat less likely than a couple of John Smiths running into one another.
At that point my two ground rule doubles and the coincidences made it feel like the walls were going to fall in on me, so I booked it back to Matt's. This time the line was not long and I got what I came for: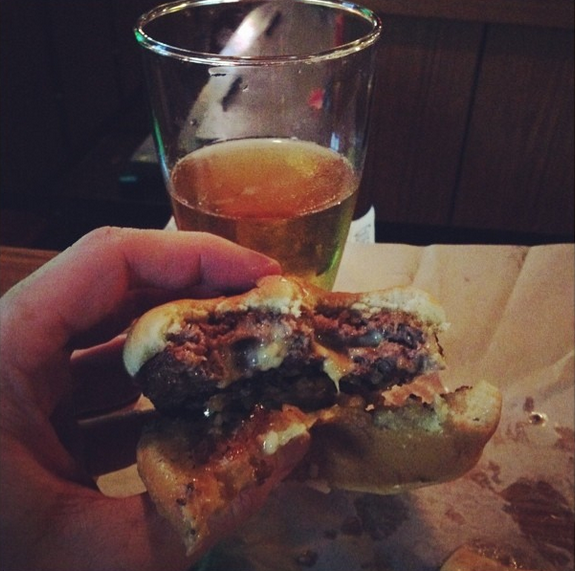 Oh, baby. If you ever get one, though, heed the server's warning about it being very hot. That cheese is molten and it'll melt your face off, bro.
I washed it down with "The Ringer" from Fulton Beer. I guess I could've stretched it into a baseball thing and saying that it was somehow related to Fulton County Stadium, but eh. Besides, Matt's Bar is a cash-only establishment, so I couldn't use the company credit card anyway. And, really, some things you have to keep personal. Like the Jucy Lucy. Which, though I don't think is anything I'd ever make a habit of due to me not wanting to die in my 40s, is something I shall always keep very close to my heart. Because that stuff was awesome, yo.