UPDATE: Didn't see Price's reply to a Twitter follower regarding this last night, but:
Suave…it's red hot RT @titan_luke: Hey @DAVIDprice14 what's this on your arm? pic.twitter.com/SFShllvOqL

— David Price (@DAVIDprice14) July 7, 2014
Red Hot is basically like Ben Gay or another topical ointment/cream/painkiller. So mystery, such as it is, solved.
8:24 AM: Someone who posts to Baseball Reddit posted a screencap from last night's Rays-Tigers game showing  . . . something on David Price's arm: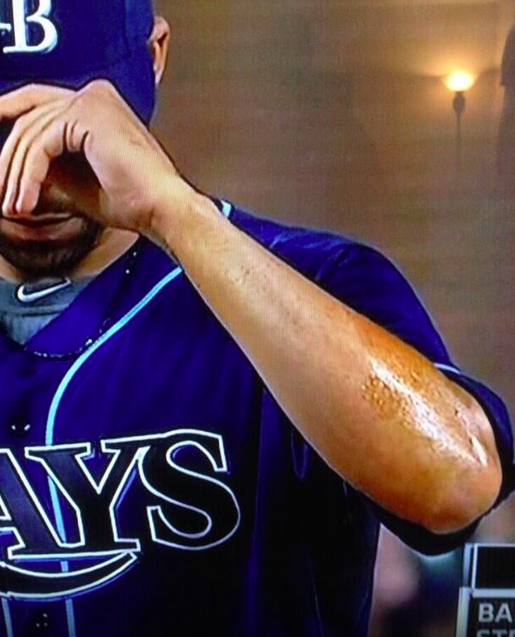 Dirt? Rosin + sweat? Possibly. Something else? I dunno. Also worth noting that it's on his left arm and Price is a lefty. Which doesn't mean that it couldn't possibly be used on a ball — it could transfer to his glove and then on to the ball if he's being slick about it — but it certainly does make it harder to get at it if, indeed, it is a foreign substance.
I do know that this picture, from Getty Images, taken during Price's warmup tosses before the first inning, does not show anything: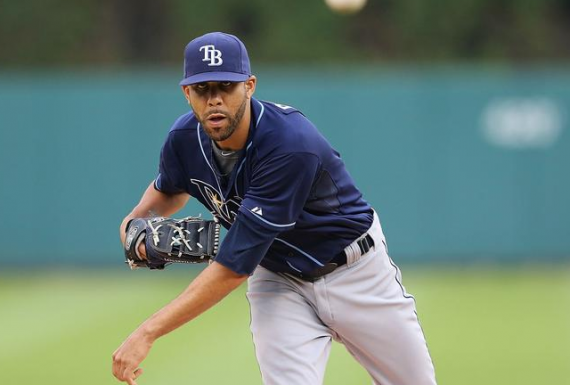 Obviously he has not worked up a sweat yet here. And, of course, the lighting and everything is different. Pictures can be pretty deceiving.
I didn't watch the game so I don't have an opinion on his stuff or effectiveness and can't say from one picture that Price was doing anything untoward. But I do know that smaller, less noticeable smudges have caused others to make accusations in the past. I'm curious to see if anyone does so today.
UPDATE: Just went back to MLB.tv to check on the game and, while his arm definitely (and obviously) got sweatier as the night went on, I can't find anyplace which shows stuff on his arm like that screen cap does (and can't find the exact place where that screencap came from).
So basically: all we have is a pic from an unknown time of the game showing something that could be something or could be nothing. If anyone can find it in the game broadcast, let me know.