Seinfeld Night hosted by the Brooklyn Cyclones was as much of a tribute to the 25th anniversary of the show, as it was a microcosm of everything so beloved from the show about nothing. The night has to be looked at more as performance art than merely a baseball game, and as such, we at HBT thought it was only right to hand out awards for the theatrics on display in Coney Island.
Without further ado, here are the awards:
No soup for you! award goes to: The entire Brooklyn Cyclones squad.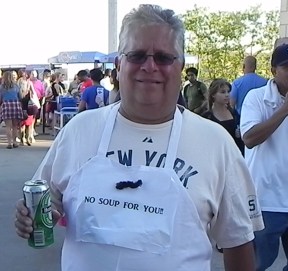 It is one thing to lose, it is a completely separate thing to "shrink"to the occasion in the fashion that the home team did on Saturday night. The Cyclones did their best sitcom impersonation on the diamond, collecting five errors and seven unearned runs en route to an 18-2 trouncing at the hands of the lowly Aberdeen Ironbirds. The Ironbirds, who came into the game with just three wins on the season, spoiled what is sure to be one of the biggest games of the season for the Cyclones, who were playing in front of a sold-out crowd on July Fourth weekend. For your performance, we say: No soup for you, Cyclones.
The best Newman award goes to: Jhoan Ureña
Seinfeld's Newman embodies someone who cares just enough about his job to get by. Raining? No way he's going to work. Don't feel like delivering the mail? Just hide it in Jerry's storage locker. Well, Cyclones 3B Jhoan Ureña really took this commitment to excellence to heart in Saturday night's affair.
Ureña had two specific plays that stick out from last night's game. In the first inning, Ureña received the benefit of the doubt from a home box scorer when he botched a chopper to third base. Ureña allowed the ball to skip off of his glove, where it sailed into left field, allowing a run in the process. The following inning, Ureña attempted to make a play on the ball that was clearly out of range, losing his glove in the process. What does Ureña do? Looks around sheepishly, shrugs and scoops up his mitt. Never change, Jhoan.
The Show About Nothing award goes to: Kenny Kramer
The inspiration for Seinfeld's wackiest character, Cosmo Kramer, Kenny Kramer was Larry David's neighbor for many years while the show's co-creator lived in New York. What was Kramer doing at Seinfeld Night one may ask? Doesn't he have other things to be doing than celebrating a character that largely mocked him on public television? Those would be very astute questions.
While it's hard to say for sure, it seems Kenny Kramer has not made too much of himself in the time since he lived next to David. Kenny works with a traveling reality show that uses Kramer's likeness from the show to attract a crowd. Kenny spent much of the evening vying for camera time and telling patrons to make sure they get a fair price for their signed Seinfeld items on eBay or it hurts his sales. Having said that, the man seemed like a very nice fellow, just a nice fellow that was out of place in this celebration of the show – not that there is anything wrong with that.
The Most Convincing Mailman goes to: This guy
Newman could learn a few things from this stand up gentleman.
The award for Worst Low-Talkers goes to: The Seinfeld Night crowd!
As the errors piled up and the game wore on, the crowd became more and more irritable; raining down a chorus of taunts and boos from the stands. It seems the Cyclones are in fact, not the masters of their domain. With this dearth of low-talkers in the crowd, the jeers were audible in every corner of Vandelay Industries Park on Saturday night. Who can blame them, though? Wild pitches, errors and fundamental blunders were easier to find than Seinfeld re-runs on a weekday afternoon.
Finally, the award for Best Pirate costume goes to: Sandy the Seagull!
Wait, what's that? You don't want to be a pirate?
That is it for HBT's Seinfeld Night superlatives. There is a silver lining for the fans and Cyclones both. Surprising as it may seem now, Seinfeld struggled with ratings during the early years and was almost cancelled on numerous occasions, so not all hope is lost for the Cyclones. Who knows, Brooklyn may evolve into a Seinfeld-ian dynasty come next season, as George says, "Jerry, just remember, it's not a lie if you believe it."