The 2014 Futures Game will, for the 16th year, pit some of the game's top prospects against one another in a "United States vs. The World" format. Major League Baseball just announced the rosters.
Here's the United States team: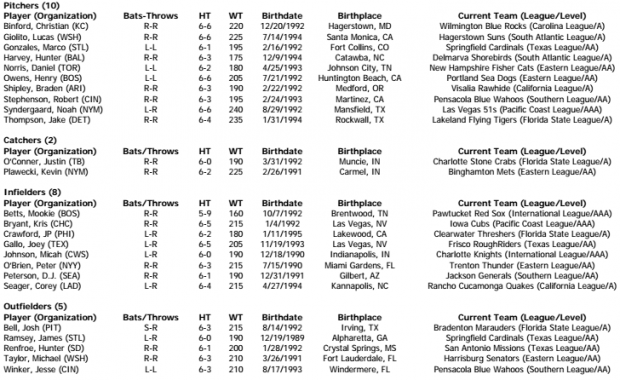 Here's The World: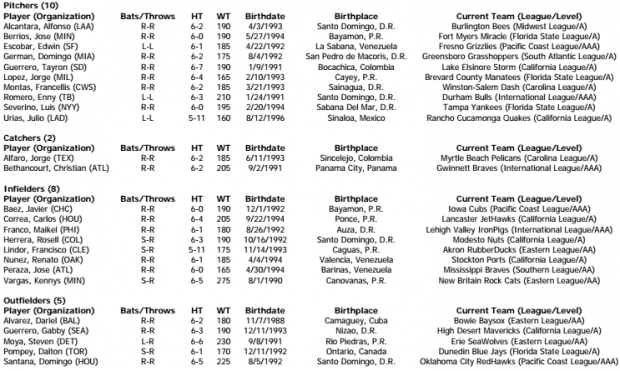 We're not the biggest prospect hounds around here, but there are certainly some recognizable names. Mookie Betts. Noah Syndergaard. Joey Gallo. Christian Bethancourt. Francisco Lindor. Major League Baseball's press release highlighted the U.S. team's Kris Bryant, who was the second overall selection of the 2013 Draft, and the World Team's Javier Baez, who was the ninth overall pick of the 2011 Draft. Both of them play in the Cubs' organization, so viva Chicago. I'm sure, however, you will recognize some of your favorite team's promising young gentlemen.
There are 15 former first round draft picks, six players picked in Compensation Round and five second round picks. For the World Team, the Dominican Republic is represented by nine players, followed by Puerto Rico with seven, Venezuela with three and Colombia with two.  Canada, Cuba, Mexico and Panama each have one player on the World Team. The seven for Puerto Rico are the most they've had in over a decade, which I'm sure Major League Baseball will publicize given their recent efforts and trying to build the talent pipeline from Puerto Rico.
The game is at 5pm on the Sunday before the All-Star Game.