You've seen those Answers.com listicles on your Facebook feed, I'm sure. They're everywhere. And I'm not gonna hate on them too much because (a) everyone's gotta eat, and it's not like most of us are paying Facebook anything out of pocket; and (b) some of those lists can be guilty pleasures.
I mean, no, I don't care about the Ten Things I Didn't Know About "Forrest Gump," but I was sort of intrigued by the list of Actors who Refuse to Work With Each Other. And like a lot of you, I'm a sucker for anything to do with Child Stars Gone Bad. Everyone likes to waste time and everyone's mileage varies, so live and let live in the vast, ridiculous Internet Content Factories in which we all either toil, partake from time to time or [gasp] even sorta like.
Here's one, however, that doesn't exactly fit my tastes: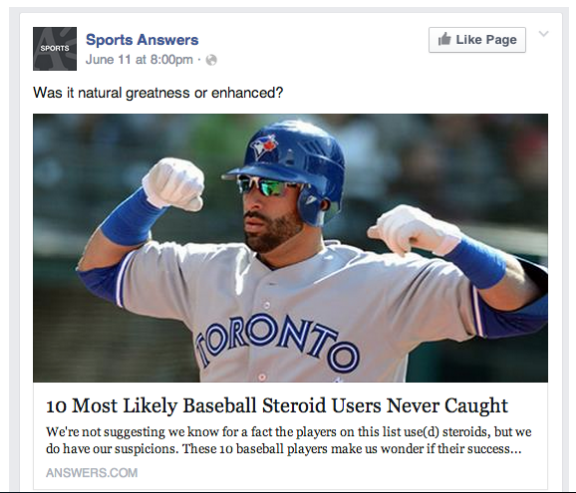 While I'm certainly not above clickbait, I'm not giving those guys the satisfaction of your clicks given that they're trafficking in libelesque nonsense. They're probably legally safe — heck, Rick Reilly and a lot of others played in this sandbox for years and never got sued somehow — but it's certainly low rent. Even for spammy clickbait.
(thanks to Dave Merrell for the heads up)