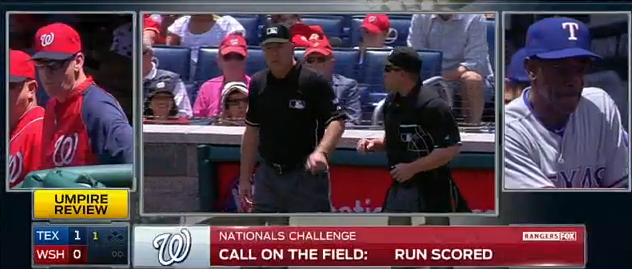 If you're not a big fan of replay you wanted no part of the first inning in yesterday's Rangers-Nationals game. That's when Ron Washington and Matt Williams came out to challenge two different calls on the same play.
With two outs and runners on the corners, the Rangers' Alex Rios broke to steal second base. He was initially called safe, but then appeared to come off the bag and was tagged. Meanwhile, the runner on third — Elvis Andrus — came home and, initially anyway, was ruled to have crossed home plate before Rios was tagged out at second. So it's 1-0 Rangers, yes? Well, no.
Matt Williams came out and asked for a replay as to whether or not Andrus crossed home before or after Rios was tagged. Ron Washington came out and asked for a replay as to whether Rios was actually out at second. It was the first time since the replay system started this season that two calls on the same play were challenged.
Williams won his, Washington lost his. Rios was out and Andrus was late. They went into the bottom of the first still tied 0-0. It ended up not mattering, of course, as the Nats couldn't do anything off Yu Darvish and the Rangers won 2-0.
You can watch the thrilling, scintillating excitement of a double replay challenge here.