Phillies 6, Rockies 3: Chase Utley tied it on an RBI single in the ninth and then Ryan Howard hit a walkoff three-run bomb. Thing is, LaTroy Hawkins should've had the game closed out before either of those guys came to the plate, but Josh Rutledge had a throwing error which allowed both Utley and Howard to bat with two outs.
Athletics 3, Tigers 1: Another game, another wakoff three-run home run. This one from Josh Donaldson off Joe Nathan, who was trying to preserve a 1-0 lead handed to him by a dominant-until-the-ninth Anibal Sanchez. That threw the win to the equally deserving Scott Kazmir, who allowed only one run while going the distance.
White Sox 3, Indians 2: Moises Sierra drove in the winning run with a walkoff single. Both T.J. House for the Indians and Hector Noesi for the Sox pitched some pretty spiffy baseball, but neither factored in to the decision. Jason Giambi hit his 440th home run. Then he and his mule went back into the canyon, ready to scare off any other snoopers who come nosing around to jump his claim.
Mets 5, Pirates 0: Bartolo Colon tossed a shutout into the eighth and was at the plate for the wild pitch that scored the first Mets run. And he looked like this as he swung at it: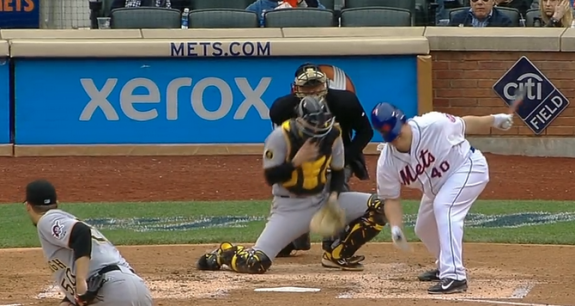 In his defense, he looks like that when he swings at everything. And he's 0 for 17 on the year with ten strikeouts. I feel like the DH in the NL is inevitable, but I also want them to wait until Bartolo Colon is done playing in the NL because how can you deprive us of this, Baseball Gods?
Astros 9, Royals 3: Another game, another homer for George Springer. That's nine in May for him. Chris Carter homered twice. The Astros sweep the Royals, who have lost four in a row.
Giants 5, Cubs 0: Six Giants pitchers, led off by Tim Lincecum, combine for a two-hit shutout of the Cubs. Despite only two hits, the Cubs had ten base runners as Giants pitchers walked five and hit a batter and two more Cubs reached on errors. They couldn't convert, though.
Blue Jays 3, Rays 2: That's nine straight for Toronto, this one coming on a walkoff E-1 following a bunt to the pitcher. The other two runs scored on an RBI single by Edwin Encarnacion in the first.
Marlins 8, Nationals 5: Miami blew a 4-0 lead but the Nats bullpen fell apart in the tenth with Jerry Blevins and Aaron Barrett allowing four runs of their own. Henderson Alvarez left this one for the Marlins with elbow stiffness. Sadly that's not too rare a thing in baseball this year.
Red Sox 4, Braves 0: John Lackey pitched a shutout into the seventh and Sox hitters dinked and dunked Gavin Floyd and Alex Wood to death. Three straight wins for Boston now. This one coming on Idiots Day at Fenway.
Brewers 8, Orioles 3: Nelson Cruz hit homers 18 and 19, but they came in a losing effort. Ryan Braun's two-run double and Khris Davis' three-run homer came in a winning effort.
Rangers 1, Twins 0: Joe Saunders and four relievers combine for the shutout, with their only run of support coming on a Luis Sardinas single in the seventh. Not bad for Saunders, who was making his first start in two months.
Yankees 7, Cardinals 4: Hiroki Kuroda won on the road for the first time in 11 starts, stretching back to last year. Jacoby Ellsbury had three hits and three RBI. The Yankees take the series. Brian McCann started at first base and went 2 for 4. So that was something.
Diamondbacks 12, Padres 6: An eight-run first for Arizona pretty much ended this one before it started. Dbacks starter Chase Anderson got 18 runs of support in the start before this one. He's gonna get spoiled.
Mariners 3, Angels 1: King Felix took a shutout into the ninth and struck out nine. Mike Zunino drove in both of the M's runs, one on a solo shot.
Reds 3, Dodgers 2: Clayton Kershaw pitched OK, but Homer Bailey pitched better. Yasiel Puig hit a solo homer, but Brandon Phillips hit a two-run shot. Anything you can do I can do better, I can do anything better than you.