Astros' prospect Jonathan Singleton's Twitter account is raw and unvarnished. For now anyway. I feel like that'll all change once management decides that one of their top prospects calling someone "gay" as a mild insult and telling fans that he'll sign their fan mail if they send him weed is not the best thing for The Brand:
@Ybarra11 cuz your gay

— THEiLlEST2400 (@iLLJAY_SiNG) May 27, 2014
The improper use of "your" there is almost as egregious, but let's let that slide for now.
The weed tweet has been deleted, it seems, but nothing disappears on the Internet: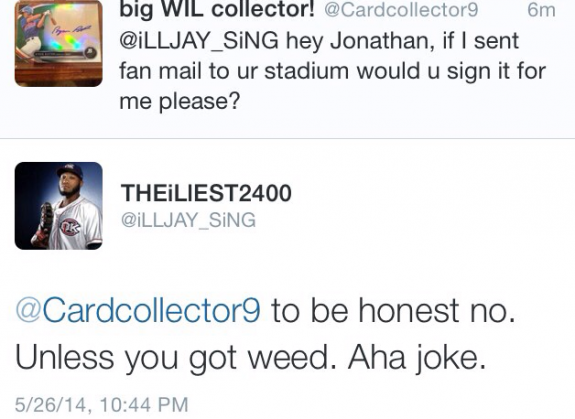 Singleton is a kid and he probably doesn't mean much by all that stuff. Guys his age often use "gay" as a putdown, even if they shouldn't. And joking about autographs for weed, while not exactly hilarious, is also pretty harmless in the grand scheme of things. UPDATE: Maybe not as harmless in Singleton's case, as I had forgotten that he has said he has a marijuana addiction and has already been suspended for it once.
But Singleton is one of the future faces of a young franchise looking to win over a fan base that has grown apathetic over the past several years. And, more immediately, he is subject to a social media policy which makes it pretty clear that anything even looking like pro-drug references or even skirting the lines of homophobia, etc. is grounds for discipline.
Other players have done this and either haven't been disciplined or, at the very least, received quiet discipline about it. Singleton had best watch it lest he get a phone call from someone with the club or the league telling him to knock it off.