I just got the email confirmation. Couldn't be happier: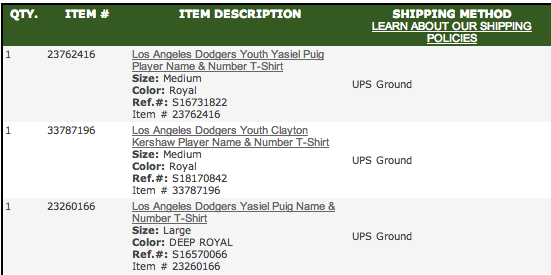 That's right. I bought a Yasiel Puig shirsey for me, one for my son and a Clayton Kershaw for my daughter. Even though I'm not a Dodgers fan.
Why? Partially because I want my son to learn the values, character and deportment of Yasiel Puig. This is a boring-ass country sometimes and it needs a little shaking up. The boy is gonna flip his pencil and strut when he finishes his SATs in eight years if I have anything to say about it. My daughter wanted Kershaw because (a) she didn't want to be like her brother and me; and (b) I think she thinks Kershaw is cute, but I don't want to ask her about it because that'd embarrass both of us.
But mostly it's because the three of us are attending the Dodgers-Reds game on June 12 in Cincinnati and I am teaching my children one of the most rewarding things I've learned about baseball fandom over the past couple of years: when in Rome, do what the Romans do. When you go to a ballpark, commit. Either wear the home team's colors or the visiting team's colors, but don't be neutral and don't be that guy who wears a third team's gear.
Why do this? It's more fun that way.
If you're wearing the home team's stuff, even if it's not your team — which is always the case for me given where I live — there's a great sense of community to be had if you let yourself enjoy it. Random high-fives. Knowing comments from fan to fan. Or, quite often, totally ignorant comments from fan to fan but which are fun anyway because they assume you agree with them and people want to commiserate. You wear the home team's gear for the same reason you don't wear your fanny pack and go to McDonald's when you travel in Europe. Try to go native. You may learn something. Or at least experience something.
As for wearing visiting team gear, well, sometimes you just can't wear the home team's stuff. I mean, I'm all for experiencing things, but if I find myself in Philly for some reason I'm not wearing Phillies gear for any reason. We all have to have standards. Circumstances may dictate it too. I went to a Padres-Dodgers game in Petco last year and the group I was with — and about 75% of the rest of the crowd —  was wearing Dodgers stuff, so why not? My son wants to wear Dodgers stuff in June for reasons explained below, so why not? Certainly if I see the Braves on the road anywhere I'm wearing my Braves gear. Again, the point is to commit to something, even if it's for only three hours.
Now, obviously, there are some issues with this. For one thing, it can be expensive to buy a cap or a shirt for a one-off game. I'll admit, I'm lucky in this regard in that, because I work from home, I don't have to buy a business wardrobe. Most days I'm wearing baseball t-shirts around the house, so I'm getting way more use out of 'em than you might.
For another thing, wearing various teams' colors on a day-to-day basis is easy for me in that I'm nowhere near my favorite team, geographically speaking so I don't have to deal with people giving me garbage for having a Pirates or a Tigers shirt on once in a while. Indeed, Columbus is a pretty non-committal town, baseball wise, with a fair amount of transplants. If anything I get people happy to see someone else wearing random team gear from time to time. If you're a Yankees fan wearing Rockies stuff in New Jersey, though? Yeah, you'll probably get a lot of hassle. But, if you can afford such things for one-off or two-off wearings and if you don't mind the occasional insult, it can be a lot of fun.
A couple of final thoughts about the When in Rome theory: I'll make allowances for minor league or fictitious team gear in a big league park. If you have a Carolina Mudcats cap you bought or if you just can't leave you house without that Hackensack Bulls jersey you bought at "Brewster's Millions-Fest 1992," well, go for it. Also, if you just can't afford or bring yourself to buy gear, cool. At least try to commit in terms of cheering because you'll get good mileage and karma out of that too. Just don't be That Guy who wears Yankees stuff to a Red Sox-Orioles game in Baltimore. It's a sign of pathetic insecurity.
Back to my kids and their Dodgers gear and my application of the When in Rome theory to them. This is not about teaching them to not to pick a favorite team. That's happening slowly and organically and I am not going to force anything on them, be it my Braves fandom or even liking baseball a whole bunch if they're not into it. But they are in to it for now, and it's been cool to watch them figure out which team to like and why. For various reasons my son has gravitated to the Dodgers, which is why we're going to this game in the first place, but it's certainly nothing solid. My daughter is non-committal — she has a Braves shirt, is partial to the Padres because she saw her first big league game at Petco and likes to watch Tigers games because my girlfriend does — but I figure she'll eventually have preferences. Just as I'm lucky to be able to afford gear from various teams, I'm lucky to have the Extra Innings package so we can watch any team we want.
But until their choices in this regard solidify, I'm happy to introduce them to everything. To let them cheer the Dodgers in Cincinnati or the Tigers in Detroit. To let them be a homer or a confrontational visiting team fan. I just want them to have fun and get involved and to enjoy themselves. Because that's what it's all about.