I haven't watched the David Ortiz-produced "Off the Bat from the MLB Fan Cave" show on MTV2 for a couple of reasons. The biggest of which is that I'm not really the demographic they're shooting for. "Off the Bat" is aimed at younger people and is an (admirable, in my view) effort to try to market MLB players in ways the league really hasn't done much of before. Since it is speculated by experts that I don't enjoy or appreciate baseball, all this fun and jocularity is all lost on me.
But I may have to change that policy this week, because this is happening: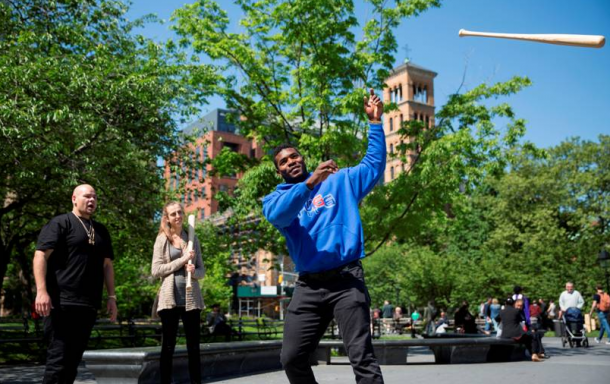 According to the press release, "Yasiel Puig flips a bat for every occasion." Which is pretty fantastic. In the likely event that I die before Puig, I would want him to do a bat-flip salute at my funeral. Maybe we could get Carlos Gomez to be a pallbearer too. Let him decide if he wants to do a slow strut to the grave or one of those fast sprints he sometimes does. Regardless, I'd probably pay Puig and Gomez $200/hr to walk and/or strut around my son's birthday party and flip bats and things.
This week's "Off the Bat from the MLB Fan Cave" airs at 11pm tomorrow night on MTV2. Ain't gonna lie, I'm gonna watch this thing.