Royals 8, Orioles 6: Alex Gordon smacked two three-run homers and went 4 for 4 overall. Ubaldo Jimenez had had three solid starts this month but ran into a buzz saw in this one. Still, he felt good:
"Even though I was making good pitches, they found a way to hit the ball hard. I felt really good and I made a lot of good pitches"
Forget it, Ubaldo. I've tried to make the "sometimes good decisions lead to bad results and not all good results are a product of good decisions argument for years and no one ever buys it. That's America for ya. All that matters is the bottom line.
Astros 8, White Sox 2: Matt Dominguez homered twice and drove in four. Meanwhile, I wore my Astros cap out to the grocery story yesterday and some dude was like "hey, Astros, huh?" So there's that.
Rockies 8, Padres 6: Justin Morneau walks 'em off in the 10th. The Rockies also turned a triple play. It wasn't the cleanest triple play ever given that the third out was called as a result of runner's interference — Seth Smith made no real effort to slide into second as he tried to break up the turn — but it was a pretty sweet day in the highlights department for Colorado all the same.
Mariners 6, Twins 2: A four-game skid for the M's is stopped by King Felix. It's almost like he's their stopper or something. Four hits for Robinson Cano. The Twins still won the series and have won six of nine overall. And the M's are over .500. Not sure a lot of people saw either of those things coming.
Phillies 8, Reds 3: The Philly offense had been snoozing but it woke up on Saturday and jumped the heck out of bed on Sunday, hitting four homers overall. Cody Asche, Marlon Byrd, Jimmy Rollins and Will Nieves did the damage here. Cliff Lee had entered the game 0-3 in four home starts despite a 1.55 ERA this year. He pitched well here and got run support for once.
Yankees 4, Pirates 3; Pirates 5, Yankees 3: A split double header is sorta like reading the Timeline of the Far Future Wikipedia page. You wonder what the point of anything is. Nothing, ultimately, is accomplished. Or at least all that is accomplished is negated. Indeed, this ought to be the recap:
Nationals 6, Mets 3: I was going to make a joke about Wilson Ramos being the Nats' cleanup hitter but then he done and went and drove in four, so there goes my joke.
Athletics 13, Indians 3: The A's are pretty scary. Or the Indians are not that good. Or both. These things aren't mutually exclusive, you know. The A's outscored the Tribe 30-6 in a three-game sweep. Yoenis Cespedes drove in five and Brandon Moss drove in three. At this point the scary Cleveland Indians of 2013 are an utter mirage and we're on year three of people selling Oakland short.
Cubs 4, Brewers 2: Travis Wood was tough stuff — he allowed two runs on only two hits over seven — but the best thing about this day was how good the Cubs looked in those throwback jerseys: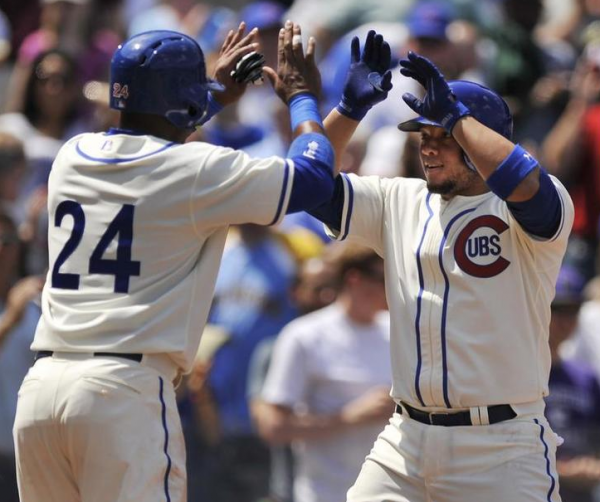 Braves 6, Cardinals 5: A two-run rally for the Braves in the ninth with the tying run scoring on a bases-loaded walk from Trevor Rosenthal and the go-ahead run scoring on a wild pitch by Carlos Martinez. The clown shoes ninth inning obscured the fact that Jaime Garcia saw his first action in over a year and tossed seven innings. Not seven great innings or anything, but he didn't break apart either. Three driven in for Freddie Freeman.
Angels 6, Rays 2: Two homers for Albert Pujols. Off David Price, no less. The second one was number 504, which ties him with Eddie Murray for 25th of all time. The average and on-base percentage aren't what they used to be, but El Hombre can still bop. Matt Shoemaker took a shutout into the seventh.
Editor's Note: Hardball Talk's partner FanDuel is hosting a one-day $35,000 Fantasy Baseball league for Monday night's MLB games. It's $25 to join and first prize is $6,000. Starts at 7:05pm ET on Monday. Here's the FanDuel link.
Rangers 6, Blue Jays 2: The Rangers avoid a sweep thanks to Mitch Moreland and Alex Rios. Until Rios' double in the fourth Texas had gone 23 innings without an extra base hit. Even with the win they are seven back of Oakland and are suddenly looking an awful lot like those Angels teams of the past few years which had such promise only to fizzle once the horses left the gate.
Diamondbacks 5, Dodgers 3:  Eric Chavez broke a tie with a homer in the fifth as the Dbacks take the series from Los Angels. The Dodgers have lost three of four. Yasiel Puig's hitting streak ends at 16. After such a godawful start the Dbacks are at least within shouting distance of the Padres and within local calling distance of the Dodgers. It's a long season. That's something which is easy to forget in April.
Giants 4, Marlins 1: Seven shutout innings for Ryan Volgelsong and a homer and a couple of runs scored for Pablo Sandoval. It was Sandoval's first homer in over a month. The Marlins end an 11-game road trip and head home to Marlins Park, where they're 17-5.
Tigers 6, Red Sox 2: Six wins in a row and 15 wins in eighteen games for Detroit. Ian Kinsler had four hits and Victor Martinez and Torii Hunter each homered. The Tigers are absolutely cruising right now.