Roy Face once won 18 games out of the bullpen. John Hiller once won 17 games as a reliever, and that was a couple of years after having a heart attack. But that was a different game. Relievers pitched longer and it was somewhat easier to win games out of the bullpen. Someone should tell that to Jean Machi of the San Francisco Giants. Check him out on the wins leaderboard: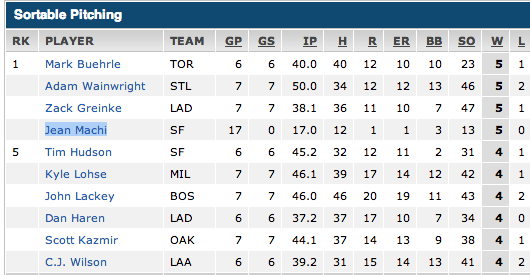 If this holds up he'll be 25-0 with 86 innings pitched in 86 appearances. I feel like that would win him some awards or something.
Flukey, of course. A function of both him doing his job and the Giants scoring runs at the right time. But still kind of fun.