It was obvious from the start that the potential was there for a long day. Check out the location of the three pitches that led to a 3-0 count on Dustin Pedroia to start the game.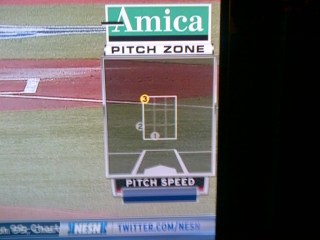 Brandon Morrow went on to walk Pedroia on five pitches. He later walked David Ortiz with one out, only to get out of the first on a double-play ball from Mike Carp.
The second inning played out the same way: Grady Sizemore and A.J. Pierzynski walked, but then Will Middlebrooks flew out to the wall in right and Jonathan Herrera grounded into a double play.
The third inning, on the other hand, started with two quick outs. And then everything unraveled. Morrow walked four in a row, bringing him up to eight for the afternoon and getting him pulled from the game, even though he still hadn't allowed a hit. Chad Jenkins replaced him and immediately gave up a grand slam to Pierzynski, followed by another homer to Middlebrooks.
For Morrow, it was an ugly combination of bad control, a patient offense and a horrible day from Jeff Kellogg behind the plate. Just 26 of his 66 pitches were strikes, but as you can see, even before he established himself as lacking command on the day, the pitches on the corners weren't being called. Opposing starter Clay Buchholz struggled with the same phenomenon, though he did bounce back nicely after a three-run first.
Morrow became the first starter to walk eight and throw no more than three innings since Houston's Jonathan Johnson against the Red Sox in 2003. David Ortiz was in Boston's lineup for that one, too, but he didn't walk in the contest.
Prior to that, Kerry Wood walked eight in 1 1/3 innings for the Cubs in Sept. 2000. Steve Adkins did it for the Yankees in 1990. Those are the only three times it happened in the previous 35 years.