Yankees starter Michael Pineda was very clearly using pine tar to get a better grip on his pitches during an April 10 start against the rival Red Sox.
He tried it again in his start Wednesday night at a blustery Fenway Park and got caught red-handed.
Umpire Gerry Davis ejected Pineda in the bottom of the second inning after closely examining — even touching his finger to — a large brown streak on the big right-hander's neck. Here's an image of that odd scene from beat reporter Jason Mastrodonato of the Springfield Republican and MassLive.com: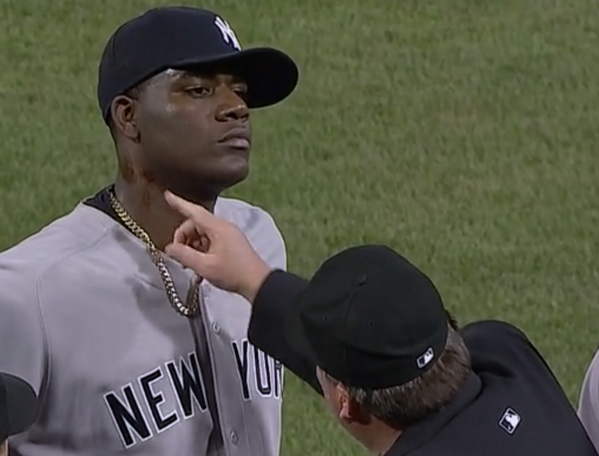 David Phelps took over for Pineda, who now faces a 10-game suspension. Including his results from Wednesday night, the 25-year-old owns a 1.83 ERA and 1.02 WHIP in 19 2/3 innings this season.
We've discussed on this blog before how common it is for pitchers to use pine tar or sunscreen or some sort of sticky substance to help with grip on cold days. But most do it with a level of secrecy.
Former major leaguer Gabe Kapler put it nicely in this tweet Wednesday night …
C'mon, Pineda. This is like getting pulled over by a cop, him not giving you a ticket, & you peeling out in front of him as you drive away.

— gabe kapler (@gabekapler) April 23, 2014