If you thought the Washington Post's Tom Boswell was provocative in calling Bryce Harper his seventh-best player in his latest column, get a load of his answer during his chat on the Nationals this morning: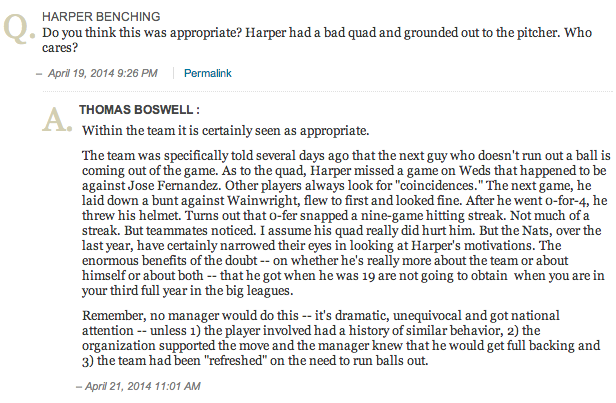 Unlike the thing about Harper being the seventh-best player — which was Boswell's own, possibly disingenuous assertion — this sounds way more like Boswell passing along scuttlebutt of what he'd heard from Nats players, coaches and/or execs. We're in no position to know for sure, but talking to some Nats fans on Twitter who pay close attention to coverage of the team reveals that Boswell's m.o. is more about being a conduit for internal team sentiment and using his chats to mention things that he may not be able to get into a column than it is about stirring crap for its own sake. And, based on reading Boswell for nearly 20 years myself, he has never struck me as the sort of guy who gets all huffy about someone and then decides to mount a campaign against them a la Plaschke (see, Plaschke vs. Paul DePodesta, Plaschke vs. Puig, etc.).
So, what to make of this? Maybe I'm wrong and Boswell is just beating up an attractive target for the hell of it. Maybe someone — or many someones — on the Nats is suspicious of Harper. Maybe it's the totally unhinged thoughts of one player on a bad day. Maybe there's an undercurrent of anti-Harper sentiment on the team. Maybe Harper is legitimately reverting to some of the stuff that made him look a little bad when he was 16 or 17 or whatever and it's rubbing people the wrong way.
But we can at least say that it's not that often a veteran team which many think is playoff-bound gets catty like this in front of reporters. Implying that a guy oversold an injury in order to duck a tough pitcher is a pretty serious accusation, be it made anonymously or not. It's something worth watching.