Design Room has come up with a list of the top ten logos in MLB history. It's mostly defensible — I love the minimalist/modern logos like the 1970s-80s White Sox, the old Brewers mitt and the Expos logo — but there are two pretty notable inclusions.
1. Chief Wahoo makes it. Now, I get why Wahoo makes this list — go read the reasoning — but if your inclusion of a logo is based on subversive politics as opposed to its actual aesthetics, eh, make a different list; and
2. Citing the Tigers' English D logo over its vastly superior round roaring tiger logo is a crime against humanity.
I mean, sure, the English D is great and it makes the Tigers' home uniforms, in my view, the best uniforms in baseball history. But this is pure awesome sauce: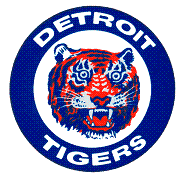 Anyway, a fun list for a slow morning.