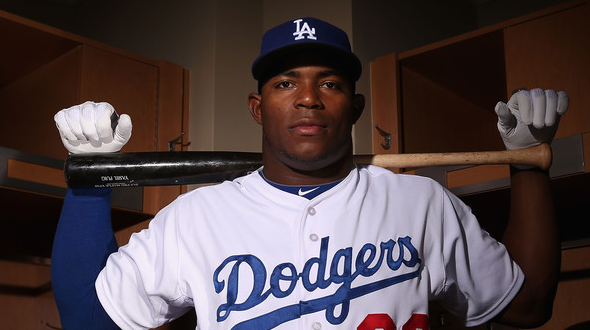 Read this story by Jesse Katz in L.A. Magazine about Yasiel Puig's journey from Cuban poverty to major league prosperity and then try to lecture Puig about his need to grow up. I dare you.
After several aborted attempts to defect, Puig and a handful of others are holed up on an island near Cancun as the men who smuggled him out of Cuba negotiate for their payment from the crooked Miami businessman who promised to fund the job:
Every time the smugglers picked up their satellite phone to call Miami, though, Pacheco seemed unable or unwilling to meet their demands. It was unclear whether he was stiffing the smugglers or whether the smugglers were gouging him. For every day of nonpayment, they upped Puig's price by $15,000 or $20,000. The calls between Mexico and Florida grew furious. The days turned to weeks. Holed up in that dump of a motel, all four migrants in the same dank room, Puig was so close to the prize—now was not the time to lose faith—and yet having just been liberated, his fate was never more out of his hands. The defector had become a captive.

"I don't know if you could call it a kidnapping, because we had gone there voluntarily, but we also weren't free to leave," said the boxer, Yunior Despaigne, who had known Puig from Cuba's youth sports academies. "If they didn't receive the money, they were saying that at any moment they might give him a machetazo"—a whack with a machete—"chop off an arm, a finger, whatever, and he would never play baseball again, not for anyone."
The story is about much more than those harrowing days, however. It's about the hopelessly corrupt system in place which forces Cuban athletes into these dangerous situations — and to pay usurious fees — to criminals in order to get to the United States to play baseball. And about how Major League Baseball and the U.S. government's approach to all of this is a driving force, if not the driving force in an insane system.
It's also about Yasiel Puig the person who — much in keeping with the criticism he's received of late — is described as someone who has always been somewhat crazy and impulsive. But how those traits are thrown into a pretty stark explanatory framework when you realize that, in Puig's words, "where I come from, you don't think a whole lot about tomorrow." And how "sleep is when it's your turn to die . . . for that reason I sleep with one eye open."
Even to this day, Puig's journey to the United States has left violence and crime in its wake and, quite possibly, in its future, as his family in Cuba has been threatened and shaken down. Likewise, Puig himself is accused in a lawsuit of shakedowns and machinations of his own. The world Puig comes from is harrowing in the extreme and, in many ways, he's still living with the repercussions of it all.
So, yes, the guy should show up to the clubhouse on time. And yes, he should strive to hit the cutoff man more frequently. But if you think this justifies a sanctimonious lecture from a privileged person about how Puig needs to "grow up" and respect the game, you're quite frankly insane. The man has already had to live through more than most of his detractors could ever imagine. And he has done more and risked more to play baseball in this country than they could ever dream.