Jonathan Papelbon, the game's highest paid reliever, gave up three runs on four hits and two walks to blow a 3-1 lead and take a loss against the Rangers on Wednesday. But at least he was willing to shoulder the blame for it.
Well, no, that's really not what happened at all.
"The whole inning was kind of just one of those innings. You get a cue ball down the third base line. Then you get a double-play ball, which you think is the game-ending double play. It's not," Papelbon said. "My whole focus was get a ground ball, get a double play and get us out of the inning."
Said potential double-play ball — which wasn't exactly a soft roller — came with the infield drawn well in because the bases were loaded. And the bases were loaded because Papelbon pretty much stunk up the joint. Not only was his fastball a hittable 91 mph, but he was missing with it all over the place. He ended up walking Shin-Soo Choo to end the game on a pitch that wasn't even close.
Here's his strike zone plot from BrooksBaseball.net: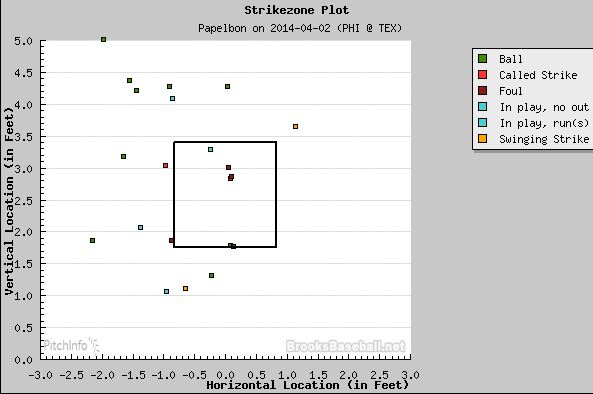 That's just not good. At one point, he nearly hit Donnie Murphy in the head with a splitter or slider that was meant to be low and outside.
It was the second straight game in which the Phillies' bullpen came up short. Papelbon did pitch a scoreless frame in the season-opening win Monday, but with his velocity in decline and his command clearly not there yet, more shaky outings are likely on the way.