Loyal reader and other-side-of-the-world-dweller Kiwicricket has been shooting me interesting factoids and news articles about the Dodgers-Dbacks series in Australia. One interesting factoid? The Dodgers are using special fancy lights in order to beat jet lag. Another one? Tickets to the games at Sydney Cricket Ground are not cheap. Prices from Ticketek.com:
Platinum         $499.00
Gold Grandstand  $369.00
Gold Concourse   $369.00
Silver   $259.00
Bronze   $189.00
Outfield         $99.00
Grandstand Outfield      $69.00
Concourse Outfield       $129.00
Trumper Concourse        $89.00
Miller Bullpen Bar       $149.00
Those are in Australian dollars and the current exchange rate is $1 U.S. to $1.10 Australian. So fine, lop of 10%. Still seems like an awful lot, especially given how far away from the action many of the seats down the lines appear to be: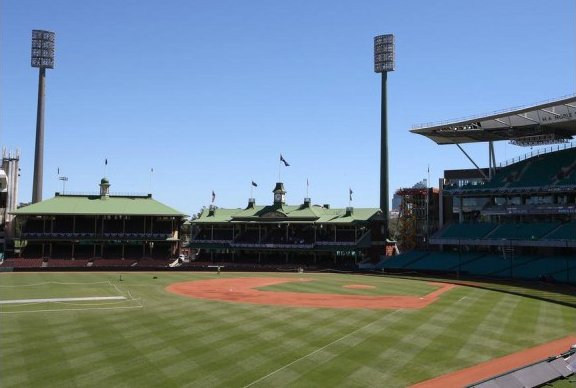 I guess this is a big special event. But I have to wonder if it's as big for most Australians as it is for people directly involved with the promotion or for baseball fans in the U.S. I mean, ask yourself: how much would you be willing to pay to see world class cricket if it were put on in Yankee Stadium?
Maybe some folks would pay top dollar. Maybe it would sell out as I assume SCG will sell out for this two-game series. But it does seem kinda high for a March baseball game.