You never know where you'll find some random baseball factoid or reference. Today I was reading this story about those old Mr. Yuk poison stickers over at Mental Floss and learned that Mr. Yuk's creation was attributable, at least in small part, to the Pittsburgh Pirates:
Mr. Yuk's story begins in Pittsburgh, Pennsylvania, in 1970. Dr. Richard W. Moriarty, then a chief pediatric resident at the Children's Hospital, noticed that there were many calls about poisons coming to the emergency room, not to mention many needless visits, when parents should have been calling Poison Centers first . . . Complicating matters was the fact that the Jolly Roger—a skull and crossbones that had traditionally been used to warn kids of poisonous substances—had been incorporated into the logo of the Pittsburgh Pirates, and appeared on everything from cereal boxes to gum labels. "Children are relating the danger symbol for poison with pleasant surroundings," Moriarty, then director of the Pittsburgh Poison Center, told the Pittsburgh Post-Gazette. The confusion may even have led to an uptick in poisonings in the area.
Way to go, Buccos.
In other news, my brother and I used to get sheets of the Mr. Yuk stickers from drug stores when we were kids. Ours said "West Virginia Poison Center" on them: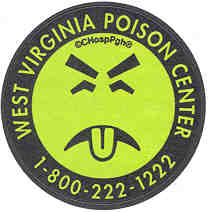 We'd take black markers and black out letters to make them say 'Virgin son," which we decided would be a great name for a band or a production company or something. As you can see, the words would be nicely arced over the top of the sticker, so they looked cool. We stuck them on everything.
I still think I'd like to use Virgin Son as the name of a production or publishing company or something someday. I also think that, if I did, Richard Branson would sue my butt off.