The Yankees and Red Sox are playing a game in Steinbrenner Field in Tampa right now. It's delayed. Why?
Yankees/Red Sox is currently being delayed by a bee invasion. Friendly reminder that Florida is terrible and you should never visit.

— Hunter Felt (@HunterFelt) March 18, 2014
A swarm of bees in left field at George Steinbrenner Field has delayed Sox-Yankees game.

— Nick Cafardo (@nickcafardo) March 18, 2014
Thankfully the grounds crew is on the case. But they have help from Mark Teixeira:
Mark Teixeira is holding up two bottles of honey as stadium workers spray left field with insect spray.

— Mark Feinsand (@FeinsandNYDN) March 18, 2014
Mark Teixeira has two bottles of honey in his hand and is waving them around. I am not joking.

— Jesse Spector (@jessespector) March 18, 2014
It's true: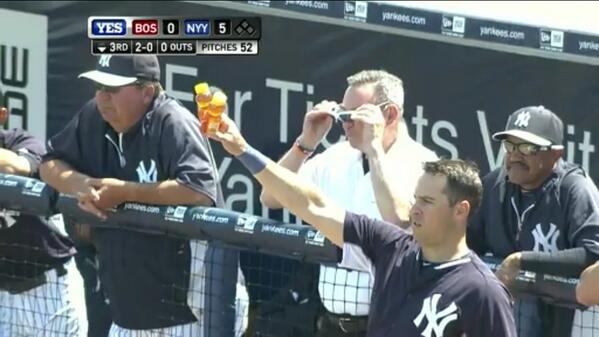 After the game, Teixeira explained what he was doing:
"What I thought was, if you could just do a line of honey out to the parking lot, the bees would maybe follow it, and then just leave us alone."
That makes absolutely no sense whatsoever, but it's also kind of brilliant.
Anyway, here's this: