My favorite thing about PED hysterics is how they totally freak out when one compares PED cheats to spitballers, bat-corkers and amphetamine poppers, claiming it to be apples and oranges and an illegitimate exercise in moral equivalency. Yet they themselves  love to compare gambling on baseball to PED use. And do so in an effort to absolve the gamblers.
Not all gamblers of course. They'll tell you that the Black Sox scandal remains the worst thing to ever happen to the game. Shoeless Joe Jackson should be let off the hook because he was in "Field of Dreams" and stuff, but the rest of them cast a dark, dark shadow. Oh, and of course they make a special exception for Pete Rose. They love Pete Rose and will do anything they can to minimize or ignore his transgressions.
We've seen lots of this before. The claim usually goes that, yeah, what Pete Rose did was bad, but the PED cheaters are way, way worse, so we should now view him in a new light. Usually there is an effort to equate his gambling on baseball (and tax evasion and association with drug dealers and, oh yeah, his PED use, which enabled him to break the all-time hits record) as merely an understandable product of his competitive nature. And as evidence of that they'll claim — despite the absence of evidence and despite the irrelevancy of the claim — that Rose only bet on the Reds to win. And then, when they're done doing that, they will pivot to A-Rod or Barry Bonds or Roger Clemens to tell you how comparatively evil they are.
The latest to do so is Bill Madden of the Daily News. Who is no fan at all of Barry Bonds coaching at Giants camp last week. Indeed, he is so upset that he has made a series of assumptions and leaps, telling us what he is sure people he did not interview for his column are thinking. Neither Giants GM Brian Sabean and managing partner Larry Baer "were anywhere to be found," at Giants camp last week Madden says, strongly implying that they disapproved of Bonds' presence and didn't want to be associated with it. Which is ridiculous given that both Sabean and Baer gave comments last week strongly supporting the decision to bring Bonds back as an instructor. And that, absent their approval, Bonds would not be there. I suppose Madden could have called those two to ask them to comment again, but if he did so it'd negate a few sentences of his little temper tantrum of a column.
But the worst part of it all is not that bit of disingenuousness. It's the Keith Hernandez-caliber stretch it takes Madden to make the comparison in the first place. Indeed, it's the very headline and premise of the piece:
It was indeed a strange coincidence that Bonds should end his seven-year exile at the same time Rose's ban for betting on baseball is now coming up on its 25th anniversary . . .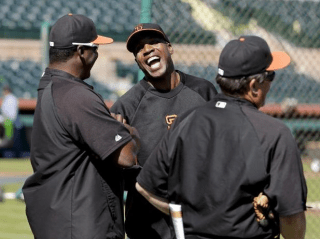 No, it is not a strange coincidence. It's two completely unrelated things which say nothing and mean nothing to one another. Their being thrown together in this column is 100% a function of Madden trying to beat his pro-Rose and anti-Bonds drum, not some necessary comparison that can or must be inevitably made by virtue of simple observation. This is a quintessential example of the sort of dog-wagging narrative-building one often sees from the more hacky elements of the sporting press. The ones who make it more about themselves and their preoccupations than the events they are endeavoring to describe and critique. And if you think this isn't about Madden and his ink-stained brethren, think again:
And no doubt with the Hall of Fame in mind, Bonds was all nicey-nice with the reporters he held in contempt during his playing days, reminding me of the famous line by legendary New York baseball writer Frank Graham, about '20s Yankee outfielder Bob Meusel, who shunned the writers most of his career until finally deciding to oblige them in his last season: "He's learning to say hello, when it's time to say goodbye."
Rose, meanwhile, is "one of the great ambassadors of baseball," according to Madden. It'd be really interesting if Madden could cite any of Rose's great acts of baseball diplomacy. Personally, I've read three different books about the guy and I can't recall any ambassadorial accomplishments. Maybe that refers to his delicate handling of the paternity suit he was slapped with in the late 70s? The expert negotiations he led prior to his tax evasion conviction? His summit meetings with the steroids dealer with whom he shared a home for a time? The sage way he handled his home plate collision with Ray Fosse, which seriously disrupted the latter's career? Pete Rose may not be in the baseball Hall of Fame, but if there is an ambassador's Hall of Fame — say, in Geneva — I figure he must have a plaque there.
Of course none of that is here nor there, and Madden knows it. His distaste for Barry Bonds and his affection for Pete Rose are all you have to know in order to know where he'll come down on all of this. To know that he hates one great but drug-fueled superstar who broke one of baseball's signature records thanks to PEDs and was later convicted of a felony yet loves a different great but drug-fueled superstar who broke one of baseball's signature records thanks to PEDs and was later convicted of a felony. If you can't see the differences there, well, you're just not as enlightened as Bill Madden.
I suppose Madden might say I've made his point for him. That there is no difference, so why can't Rose coach too? Such a claim wouldn't pass the smell test for me given how clearly Madden wishes that Bonds were not allowed to be anywhere near a baseball field. He'd have them handled differently just like baseball is handling them differently, only he'd reverse who is banned and who isn't. For my part, I'm having a really hard time seeing how either Bonds or Rose could do much harm as a guest hitting instructor. Hell, it'd almost be worth it to see Rose squeeze into a uniform again. Hopefully his 1970s-style double-knits.
I doubt we'll ever get there. But if we do, it will be because of baseball's consideration of Pete Rose and Pete Rose alone. It will not require some intellectually dishonest and transparently personal argument about how bad the PED guys are.