FORT MYERS — I have seen the future of spring training complexes, and its name is Jet Blue Park. Or maybe it's not the future, because frankly, I'm not sure who else is going to shell out the kind of dough this place likely cost besides big money teams like the Red Sox (or the cities which pay for them on the promise of hordes of fans coming from up north to visit). But either way it's a palace.
The scale of the complex is the first thing that struck me. It's out on the edge of Fort Myers, out by the interstate and the airport and thus they had all the land in the world on which to build it. And they used all of that land, it seems. I can't find such figures for every park, but I'd be shocked if Jet Blue didn't take up more square acreage than any other spring training complex, for whatever that's worth. And there are more golf carts on site schlepping people around than I've seen anywhere. When I got out of my car to head over a dude came by on a cart and asked me if I wanted a ride. I declined, but by the time I got to the back fields and the clubhouse I sorta wished I had.
And it's not just acreage. This is the clubhouse: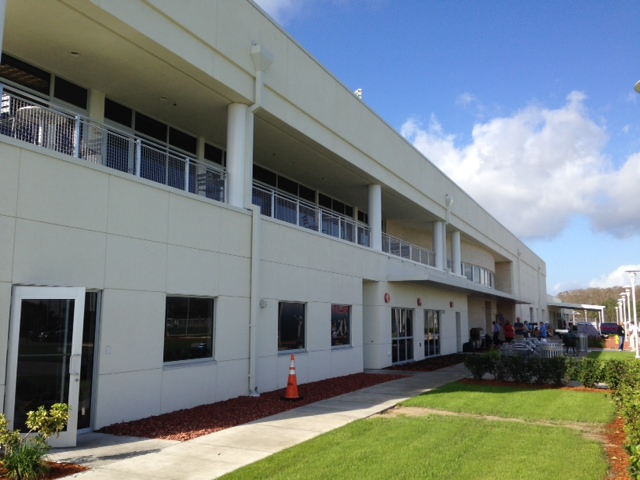 Well, it's not just the clubhouse. It's the minor league clubhouse too. And team offices. And the weight room. And a dining hall of players and coaches. It's just a massive building that — perhaps apropos given the name of the place —  makes one think of an airport more than a baseball facility. As do the batting cages: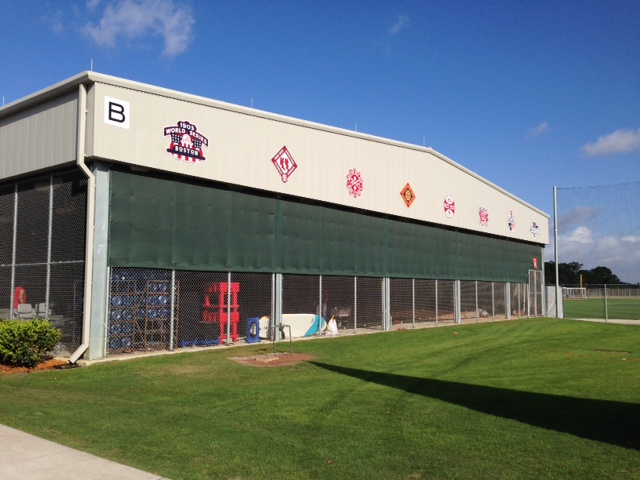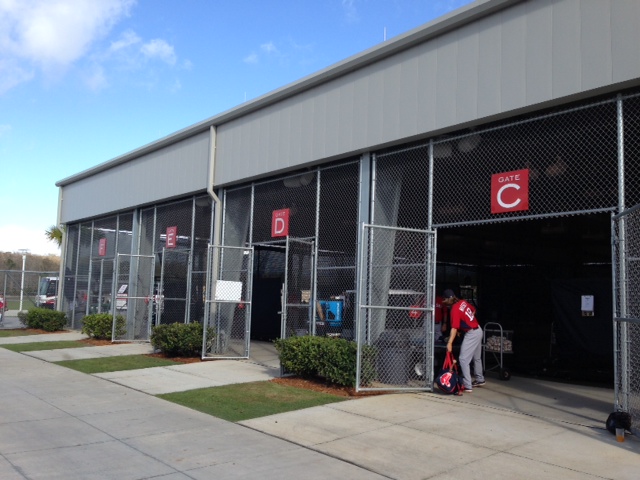 "Attention, we have a gate change  . . . your flight will now be departing from Gate E  . . ."  Even the retired numbers are huge: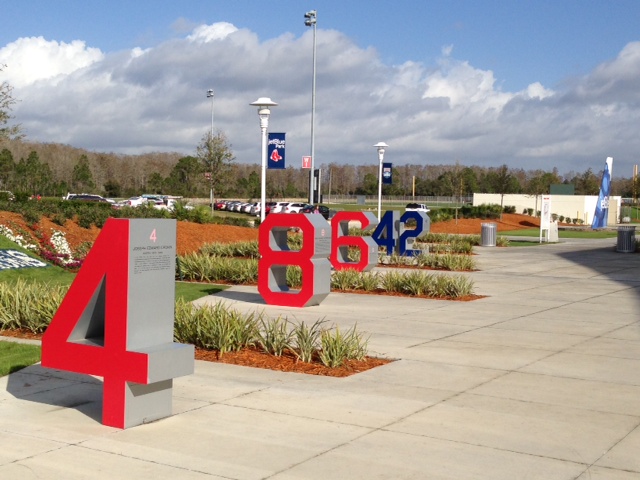 I literally couldn't get into a good position to get them all in one shot. Had to settle for only some of them.
The massive scale is paired with some nice style, too. Unlike every other clubhouse I've ever been in, the Sox' clubhouse has high ceilings and tons of natural light. What a concept: sunlight in a locker room. And tons of room to spread out. Indeed, most veterans have two lockers. You sometimes see a superstar with that setup in spring training, but lots of guys have it here.
On to the ballpark itself:

It is, as many have noted, Fenway South. That's actually the formal name of the complex — jetBlue Park at Fenway South — and the name of the street it's on too. It has exactly the same dimensions as Fenway Park and the same quirks. A manual scoreboard. A Pesky Pole. And, of course, a Green Monster: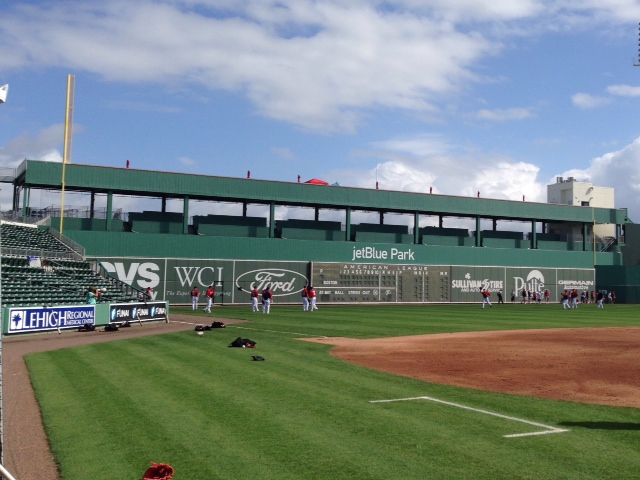 The difference, as you can see, is that there are actually seats in the middle of the Monster, not just the top (where that red umbrella is on the top here is the actual home run line of the Monster in Boston). In order to keep things the same as in the real Fenway, there is a net in front of those middle seats: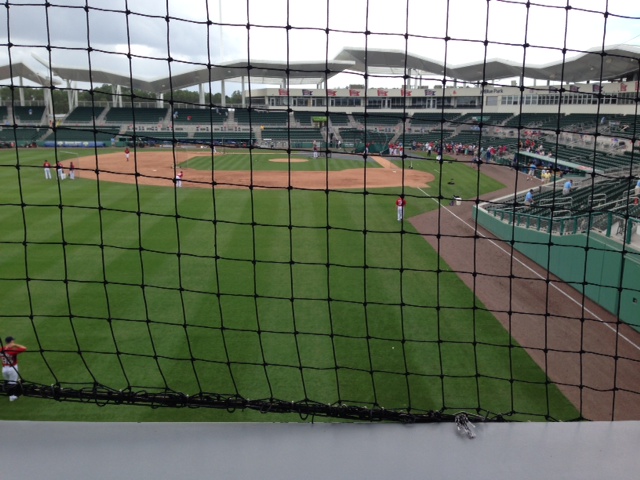 If the ball hits off of it it's still in play, just as if it were to bounce off the Monster in Fenway. That's great for the players, I suppose, but it kinda stinks for the people in those seats. I bet a lot of them would love to catch a Fenway double.
But despite all of the major league qualities of the place — and the sheer size — this somehow still feels like a spring training park. This is in contrast to Steinbrenner Field up in Tampa. That place is taller, has tunnels and too much poured concrete and it doesn't have the same number of areas where people can hang out. It's in the middle of a city, not some area where you'd plausibly vacation. This place is as imposing as all get-out — it's not quaint like TigerTown in Lakeland or even the Phillies' place in Clearwater — but it doesn't have that same impersonal feel the Yankees' joint does.
There is probably some larger conclusions and comparisons to be drawn from all of that.  I'll let you draw them.