BRADENTON — It stinks that there's probably not going to be baseball here today, because this park is pretty sweet: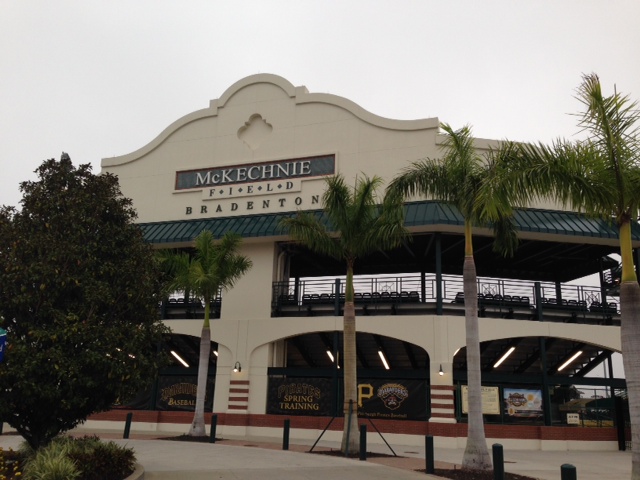 I love McKechnie Field. It's old, and despite recent renovations, it still has that old-timey feel. And of course the renovations make it more comfortable. And the food here is great. Just a wonderful park.
As many note when talking about this place, the area in which it sits is not exactly prosperous. I parked my car right across 17th Avenue from the park, right behind a homeless shelter/soup kitchen/free clinic. There are a lot of auto repair and body shops nearby. These are the sorts of elements which people cite when disparaging Maryvale Baseball Park where the Brewers train and Citi Field in New York.
My view: baseball is part of life. We shouldn't consider it a bad thing when life happens next to a ballpark. If anything, it'd be better if the luxuries of society were closer and more accessible to more people and their necessities. That they not cloistered away in prosperous areas as though they were playgrounds for rich people. People in Bradenton work in and around this ballpark. And I can't help but think that even if they don't get here very often, seeing it as they walk to where they need to go makes the fabric of society a bit stronger. We already have too many things for rich people separated from the majority of people by virtual moats. Going to a baseball game isn't cheap these days, but it's nice to see a ballpark less characterized by that sort of thing.
Not that there isn't some sort of gentrification going on here. Right next door to the free clinic is this, under construction:
It may be hard to tell from the photo, but looking inside you see beer tanks and a couple dozen taps in what will be a dining area. Yep, they're putting a brewpub across from the park.  And now gone from the park?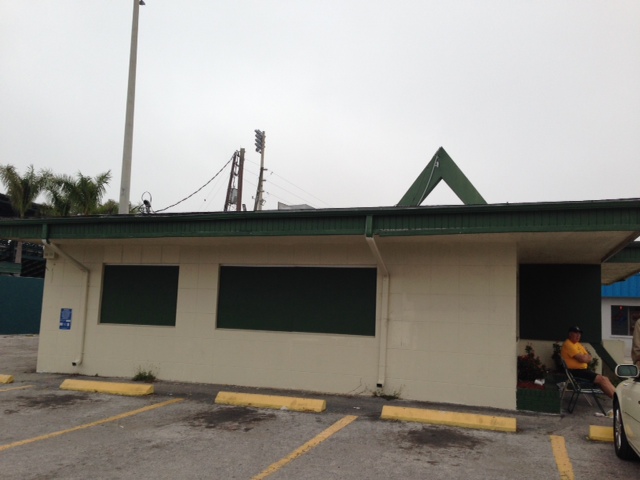 That was Popi's Place, a good old fashioned greasy spoon. I ate there back in 2010 and it was one of the best breakfasts I ever had. And the palce had all kinds of character. The Pirates bought it last month and closed it down. They'll use the site for parking now, but it'll eventually be part of a ballpark expansion. The owners weren't forced out or anything — this story explains that they were ready to retire — but it is hard to feel great about the closing of this sort of place.
Especially when, again, according to that article, it's part of "the City's and the Pirates' strategy for redeveloping the area around McKechnie Field as an arts and entertainment district." "Arts and entertainment districts" tend not to be aimed at a neighborhood clientele. Indeed, it often means people in the neighborhood need to find new neighborhoods in which to live or work due to increased rents.
I'll admit that I'm a naive idealist/utopianist. I have this vision of a civil society in which people come together in order to get the business of living done. That they use the banks and post offices and sidewalks and public squares more or less together. That the services and businesses that tend to serve the rich aren't so profoundly separate and apart from the services and businesses that tend to serve the poor. That people see those who are different from them more often than we do now — literally see them — and as such, don't forget their existence when plans and policies are made. I feel like such a thing would make our society stronger.
Maybe that'll never exist. Maybe it never truly existed in the past either. Maybe the fact that I live in an upscale suburb specifically so my kids can go to better schools makes me a way bigger part of the problem than someone who builds a spring training complex in gated-off parking lot in a rich suburb or gentrifies a working-class neighborhood to the point were the workers actually have to leave.
I don't know. But this is the stuff I think about when it's raining at a ballpark.