I wish I was joking when I say that I spilled water on my keyboard yesterday and now the "r" key on it doesn't work anymore. But that's what happened. I'm putting them in via CTRL-V, which makes everything a lot slower. It's pretty nuts, actually. Weirdest part? When I type the letter "i" it types "ir." Like the r migrated down the keyboard. I think the water I spilled on it was possessed by evil spirits. Or the computer watched the movie "Electric Dreams" or something.
Anyway, I'll try to salvage this post as best I can. I have no idea how I'll write the rest of the day, but we'll deal with that later.
It was a nice day. As I said the last time I was here back in 2010, Bright House Field is one of the nicest in all of spring training. a great park with a great, beachy-party vibe. Good food. Nice people. Phillies' employees, from the people in the executive offices to the guys who wipe down the seats, are impossibly polite and make your day at a ballpark as pleasant as can be.
I already posted about my conversation with Gene Garber and the ceremony for Jim Fregosi — and as I said yesterday morning, the clubhouses were closed, so there wasn't much of a chance to speak to players — so let's just look at pictures I took. Lord knows the mostly boring game I saw — a 2-2 tie — wasn't worth too many words.
There are lots of familiar faces on the Phillies spring training staff. Here's one: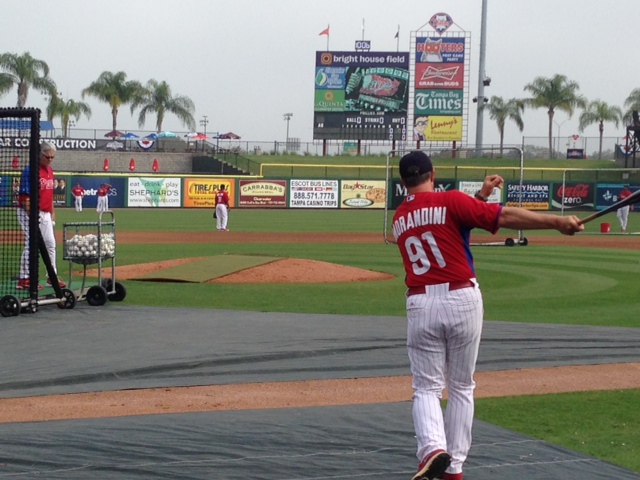 Unfortunately, Chase Utley got the start over him today.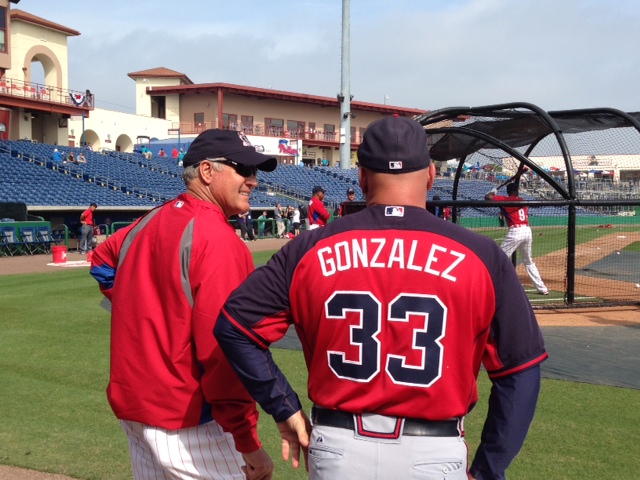 Yes, I eavesdropped. The conversation was not quite as good as a Charlie Manual-Bobby Cox summit meeting likely was back in the day, but you take what you can get.
A year ago, if I told you that all three of these guys would be significant parts of the 2014 Phillies, you'd have told me I was crazy. Abreu was out of the game, Brown was considered a bust and Utley hadn't played a full season in ages. Yet here they are.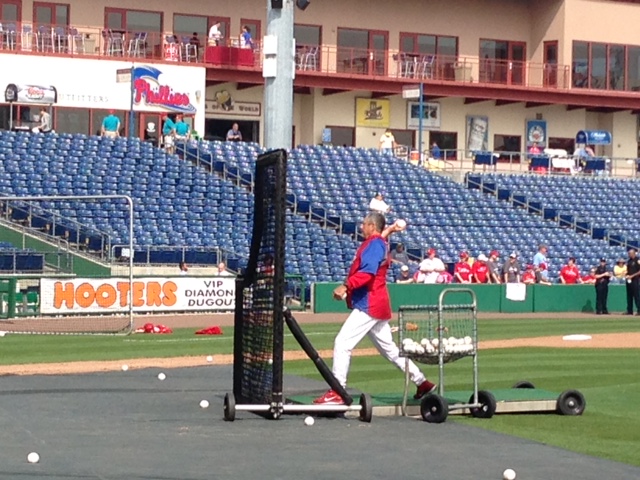 Same goes for Larry Bowa, actually. He seemed done as a coach or manager and was left to TV duties only. He seems invigorated back in uniform. He hit fungoes for what seemed like forever, then pitched batting practice for much longer than you usually see a coach pitch. The man is a machine.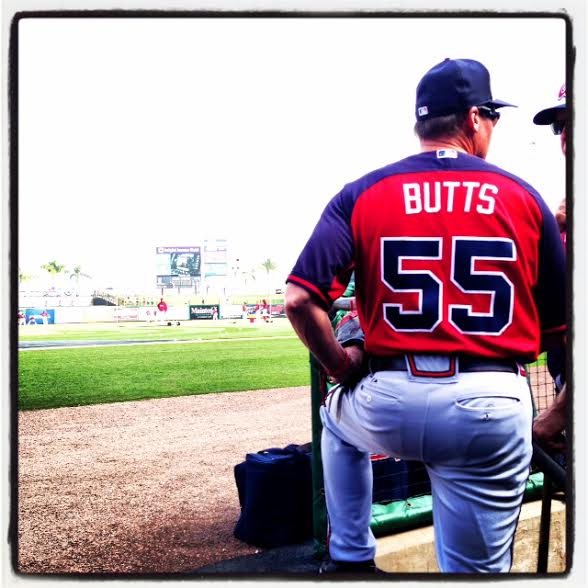 But let's not kid ourselves. This was my favorite coach on the field yesterday. For obvious reasons. Those reasons being that I am 12-years-old.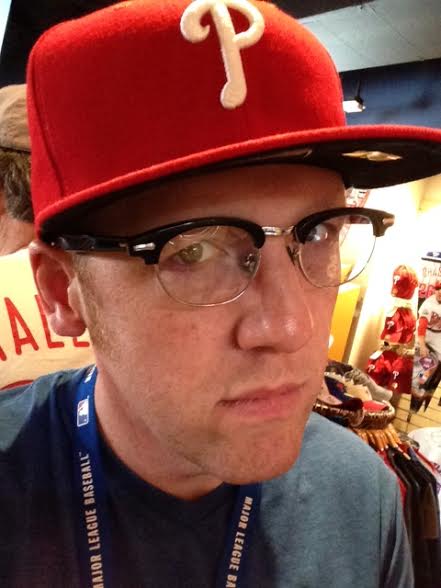 I considered it for a second. But c'mon, there's a reason I look so sad here. I could never purchase Phillies gear.
Bright House Field is home to some serious non-baseball entertainment:
Coolio: you're sharing a  marquee with a sibling, a cover band and "Black Honkeys." Maybe it's time to consider something else to do with your life? Something new?
Eh, who cares. I had all the entertainment I needed: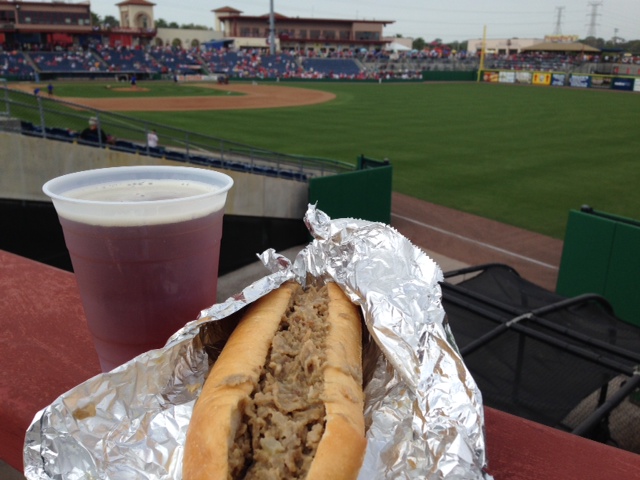 A cheesesteak and a lager at a ballgame: that's about as good as it gets.
Now, off to figure out how to be a professional writer without an "r" key.