BRADENTON — It's raining harder now, and someone just told me that they've issued a tornado watch for the area. Yet they still haven't banged the game. Crazy, but it's their ballpark. They can do what they want.
The Pirates did, however, open their clubhouse to the media at 11am, maybe because everyone knows that there won't be a postgame session today. I didn't have anyone specific I wanted to talk to on the Pirates, so I went over. I didn't talk to anyone, but man, I'm sure glad I did.
Why? Because on the wall of Clint Hurdle's office is a poster with a painting of Roddy Piper from "They Live" on it, and the words "I have come here to chew bubblegum and kick ass… and I'm all out of bubblegum." It's all stylized to look like a Big League Chew package. I searched for it desperately online a bit ago, but I couldn't find it. I assume it's a custom job. Whatever it is, it is the single best thing I've seen in a manager's office, bar none. I wish Clint was made available for the press, because I wanted to hug him more than anything in the world just now.
UPDATE: Reader dremmel69 found it. Here it is. This is where it came from.
Otherwise? A lot of ballplayers playing cards, eating lunch and clearly waiting for them to call this game. Even if I wanted to talk to them I couldn't do so easily, as someone had country music blaring louder than you've ever heard. Really, you could hardly hear yourself think. I don't know who it is, but I have this feeling that he's buddies with the guy who parked this thing outside of the Pirate City complex this morning: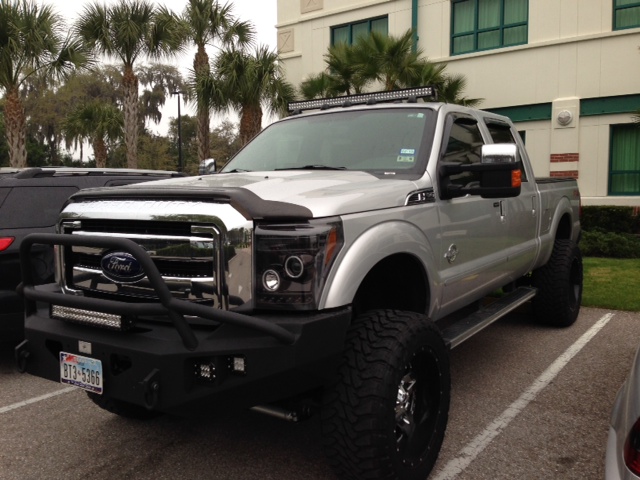 It's not Grant Balfour's ride, but it's pretty impressive.
That's all I got from Bradenton today. As soon as this game is called, I'm getting on the road to Ft. Myers for tomorrow's Red Sox game at Jet Blue Park. Here's hoping we get sun.