CLEARWATER — I have avoided Chris Farley moments here, but I almost went fanboy on this guy a little while ago: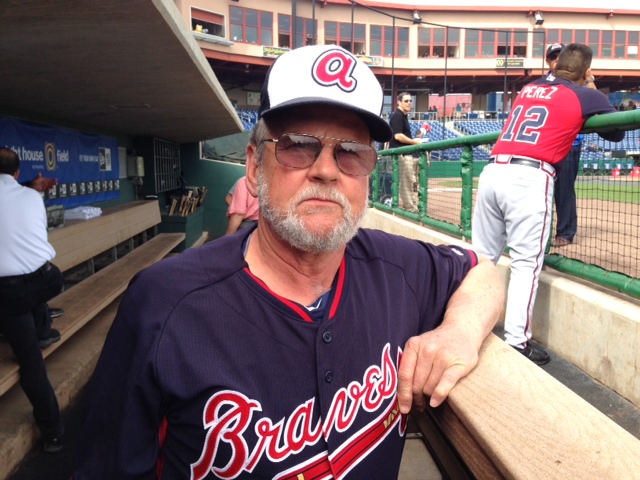 That's Gene Garber, former Braves (and Phillies and Royals and Pirates) reliever. He's a Braves spring training instructor these days, and he had some time to talk to me this morning as the Braves waited to do drills here in Clearwater.
For those who never saw him pitch, Garber had a most unique windup. He turned his back completely to the batter before coming home. Most people call that the Luis Tiant windup, as Tiant much more famously pitched that way. People of my vintage and disposition saw Garber do it first, however. Not that he originated it. Indeed, he told me he started doing that in the minors when, in 1971, both Garber and Tiant were in the International League. Garber was a starter back then, Tiant had pitched the night before and Garber watched him. The next day Garber gave it a try and it stuck.
"I liked being able to hide the ball," Garber told me. "I didn't throw 95, I needed something." I asked him if it was hard to keep his balance whipping his head around like that from the second base to the home plate side. "No, it just came naturally. Immediately worked." Garber said that he's heard from a lot of kids who tried to do that — many of them Braves fans from the 70s and 80s like me — and he said everyone gives it up almost immediately because of the balance thing. If it hadn't immediately clicked for him, he never would have done it either.
"I think you should teach that to Craig Kimbrel," I told Garber. "Give him another weapon."
"I don't think he needs any more weapons," Garber said. "He's doing just fine."
We transitioned into talking about the changing roles of relievers over the past couple of decades. Garber was a "closer," technically speaking, but unlike closers today it wasn't a ninth-inning-only thing in his day and his innings totals always greatly outweighed his games pitched. Indeed, they weren't usually called closers. They were "relief aces" or "firemen" who might come in as early as the sixth inning — whenever a fire flared up they were required to extinguish — and pitch two or three innings some days. That usage pattern is long gone.
I asked Garber if he, were he the Braves manager, would consider using Craig Kimbrel in such a fashion. He's a strikeout machine, obviously, and that tool would be pretty useful to get out of jams in which the opposing team had runners on as opposed to starting the ninth inning with no one on. Plus, I noted, Kimbrel just got a big contract extension, so his saves totals aren't critical to his future earnings for the next several years. Garber, while acknowledging the utility of that kind of thing said it just wasn't ever going to happen again.
"A manager will never be second-guessed by using his closer in the ninth," Garber said. "Or his seventh inning guy in the seventh or eighth inning guy in the eighth . . . Even if you blow the game, at least you did it by the book."
Unlike a lot of relief pitchers of his era, however, Garber didn't sound like it was something terribly regrettable, noting that teams have lots of pitchers who can get strikeouts now.
"Take the Braves the past few years. Venters can strike people out. O'Flaherty could. It's not like Kimbrel is the only one who can do that," Garber said. "The game just changes."
It does indeed. And it's good to hear from someone of a previous era who can acknowledge that without casting aspersions on the new era. Things just change.