LAKE BUENA VISTA — I've done a good job so far today not cheering in the press box. Kris Medlen struck a dude out looking. Evan Gattis just thew out a would-be base stealer. Both of those things are usually worth at least a fist-pump from me when watching a game but I've been totally cool today. Yay me.
I did have a fun time wandering around this morning, however. I resisted the urge to go all Chris Farley on my favorite Braves players. I asked Jason Heyward what it was like facing Noah Syndergaard yesterday. He said "rough stuff" but then quickly added "first time I saw him," so as to suggest it was the unfamiliarity as opposed to the great stuff he throws that was the difference. I spoke with Ryan Doumit about the catching contingent in Atlanta:
The mix between old guys like Gerald Laird, himself on the one hand and the greener types like Evan Gattis and Christian Bethancourt on the other. For what it's worth, he thinks Gattis is going to make a great major league catcher based on makeup and all of that.
Alex Wood was fun to talk to as well. We talked about veteran presence, spurred by my question about Tim Hudson being gone and everyone else on the pitching staff being young. His view: what we consider to be a "veteran" for veteran presence purposes these days is very different than most people probably think. It's about who can give good advice and keep people loose, not about how many miles players have on their odometer. Kris Medlen, Wood said, was only 28, but he's great for that stuff. There is no sense that the lack of any gray hairs — or in Hudson's case, no-hairs — is going to be a problem.
Onto the field and a cloudy morning of batting practice and infield drills. The equipment bags were few and far between, but someone with the Braves set this up. I assume for my photo-taking benefit: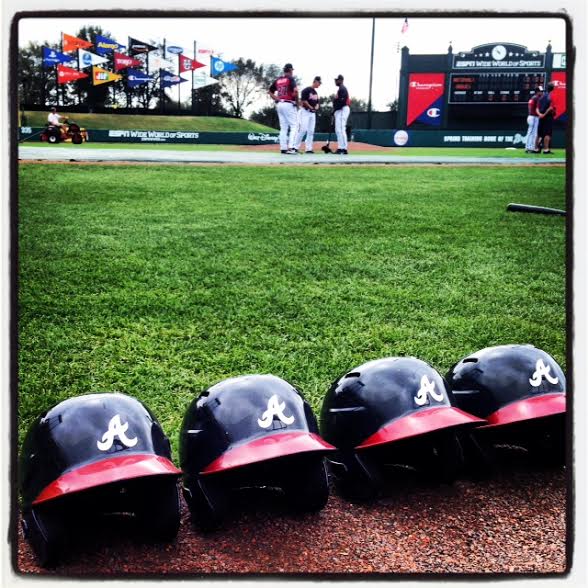 And someone put this in the Braves dugout for my benefit too: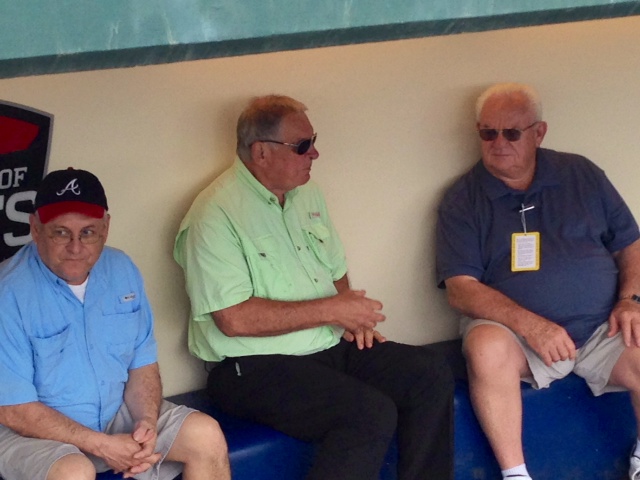 I asked a Braves employee if, hypothetically, someone were to kidnap Fredi Gonzalez whether Bobby Cox here would be pressed into service. He did not answer. He was probably smart not to. Incentives are kind of a pernicious thing sometimes. They help set unfortunate events into action.
My attention was then turned to the field, where the Braves' shortstops were taking grounders. Watch, and you'll something you'll rarely see over the next couple of years. Andrelton Simmons stone-cold dropping a ball:
No, he wasn't actually fielding it as much as just farting around, but still. It was jarring.
The Nats showed up around 10AM. The first guy off the bus and out to the dugout and then the field? This guy: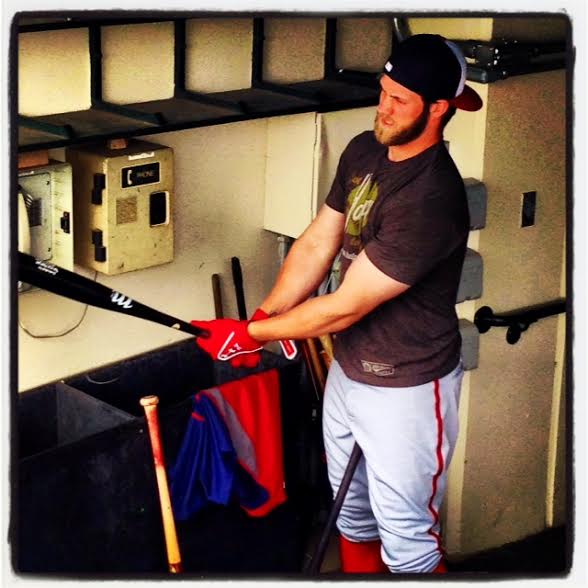 When he came to bat for the first time today Braves fans booed him. Probably because they think he's some punk who needs to learn his place and all of that baloney you hear about Harper and Puig and other players like them. The fact that there appears to be zero that this dude does that is, to use the baseball term, horses**t, appears to work hard and have a good attitude is sort of lost on them. I guess that's what first impressions do, but our first impressions of Harper came several years ago now, when he was painfully young. People need to realize that this is a legit major leaguer and solid guy, by all accounts.
As for the park itself? It's OK. Not great. Not bad. But OK. It's smack in the middle of the greater Disney area so I suppose it's convenient for people who are already here. If you want to come just to see the Braves, however, you have to put up with Disney things whether you like it or not. It's not like the place is all Disneyfied with Mickey Mouse and stuff, but I was just here in December for both a vacation with the kids and the Winter Meetings so I'm a bit over it. All the way down to the fonts on the signs and the scanners for your Mickey bracelets.
It's pretty compact. You can park in one place and walk to the ballpark, the back fields and the batting cages. The park itself is pleasant in that it has two full decks, the top one overhanging the bottom, so there are a lot of good seats close to the field: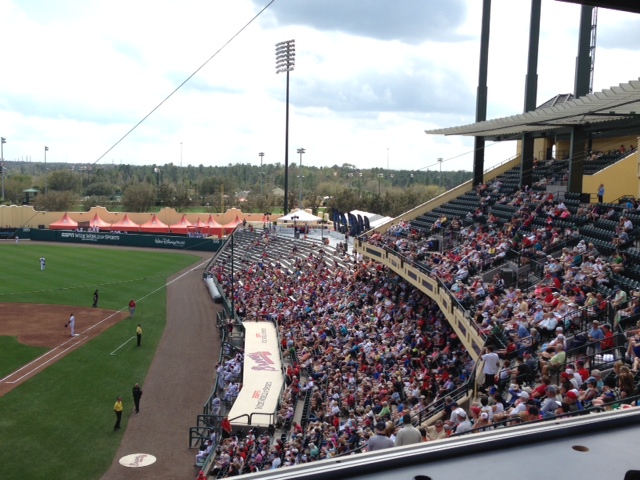 In most parks the grass berm, if there is one, is limited to the outfield. Here it wraps all the way around to third base which is a nice touch: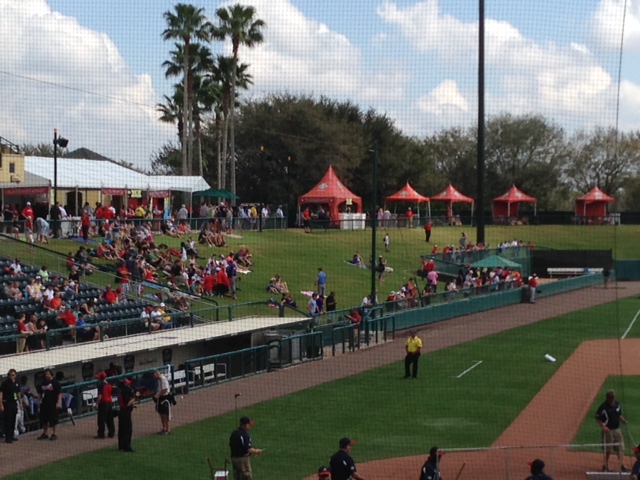 And finally, the Braves' Philharmonic — their actual name — played before and during the game. Here they are doing "Little Brown Jug."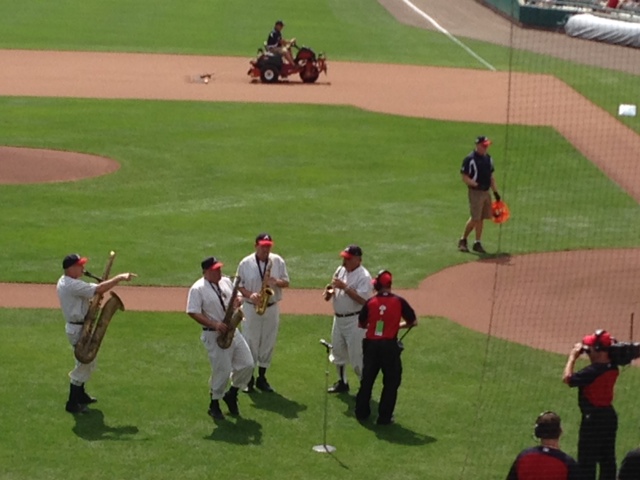 Later they played "Tequila." It was quite festive.
As of now it's the top of the seventh inning and I haven't cheered or anything. I've been on my best behavior.