SARASOTA — Dear lord, this place is a palace. Really, it's probably the nicest spring training park I've been to in either Arizona or Florida. But before I get to that, I need to tell you something important: rattlesnakes can swim 20 miles out to sea.
At least that's what I was told this morning by two men in a McDonald's somewhere off of I-75 on my way to Sarasota. The men were easily in their late 80s or older and were wearing WWII veteran caps. They were drinking coffee, newspapers in front of them and were engaged in deep conversation. I listened in:
Man 1: Those rattlesnakes or what you call 'em. Nasty, I tell ya what. They can swim real well, too.
Man 2: I heard they can swim.
Man 1: We saw one out on the boat one day. We were 20 miles out. He was just swimmin' along.
Man 2: Hoo, boy.
Man 1: 20 miles.
I couldn't decide if I should thank them for stopping Hitler or if I should yell at them for giving me swimming rattlesnake nightmares. Either way, it was an emotionally-affecting few moments.
Into Sarasota and to Ed Smith stadium which, as I said, is a palace: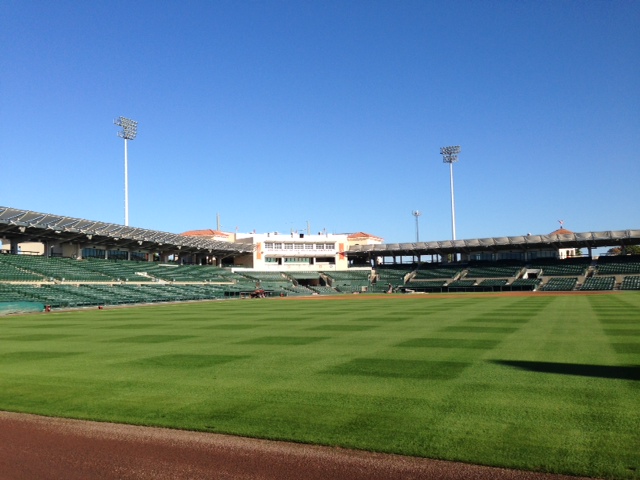 It has the amenities of the newest Arizona complexes such as a separate building with offices, clubhouses and training facilities. The clubhouse itself has a ping pong table, cornhole setup and a bumper pool table for the players. Flat-screen TVs everywhere. Tons of room and nice plush carpeting. The larger complex provides close access to all of the back fields with well-marked directions and walkways for fans — but, like a lot of Florida places, is situated in a neighborhood and feels more human-scaled. And the actual stadium may be the nicest I've seen. A feeling of permanence and luxury and major league quality, but unlike Steinbrenner Field in Tampa, is still on the scale of a minor league or spring training park.
There are all kinds of nods to history here, such as this cool banner/bat thing hanging in the area behind the home plate seats.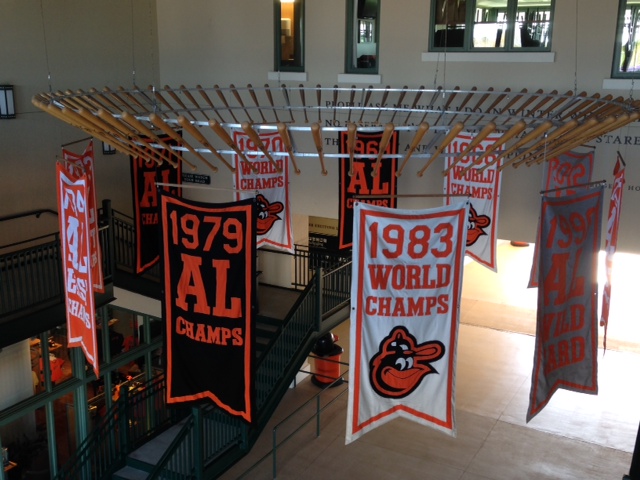 Also, signs and posters detailing Orioles history. Blown-up copies of tickets from the 1979 World Series, programs from 1966. Stuff like that. And history lessons too, like this poster. Which is in the press box bathroom of all places: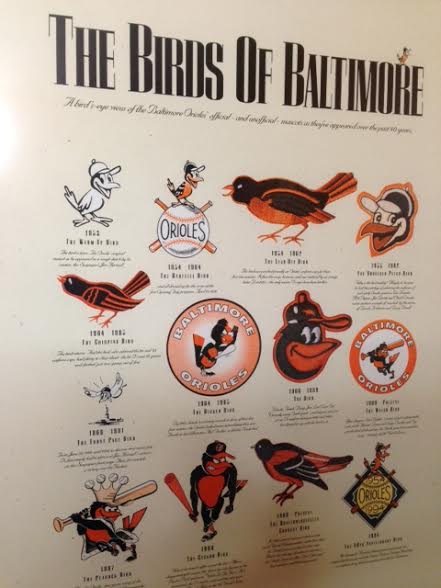 One always thinks of the O's just having the cartoon bird and the ornithologically-correct bird, but there are a ton of different cartoon birds. Like these two psycho birds:
A closeup of the top one — the  "cuckoo bird" — above each of the players' lockers in the clubhouse beside their name. I feel like we should see more of that one than the smiling bird. It's pleasantly unsettling.
But not quite as unsettling as this: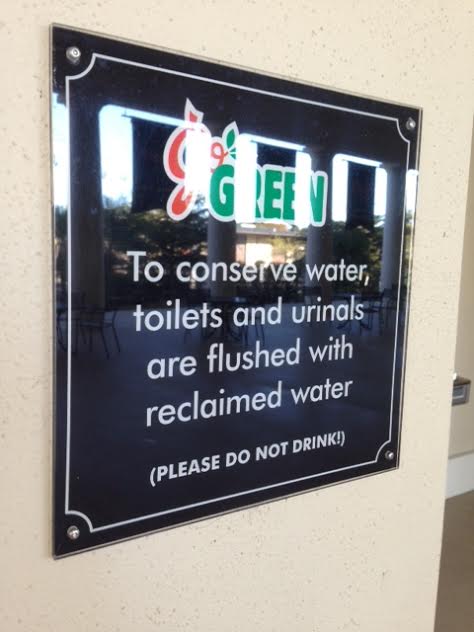 That's wonderful for the sake of conservation, but I really would like to meet the person who was going to drink out of the toilets and urinals but for this warning about reclaimed water. The person who says "well, if it was fresh toilet water, fine, I might've been in business. But I really don't care for the reclaimed stuff."
Oh well. Down to the field to watch the O's work out and listen to Buck Showalter hold court in a little while.