TAMPA — The original plan was to go sit in the crowd and drink beer at the Astros-Tigers game, but when it was announced that Masahiro Tanaka was making his spring training debut in Tampa today, plans changed. I got in the car at 6:30 this morning and headed to Steinbrenner Field early to take in the craziness of the opening act of Tanaka's U.S. career.
As was the case with Yu Darvish's first start in Arizona two years ago, the general feeling around the ballpark today was anything but dull. Throngs of reporters. I'd say over 100, but it's hard to get a count. They set up 30 temporary folding chairs and tables in the press box in addition to the 30+ permanent seats. That still left several print journalists with no place to sit. Not that having a seat meant a great view or anything. And that's before you count the dozens of photographers, camera crews and correspondents, mostly Japanese, who were wandering around, looking for places to set up.
But it's not like the Yankees and their staff treated it like a crazy day. Indeed, every cliche you've ever heard about the Yankees being big time and professional applied today, much to the organization's credit. The media relations office was unflappable and had everything at the ready. There were enough copies of rosters and information sheets and enough coffee and bottles of water for everyone. The internet worked. The parking attendants knew where everyone was supposed to go. That sounds like it should be the expectation, but it's really not. Most clubs do fine on normal days, but on odd days where big news or events are happening at a spring training ballpark, there's usually some uncertainty and confusion. The Yankees' most normal of days are like most clubs' big days. They've seen it all and can handle it all.
Steinbrenner Field is the most major league facility I've seen in spring training, and that extends to the clubhouse too. It's large and plush and today it was quiet once you adjusted for the increased media presence. Players went about their business. Joe Girardi and his coaches went about theirs. Most questions about Tanaka were met with shrugs or jokes. They've lived with Ichiro for a couple of years. A-Rod's myriad distractions. Jeter's retirement stuff. New, big name players arriving each season and old, famous retired players showing up all the time. It's a place where Derek Jeter, Yogi Berra and Reggie Jackson walk around as if it's no big deal. Where the guys who pitch batting practice are all former All-Stars. Hell, the ghost of Mickey Mantle could show up and start shaking hands and making small talk and no one would bat an eye, I figure.
Not that Tanaka goes unnoticed. Indeed, the press was set up, waiting for his arrival in the tunnel starting at 8 AM:
He walked through, quickly, at 11:20 AM: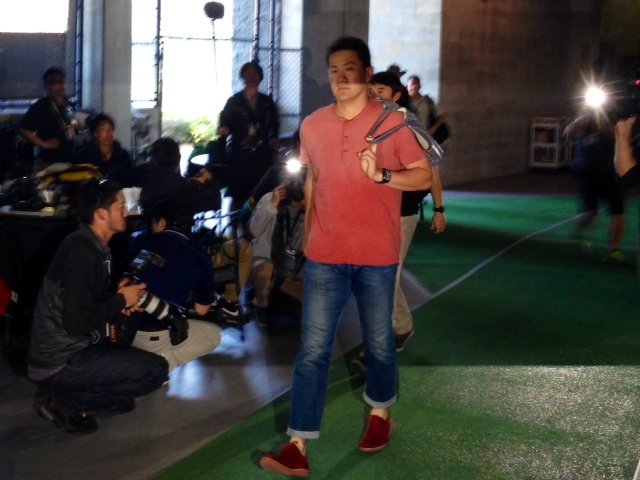 All that sitting around just to get a quick shot of the guy. After that he disappeared into the clubhouse and wasn't seen until game time.
I walked out into the stands after the gates opened to talk to some fans in order to get their views of their new Tanaka-rich world. There was a common thread running through their sentiments. Sin Sindoni of Alexandria, Virginia (originally from New York) said that she wasn't aware that Tanaka was pitching today. But seeing him today, even if a nice bonus, isn't exactly the ultimate end.
"If he gets us back to the World Series, that's all that matters," she said. Her brother Mike Sindoni, of New Boston, New Hampshire said much the same thing.
"I'm looking forward to seeing him. Hopefully he makes us better," he said.
I walked farther down the concourse and spoke with Jose Tavera, of Tampa. Jose didn't know Tanaka was pitching today until I told him and was pleased to hear it.
"I'm excited to see what he has to offer," he said. " I'm excited for the Yankees. Hopefully he'll help them get back to the playoffs and the World Series."
The Yankees have long set such expectations for themselves. I've sometimes taken it as a bit of a marketing ploy — being a Championship Team is the Yankees' brand, and they clearly sell the "anything less than a World Series victory is a disappointment" thing. But the fans clearly buy into it. And in so doing, they make additions like Tanaka something less of a central focus than fans of some team might make of their new additions. Robinson Cano may be a big deal in Seattle. The Indians have built an entire years-long marketing campaign around Nick Swisher. The Yankees sell championship baseball, and in so doing fans only get excited about someone exotic and new like Tanaka insofar as he helps them to that goal.
Joe Girardi started the game with CC Sabathia and Hiroki Kuroda for two innings a piece. Then Tanaka took over in the top of the fifth. Here's his first pitch thrown in anger in the United States:

That was a strike.  After that he allowed a leadoff single to Darin Ruf before retiring Cody Asche and Cameron Rup on flies to left. He pitched the count full against Cesar Hernandez before ultimately striking him out. If you were watching on TV you had a better view of his actual stuff, but he looked pretty good from the first base line. Back out for the sixth, he struck out Ben Revere on three swinging strikes, allowed a Ronny Cedeno single to center, struck out Domonic Brown and then got Kelly Dugan to fly out to center.
As I said in my recap earlier, Tanaka looked pretty good. Like you would expect a major league veteran to look around the first of March. The breaking ball was a bit iffy, the fastball was solid and the splitter was impressive. There is obviously more in his tank than he showed today, but he did dig down a couple of times to register Ks.
After the game Tanaka faced a much bigger challenge than anything the Phillies threw at him: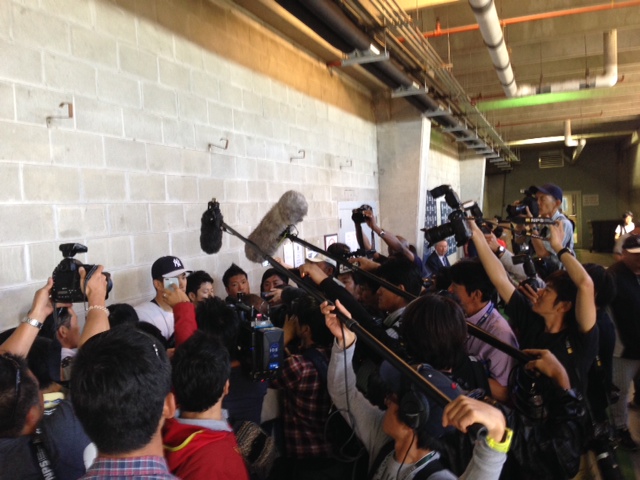 To say there's a bit of interest in him is the understatement of the century. He was shuttled back and forth along this wall, taking questions from Japanese print and TV media here, then down to where those blue backdrops are near the upper right for on-camera interviews with YES Network, ESPN and Japanese TV, where former Mariner Kaz Sasaki spoke with him. Tanaka was composed and answered every question like a ballplayer might — he felt good, he's working on things, he's happy to play in games, he looks forward to playing in front of American crowds, etc. — but you wonder how this sort of scrutiny will feel after six or seven months of it. When he can't just shower, dress, answer a couple of questions and then go like 20 or 22 of his 25 teammates can. Maybe Ichiro Suzuki will buy him a watch for taking the heat off of him after all of these years. Maybe Suzuki can also help him adjust to this sort of thing.
Thus endeth the first day — the first real day, anyway — in Masahiro Tanaka's major league career. And his first day under a microscope as powerful as the one focusing on Japanese stars making their way in the U.S.A. can be.