This, pointed out to me by Scott Lemieux of Lawyers Guns and Money, is most curious.
The big issue I have with the arbitrator's ruling was his odd tap dance between section 7(A) of the Joint Drug Agreement — which provides for progressive, 50/100/lifetime discipline, and section 7(G) which gives Bud Selig "just cause" power to discipline players.  As I argued last night, I think the arbitrator botched this and should have considered it all a first offense for A-Rod under 7(A).
But, in many ways, the issue is moot. Because, as Horowitz stated in his opinion, the MLBPA and A-Rod conceded the point, agreeing that section 7(G) and "just cause" apply:

But check this out, from A-Rod's complaint filed in federal court yesterday: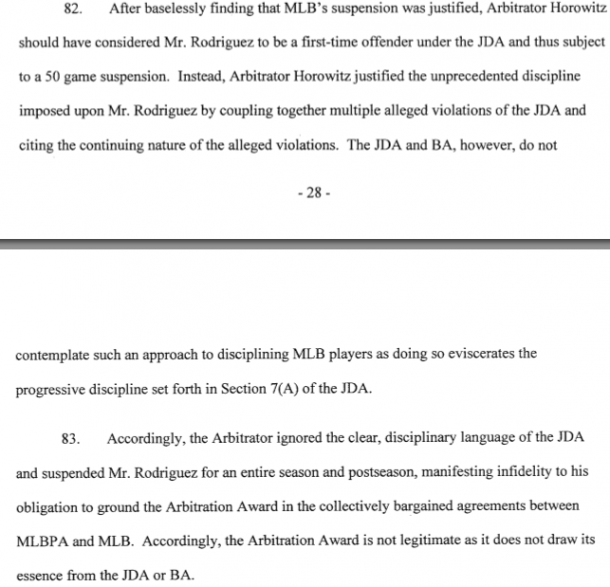 See that? There A-Rod's lawyers are saying they did not concede this. They think 7(A)'s 50/100/lifetime matrix applies.
So who's wrong here? Did the arbitrator simply dismiss A-Rod's objections to which discipline provision applies and state that everyone agrees, or are A-Rod's lawyers misrepresenting the record and conveniently forget the fact that they conceded the point?