I've received a copy of the complaint Alex Rodriguez has filed in federal court seeking to overturn the arbitration decision against him and naming the MLBPA as a defendant as a result of their alleged failure to advance and aid in his defense. A full copy of the documents can be read here.
I have skimmed past the initial complaint allegations — many of them are repeats from his previous lawsuit against Major League Baseball and we'll get to those in due time — and have gone down to the arbitrator's decision in order to try to understand the basis for Rodiguez's 162-game suspension. The breakdown: 150 games for violating the Joint Drug Agreement and 12 games for obstructing Major League Baseball's investigation.
Following a lengthy recitation of the facts, the overview from the arbitrator is short and sweet:

AROD'S VIOLATION OF THE JOINT DRUG AGREEMENT AND HOW THE ARBITRATOR GOT TO 150 GAMES FOR DRUG VIOLATIONS
The fact of a violation is laid out fairly painstakingly via the arbitrator's review of the facts, as provided by Anthony Bosch and his records. Multiple contacts between Bosch and Rodriguez over a period of three years, during which Bosch provided multiple banned substances to him. How many? Three distinct ones, which becomes important to the penalty:

Why is three important? Because each side and the arbitrator agreed that the standard 50 game/100 game/lifetime ban penalties only apply when there is a SINGLE violation, as evidenced by an actual positive drug test. When there is a pattern of use — say, of three substances across three years, the Commissioner can use "just cause" penalties and use his discretion: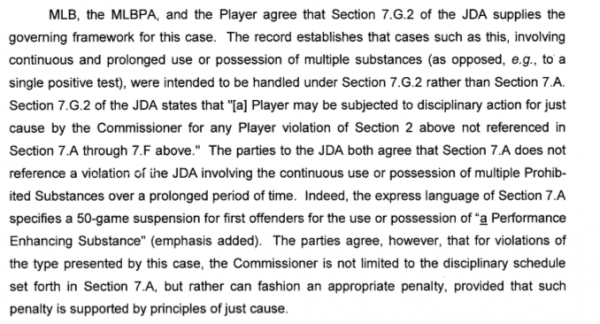 This is where I take issue with the arbitrator. Section 7(A) is not purely limited to a single positive test. It says this:
A player who tests positive for a Performance Enhancing Substance, or otherwise violates the Program through the possession or use of a Performance Enhancing Substance, will be subject to the discipline set forth below. (emphasis mine) 1. First violation: 50-game suspension; 2. Second violation: 100-game suspension; 3. Third violation: Permanent suspension from Major League and Minor League Baseball.
I would think that A-Rod is in the "or otherwise violates" camp and that 7(A) is still in play. 7(G), the just cause provision he moved under, is not invoked unless the violation is "not referenced" in section 7(A). I'd argue that "otherwise violates" is referenced there, but the MLBPA and A-Rod appear to have conceded the matter, so there we are.
But even the arbitrator seems uncomfortable with giving Selig a blank slate. He tries to look at the "guideposts" of the 50/100/life matrix in section 7(A) and sort of retrofit A-Rod's drug use on to it. It's a long passage, but it's AMAZING. He says 7(A) doesn't apply, so we go elsewhere, but if 7(A) DID apply, we'd be able to stack up 50-game penalties against A-Rod because he used three things:
Never mind that the Neifi Perez case did not involve HGH or testosterone, it involved stimulants, which are treated quite differently. Never mind that other Biogenesis players — specifically Bartolo Colon and Melky Cabrera — were not given multiple levels of discipline because, according to baseball, they already did their time, as it were.  This seems remarkably shaky to me. It is a new way of approaching drug discipline that just so happens to achieve Major League Baseball's desired result of a lengthy suspension.
Major League Baseball actually argued for a lifetime ban here, saying that if A-Rod had three distinct offenses he'd get a 50, a 100 and a lifetime stacked on top of each other. That actually makes more sense to me. After all, if a player who got a 50 game test suspension last year tested positive for a different substance tomorrow, he'd get 100 games. There would not a be a 50 game suspension because it is a different substance, which is what the arbitrator is basically doing here. In essence, the arbitrator is going lighter on A-Rod than the logic he actually subscribes to would have him do. It would at least be intellectually consistent for him to ban Rodriguez for life.  The arbitrator was obviously loathe to do that. But if the logic train he followed drove him off a cliff, maybe he shouldn't have followed that logic train in the first place. Maybe he shouldn't have tried to invent his own standard.
ANTHONY BOSCH'S CREDIBILITY: POOR, BUT NOT FATAL
As for A-Rod's attacks on Bosch's credibility, the arbitrator was not impressed. He took notice of the fact that Bosch was a scumbag who sold drugs, lied about his credentials and contradicted his own story multiple times in the runup to the hearing. But, even with that in mind, Bosch's testimony was corroborated and was not contradicted: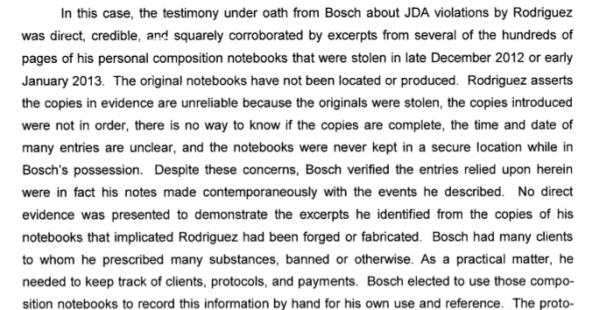 Much of the corroboration came via text messages between Rodriguez and Bosch. Blackberry text messages. The richest player in the history of baseball uses a Blackberry. Think about that for a bit.
A-ROD's OBSTRUCTION OF THE INVESTIGATION
Major League Baseball has spent a lot of time and energy trying to establish that A-Rod obstructed the investigation, sought to buy or destroy evidence and, if you believe Bosch himself on "60 Minutes" last night, tried to threaten and intimidate him or, at the very least, tried to shoo him out of the country for a while.  The arbitrator did not buy most of this, it seems. He focused instead on A-Rod denying he knew Tony Bosch and trying to get Bosch to lie: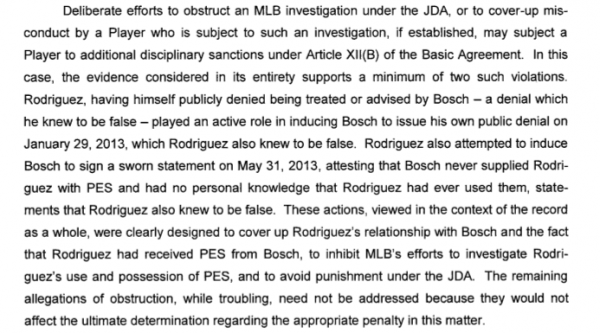 I think it's safe to say that Major League Baseball's claims of A-Rod's awful obstruction were greatly overstated. And, in light of what MLB did to obtain evidence, it acted in a far more shady manner than A-Rod did.
BREACHES OF CONFIDENTIALITY OF THE DRUG PROGRAM
There was a brief discussion of the confidentiality violations of the parties. Leaks to the media and press conferences and things during a process that is supposed to have everyone quiet and respectful of what is, by design, a secret proceeding.  The arbitrator basically threw up his hands here, noted that both sides did it all the time, that he couldn't do anything to hunt down the leaks in anything approaching a timely manner and that, ultimately, it didn't matter because the leaks and things did not affect his decision.
That actually seems pretty smart. No one did well in this department.
So that's the first pass here. It's hard to disagree with the arbitrator's finding of some violation. It's clear that the obstruction evidence presented by Major League Baseball was not terribly persuasive to him, as it amounted to only 12 games on top of the 150-game suspension. Finally, it's clear to me that the 150-game suspension was based on, at the very least, a unique interpretation of the Joint Drug Agreement.
I believe, ultimately, that Major League Baseball will win the lawsuit A-Rod filed today as his best arguments are one of interpretation of the Joint Drug Agreement, and that is not enough to cause a court to overturn an arbitration. But I do believe that the arbitrator's interpretation of the JDA was unsound and that the result — suspending Alex Rodriguez for a long time — was the tail that wagged the dog of his legal interpretation.  That's what Major League Baseball wanted. It's what the arbitrator felt he should get.  And he found a way to make it happen.
A way I do not believe anyone else ever considered before. Or, for that matter, should have.