The Hall of Fame vote always occasions criticism of the BBWAA, and like most years, there is legitimate criticism to be made. But dudes, we have to remember how far the BBWAA has come in just the past five years or so.
Remember this one? It's the voting results for the 2008 NL Rookie of the year award. Pay special attention to the fourth place finisher: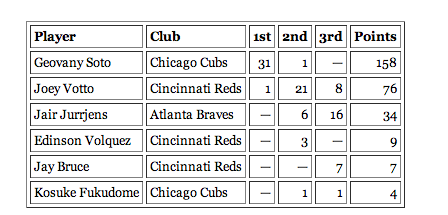 Yep, Edinson Volquez. Who received three second place votes. Even though he was not actually a rookie. I repeat: NOT A ROOKIE IN 2008.  He pitched 20 games in the bigs across three seasons before then.
So, yes, it stinks that Craig Biggio didn't get in and it stinks that Mike Mussina didn't get good support and it stinks that people have submitted lame protest votes.  But at least, oh, I dunno, David Wright didn't get three Hall of Fame votes.