Jarrod Saltalamacchia, his wife and his three daughters just came into the media room here at the Winter Meetings to be introduced as the Marlins' new catcher. It was a touching ceremony: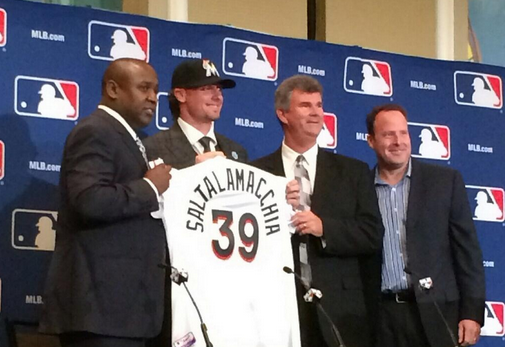 It put me in mind of the Winter Meetings two short years ago, when we last saw the Marlins introduce a big free agent signing:
So I guess that puts the over/under on the Marlins trading Saltalamacchia at, what, seven or eight months?
Of note: Jeff Loria was front and center for that Heath Bell presser in 2011. He was here today too, but not on the dais with the Marlins brass. He was sitting in the media chairs off to the far left, trying his best to be inconspicuous. Indeed, when I aimed my camera at him he made a point to sit back and low, apparently not wanting to be seen.
Question: does this presage a bold new era in Marlins history in which their owner is rarely seen and even more rarely heard? Or is he just sorta ashamed to be seen publicly?