Just a couple of weeks ago Don Mattingly and Ned Colletti were doing this: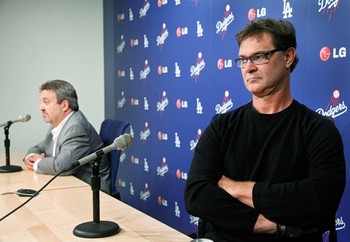 Now they're talking, reports Ramona Shelburne of ESPN Los Angeles, and a multi-year deal could be in the offing:
The Los Angeles Dodgers are discussing a new, multiyear contract with manager Don Mattingly, two sources told ESPNLosAngeles.com. No deal is imminent, but there is optimism on both sides that a new deal will be completed.
Previously it was announced that Mattingly would be back for his option year in 2014, but now it seems that he will not be a lame duck when he does.
Which makes sense. As I've said before, Mattingly is a great fit in L.A. and had an excellent 2013 season. Not just in terms of results but in terms of meshing a lot of difficult personalities, dealing with that early-season hole the Dodgers dug for themselves and handling the media scrutiny that comes with the job. And when you remember that, when he first got the job, he had a lot of issues with the simple of mechanics of managing, you realize how long a way he's come.
Major League Baseball is not football or basketball. You can rarely hire a big-name famous guy to run your team and expect it to pay any kind of dividends. The Dodgers are doing the right thing by sticking with Mattingly.