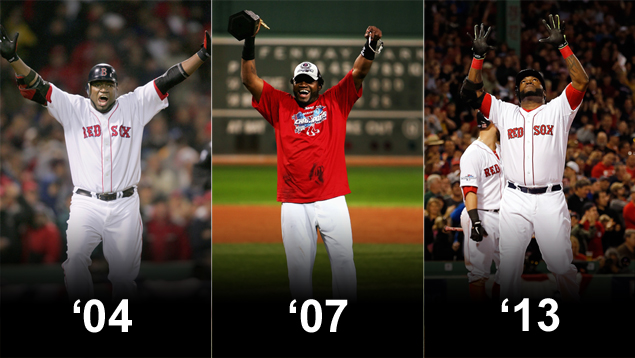 These Boston Red Sox are a new kind of dynasty. I suppose there's a question if they really ARE a dynasty, if that word "Dynasty" even means anything in today's game, with 30 teams and the game's structure pushing toward parity. But Boston did win its third World Series in a 10-year-span. Only eight teams have done that since the Live Ball Era began in 1920.
— The 1923-32 Yankees — powered By Babe Ruth, Lou Gehrig, Herb Pennock, Waite Hoyt, etc. — won four World Series.
— The 1926-34 Cardinals – first Rogers Hornsby and then the Gashouse Gang with Frankie Frisch and Ripper Collins and Pepper Martin — won three World Series.
— The 1936-43 Yankees — with some leftovers from the earlier dynasty plus Joe DiMaggio, Bill Dickey, Lefty Gomez, Joe Gordon — won six World Series.
— The 1942-46 Cardinals — Stan Musial, Enos Slaughter, Marty Marion — won three World Series.
— The 1947-62 Yankees won 10 World Series. In the early years of baseball's greatest dynasty the Yankees were driven by DiMaggio, Yogi Berra, Phil Rizzuto and so on. The later years was driven by Mickey Mantle, Whitey Ford, Roger Maris, Elston Howard and so on. It's hard to draw dynasty lines when it comes to the Yankees because one dominant team simply bumps into another.
— The 1955-65 Dodgers won four World Series. The first was the last stand for Brooklyn and the Boys of Summer — Jackie Robinson, Gil Hodges, Roy Campanella and that great bunch. The last three championships were in L.A., with Sandy Koufax and Don Drysdale at the heart.
— The 1972-74 Oakland Athletics won three World Series in a row. The best players: Reggie Jackson, Catfish Hunter, Rollie Fingers, Vida Blue, Joe Rudi.
— The 1996-2009 Yankees dominated their time with five World Series championships — Derek Jeter, Jorge Posada, Andy Pettitte and Mariano Rivera were on the first and last of those teams.
More: Red Sox win World Series after routing Cards | What a difference a year makes
— I went through all eight of those dynasties for a reason: There is something connecting them all. When you think of those dynasty teams, you think of players. You might think of managers — Casey Stengel, Walter Alston, Joe McCarthy, Joe Torre. You might think of a certain style, a certain rhythm, a certain ethos. You might think of the nicknames and rebelliousness of the 1970s A's, the high mounds of the 1960s Dodgers, the Murderers' Row lineup of the Ruth-Gehrig Yankees.
This Red Sox team? No. They have none of that. Oh, they've had great players. They're just not the SAME great players. You've probably seen the answer already, but do you know how many players on this year's Red Sox championship team were also on the Red Sox team that broke the curse in 2004?*
*Speaking of curses: A lot of people, it seemed, were trying to make a big deal out of the fact that this year was the first time that the Red Sox had clinched a World Series AT HOME since 1918. Television made it seem like the overriding story of the Series. The "clinch at home" angle seemed to give everyone a chance to trot out all the old curse talk, rehash the Babe Ruth trade, chat up all the old Red Sox fans who have been coming to the park for decades and had never gotten the chance to see a World Series clincher.
Seriously – clinching a World Series at home is a thing now? It's not enough to just win two World Series in the previous eight years, not you have to win it at home for it to really count? I mean, look, it's great that a wonderful town like Boston got to win the World Series in a wonderful park like Fenway. Happy that it worked out that way. It was great to see Red Sox fans get to unleash their happiness.
But I believe, and my Red Sox friends seem agree — not winning a World Series AT HOME is not a thing. It's not a curse. It's not a drought. It's not anything. If you win a World Series you win a World Series, it doesn't matter where. The Chicago White Sox have not clinched a World Series at home since 1906. The Reds did not clinch either of the Big Red Machine World Series at home. Those poor Giants fans have never clinched a World Series in San Francisco. So what? The Red Sox don't have a losing tradition anymore. It's over, you can't just keep bringing it up like it's a storyline. The Red Sox have won three World Series in 10 years. It's time for everyone to just deal with being Boston being Goliath.
Sorry, back to the question: How many players from 2004 — even in a minor role — were on the 2013 team?
Answer: One. That's ONE. Uno. Une. Odin. Um. Ett. David Ortiz is the only one left. He was an awesome DH for the 2004 Red Sox. He was an awesome DH for the 2013 Red Sox. That's all. One.
And this goes beyond players. The manager is gone. The general manager is gone. The pitcher and catcher on that 2004 team — Pedro Martinez and Jason Varitek — are now special assistants to Ben Cherington, who was a player-development guy back for the Red Sox then. The highest ranked guy in the front office who seems to have the same job he had in 2004 is writer, historian and sabermetrician Bill James. More on him in a minute.
More: Ortiz wins World Series MVP | Is Papi headed to the Hall?
The point is not that this team has changed from 2004. All teams change. The 2009 Yankees were very different from the 2000 Yankees. No, the point is that this is a completely different team from 2004. And, even stranger, the 2007 team in the middle that won a World Series is kind of distinct from either team. Take a look at the Top 5 WAR from each team.
2004: Johnny Damon, Ortiz, Manny Ramirez, Varitek, Mark Bellhorn.
2007: Ortiz, Mike Lowell, Kevin Youkilis, Dustin Pedroia, Coco Crisp.
2013: Pedroia, Shane Victorino, Jacoby Ellsbury, Ortiz, Mike Napoli.
Other than Ortiz on all three teams and Pedroia the last two, there are no matches. And top five pitchers by WAR? It's even more striking.
2004: Curt Schilling, Martinez, Keith Foulke, Bronson Arroyo, Mike Timlin.
2007: Josh Beckett, Daisuke Matsuzaka, Schilling, Jonathan Papelbon, Hideki Okajima.
2013: Clay Buchholz, Koji Uehara, Jon Lester, John Lackey, Craig Breslow.
Other than Schilling, again, no overlap whatsoever. The Red Sox dynasty, if you are willing to call it that, represents three distinct and largely unconnected teams.
This is the time in which we live. Baseball is geared heavily against dynasties these days. There are the reasons everyone talks about how much it costs to try and keep a great team together. That cost can hit you two ways. One, the obvious way, it can cost too much to keep your best players. The Pittsburgh Pirates of the early 1990s won three consecutive division titles, then Barry Bonds and others left for more money, and the Pirates were dreadful. The 1990s Cleveland Indians went to two World Series, then Manny Ramirez and Jim Thome and Bartolo Colon and others priced themselves out and they had to start over. The 2003 Marlins had a young Beckett and Miguel Cabrera and others, but, not long after, did not have any of them.
But there the less obvious and perhaps deadlier way cost can destroy a great team. This happens when teams spend a ton of money to keep their best players (or to import new ones). This can often cripple the team in utterly unexpected ways. Look at the Yankees now. Look at the Angels. This, of course, happened to the Red Sox. They spent a fortune on Adrian Gonzalez and Carl Crawford and Lackey and a fortune to retain Beckett, Youkilis and Papelbon. And what they found was that when things weren't going well, they were powerless to do much about it. The team got stale. The older players faded but were huge investments and so played too big a role. There was no freedom to make changes. The Red Sox floundered away a playoff berth in 2011. They were the worst Red Sox team in a couple of generations in 2012.
That's why the Red Sox get so much credit for the enormous trade they made with the Dodgers last year. They should. The Red Sox didn't really GET anybody in that deal. And they traded away good players — Gonzalez had a good year for the Dodgers, Crawford wasn't bad when he was healthy — but it was still a win for the Red Sox. They were able to take the team back. They were able to reorder and refocus the direction. And some good things followed, some expected, some not. Lackey rebounded, which was huge. Uehara decided to become unhittable, which was huge. Victorino, at 32, took to Fenway Park (he hit .322/.365/.485 there and was fantastic defensively) and had perhaps his best season. That, too, was huge.
And the rest came together. The starting pitching was good enough. The bullpen was terrific despite injuries. The lineup blended familiar Red Sox faces like Pedroia, Ortiz and Ellsbury with some shrewd choices like Victorino, Napoli, and 30-year-old minor-league lifer Daniel Nava. They led all of baseball in runs scored.
So, they were smart about the way they built this team. But it isn't just cost that crushed dynasties. It isn't just the crazy distractions that come after winning. No, there's something more direct: You need postseason luck to win a World Series now. Take a look at the dynasties above. Six of the eight came before the 1969 expansion. That meant the teams who won their league went right to the World Series. They did not have to pass Go. They did not have to collect $200. There were no five-game Division Series. There was no seven-game Championship Series. Win the league, win the Series. Two steps.
The Oakland A's of the early 1970s had three steps. They had to win five-game championship series each of their three seasons. They beat Detroit in 1972, Baltimore in '73 and '74. Two of those series went five games.
Then you look at the amazing Yankees run where they won four World Series in five years. It was an incredible run because suddenly there were FOUR steps. Win the division (or Wild Card). Win the Division Series. Win the Championship Series. Win the World Series. Even great teams need luck. The Yankees did. The Jeter flip (or the Jeremy Giambi non-slide). The Jeffrey Maier game. In 2000, the Yankees won only 87 games — they had the fifth-best record in the American League — but they made it into the playoffs, and they won the World Series.
Then, for the next eight years, the Yankees did not win the World Series. They were almost annually the best team. The Yankees had the best record in the American League in 2002, '03, '04, '06 and '07 (tie) and did not win the World Series any of those years (You can throw in '11 and '12, too). This is the essence of the playoff system. It brings a lot more luck into the game. It basically invalidates the season. It gives the surviving teams a fresh start in a much more volatile kind of tournament. Not one time from 2000-12 did the best record in the American League play the best record in the National League.
So, to win three World Series in a decade the way the Red Sox have, they have needed to win nine postseason series. And in many ways, winning the actual World Series has been the easy part. In 2004, the Red Sox had to come from a 3-0 deficit against the Yankees in the ALCS. In 2007, the Red Sox trailed the Cleveland Indians 3-1 in the ALCS. They roared back and stomped Cleveland three in a row. This year, the real challenge was probably Game 2 against Detroit in the ALCS. The Red Sox had lost Game 1 at home, they trailed Game 2 by four runs in the eighth inning when Jim Leyland went to his calamitous bullpen and Papi hit the grand slam. No slam, it's hard to see the Red Sox winning that series.
More: Cardinals will be back, and often | Ellsbury, Drew take star turns in possible Fenway finales
But they did. Three times in the last decade they got into the postseason and then navigated through. It's a different kind of success from Stengel's Yankees or Koufax's Dodgers. This is what a 21st Century dynasty looks like.
Finally, Bill James. As mentioned, he seems to be the highest-ranking front-office guy — not counting the executive guys like president Larry Lucchino and owner John Henry — to have been around for all three championships. It's hard to say exactly what Bill does for the Red Sox. He's very discreet about it, and he would never take any credit whatsoever for Boston's success. It was funny to see Jonny Gomes, in the glow of winning a World Series, choose to rip sabermetrics — a word Bill James coined — since I'm guessing it was probably some sabermetric thinking that got Gomes to Boston in the first place.
But here's something to think about. A little more than a year ago, when the Red Sox were in the middle of their disastrous season, Henry went public with his complaint that the Red Sox had not listened enough to James in recent years. James is one of the great baseball minds in the history of the game. He has changed the way countless people look at baseball – and other things too. He is constantly questioning what we know, what we think we know, what we should know, what we can't know. In his role with the Red Sox, he does not decide who to trade, who to draft, who to acquire, who to start or how to play. He is just there to ask questions and to be a different voice.
The Red Sox had stopped listening to him for a while, and they fell off considerably. I'm not saying ignoring Bill James was the reason why they went in the tank. But I do think it was a symptom of why. They stopped asking questions because, I think, they believed that they had all the answers.
John Henry announced last year that Bill James would report directly to him, and his voice would again be heard in the organization. Did that make a difference? I suspect people in Boston are too busy celebrating another World Championship to worry too much about it.