BOSTON — In between the third and fourth inning of Game 6, the Boston Police Department issued a statement that the Bars around Fenway Park were at full capacity so, please, don't bother coming down here. Based on what I saw in and around Fenway Park this evening, I am 100% certain that no one heeded that request. There's no moving on those streets down there as I write this, and most of the fans in attendance tonight haven't even left the ballpark yet.
I'd never been to Fenway Park before, but I didn't need anyone to tell me that, in terms of electricity and excitement, what was going on here was something different, something new. But they told me anyway. A writer I know who gets to Fenway often said he'd never heard it this loud or seen it this crazy. A reader who lives in the Kenmore Square area tweeted to tell me that he's been out in the neighborhood this evening and he'd never heard anything like it before. Heck, midway through the game a couple of fans just waltzed into the press box, beers and hand, and decided it'd be a good place to hang out. It was quite the scene.
But that was just the looney stuff. The exuberance that comes after the game is truly decided and everyone starts the long party. It couldn't compare at all to what was going on in the third and fourth innings.
The auxiliary press box was my home at Fenway tonight. It's way out in section 3 of the right field grandstand and is surrounded by fans who bought tickets. And, while all of the tickets for tonight's game were expensive, these are, comparatively speaking, the cheap seats. And as everyone knows, the cheap seats are the loudest seats. I was generally able to hear myself think for the first couple of innings, but then in the third David Ortiz was being intentionally walked and a chorus of boos rained down. Then Mike Napoli struck out. Then Shane Victorino came up:
"Don't worry … 'bout a thing …

"CAUSE EVERY LITTLE THING, GONNA BE ALRIGHT!!!!!"
It sounds moderately cheesy on TV. It is absolutely electric in person.  But that didn't compare a lick to the sound that emanated from the 38,447 in attendance when Victorino smacked the fourth Michael Wacha pitch he saw off the Green Monster. I would say that, an inning later, Stephen Drew's solo homer jacked them up again but that would be misleading because they hadn't yet come down. By the time Victorino came to the plate again — following Jacoby Ellsbury's double and walks to David Ortiz and Jonny Gomes — it was absolute bedlam. When Victorino singled in Ortiz to make it 6-0, the rafters rattled.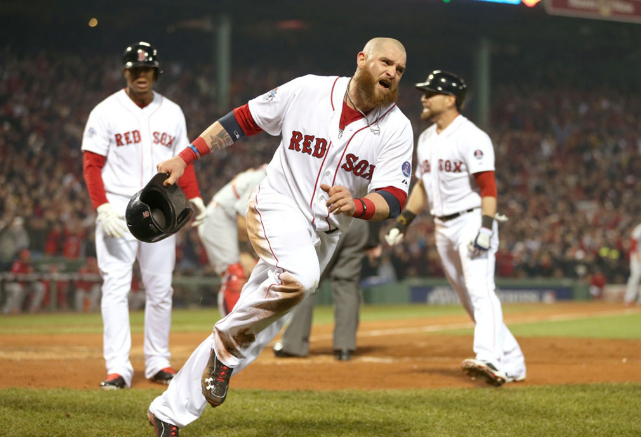 There were still five innings to go, but Boston knew it had its third World Series championship in ten years. And Boston isn't going to sleep until the sun comes up tomorrow morning.