ST. LOUIS — The idea that the St. Louis Cardinals boast The Best Fans in Baseball started during the runup to the 2004 World Series.
No, wait. It was definitely in the 2000 NLCS against the Mets.
Wait, that isn't right either. Clearly it began during the 1998 home run chase pitting Mark McGwire against Sammy Sosa. I am sure of it.
Or is it even older than that? Tony La Russa said it not long after he took over the Cardinals managing job.  Peter Gammons used to say it on his old "Diamond Notes" segments in the early 90s. This thing has been going on for at least 20 years, right?
Actually, the Cardinals have been said to have The Best Fans in Baseball for as long as I can remember. And it's been said long enough and loud enough that we've gone through several backlashes and backlashes to the backlashes of the entire notion. It's to the point now that no one talks about whether the Cardinals actually do have the Best Fans in Baseball. Everyone talks about everyone talking about the Cardinals having the Best Fans in Baseball.
But here's a funny thing about all of it: usually the ones talking about it (and talking about the talking about it) aren't actually Cardinals fans. Indeed, I can't ever remember an actual Cardinals fan claiming to be part of the legendary Best Fans in Baseball, even if many silently — and perhaps a bit smugly — allow the moniker to be assigned to them, all while they maintain plausible deniability. What's more, very rarely does anyone actually ask actual Cardinals fans if they think they're the Best Fans in Baseball and, if so, why.
So I decided to do that before Game 3 of the World Series. I set out from my hotel, walked to the ballpark and stopped as many Cardinals gear-clad folks I could find to ask them what they think about this meme that will not die.
First stop: Bridge Tap House on Locust Street, as I figured real fans would be pregaming with some beer and grub. There I encountered Randy Blackburn, 60, of Omaha and his son Brian, 32 of Denver.
"Absolutely," Randy said when I asked him if Cardinals fans were the best. Why? Because he had lived in between 15 and 20 cities over the course of his adult life and he Cardinals fans were the most widely-scattered and committed folks he's encountered. Brian agreed, though he noted that "In recent times it's been easier to be a Cardinals fan. They're a winning team. They keep players for a long time," he added, noting that it's easier to become a more passionate fan for a player you've watched develop over time.
I left the Blackburns to their lunch and met Dave Doig, 74, of Townshend, Montana, his daughter Kristie McManus, 49, of Great Falls, Montana and her son Tyler Wolf, 26, of San Francisco: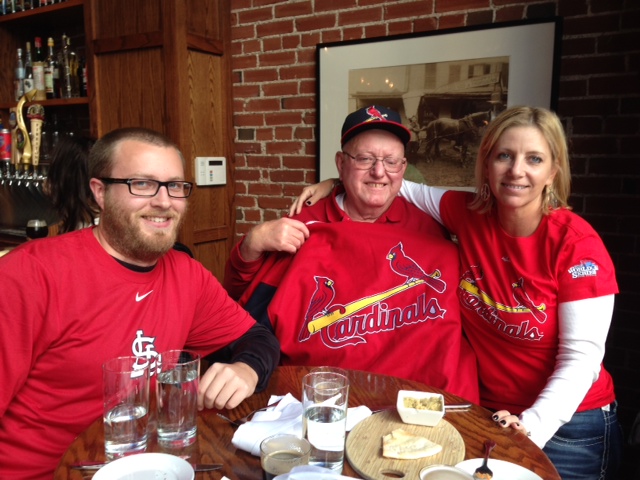 Their answers to the Best Fans in Baseball question? "Yes," Yes," and "Absolutely," respectively. Doig said "they have the best looking uniforms in the game" and cited Stan Musial as reasons why the Cardinals both attract and maintain baseball's best fan base. McManus said "I'm my dad's biggest fan and he's a Cardinals fan, so that's why I love them!"  I looked to her father to see if he blushed, but noted nothing but pride.  Oh, and Game 3 was to be the first-ever Cardinals game Mr. Doig would see in person. It certainly put lie to the notion that the best fans, whichever team they root for, have to have their butts in the seats at the ballpark in order to support their team. Doig has been doing it for most of his 74 years from afar.
Father-daughter love isn't the only basis of strong Cardinals fandom, however. Sometimes it can be passed on from bro to bro: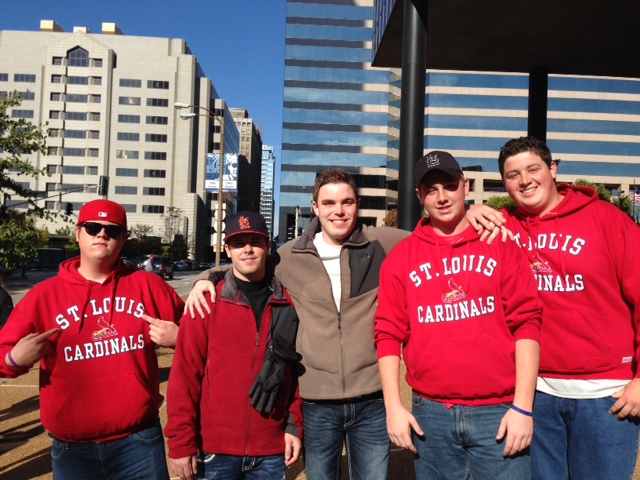 From left to right we have John Nelson, 21, Jim Costello, 24, Wilson Nelson, 24, Patrick Sherlock, 22 and Patrick Nelson, 18, all from Memphis Tennessee. Also from left to right, here are their answers to "Are Cardinals fans the best in baseball" and "why?"
John: "Without a doubt, times ten!" and "We bleed red." Which is a good point. You don't see Rockies fans bleeding black and purple.
Jim told me his reason for loving the Cardinals, but it was 100% totally unprintable even on the Internet. It was outrageously filthy, actually, but in his defense he meant it as a compliment to the fine women of St. Louis. Whether they would take it as such is doubtful, however.
Wilson" "F*** yeah," to the first question. He said St. Louis had the best strip clubs in his experience as well. At this point I was beginning to wonder if these guys were truly here for the World Series.
Patrick Nelson: "You're g***amn right they are." He did not say why, but you can't doubt his commitment to the notion.
Patrick Sherlock asserted: "Best team in baseball, dude." There was simply nothing else to discuss.
Walking away from these lads made me think that maybe, as is the case with every other baseball team, the Cardinals have some fans who are into them simply as an excuse to eat hot dogs, drink beer and party. Which is perfectly fine. Indeed, many worse things than rooting for a baseball team have been perpetrated for far weaker reasons than those. But still, I didn't feel like anything was setting Cards fans apart.
Thankfully, I soon ran into Sam Nash, 53, of Davenport, Iowa, Lorenzo McNamee, 40 of Moline, Illinois and Angie White, 43, of Bettendorf, Iowa, who got things back on a more conventional footing: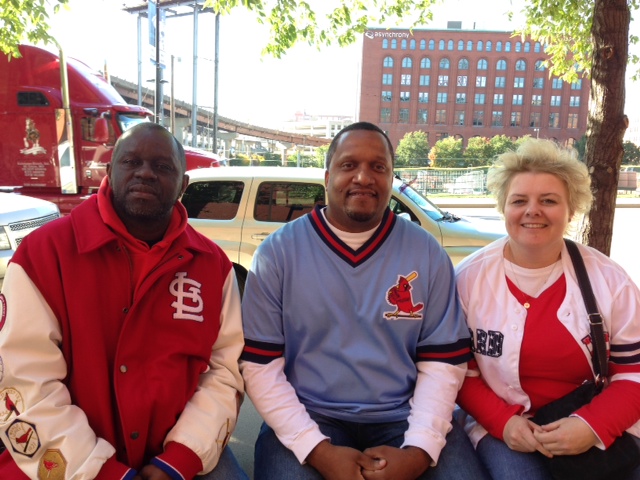 Nash noted that it was hard not to root for a team with some of the greatest players ever. McNamee said Cards fans were the best due to their knowledge and appreciation of their team's history. White summed it up best, though: "We're the best fans because we came all the way from Iowa with no tickets and are here just for a chance to get into the game." Hard to argue with that.
I really enjoyed meeting all of these Cardinals fans, including many others I spoke with but who didn't want to go on record about all of this. Maybe because they, like most of us, realize that for as much fun it is to talk about these things, it's ultimately a silly topic to debate.
Every team has its segment of rabid fandom. Every team experiences moments where enthusiasm peaks and the entire city or region seems to coalesce around the local nine. Usually it's during a playoff or World Series run. But it doesn't have to be. Sometimes that wave of team spirit erupts over silly things like a player's hairstyle. Or a play on a player's name. Sometimes it corresponds with attendance surges, but sometimes not. Heck, even the Cardinals — while always drawing well — have only led the NL in attendance twice in the past 25 years. And as Mr. Doig shows, you don't have to be at the park to be the best fan you can be.
Who are baseball's best fans? It's a question which demands an opinion, not an actual answer. And an opinion that is further removed from data and objective reasoning than most opinions are because it's an opinion about something that is itself, by definition, irrational. Fervor over sporting events which don't truly turn on fan fervor and loyalty for an entity that, by its very nature, is comprised of players who are there by virtue of business dealings and a defacto lottery, not concomitant loyalty. We'd die for them in ways that they'd never die for us. Nor, in our more lucid moments, would we ever expect them to.
But just because it's silly doesn't mean it's phony. Here, in St. Louis, on the streets around Busch Stadium before a game which could prove to be the key turning point in the World Series, these fans are jacked to the max. They put their lives on hold for a night or three — or if they traveled from Montana, maybe more — to root on their guys. And when you see and talk to them you feel like maybe — just maybe — they are The Best Fans in Baseball.
Until you see a fan who put his life on greater hold and traveled much farther to cheer on the visiting nine: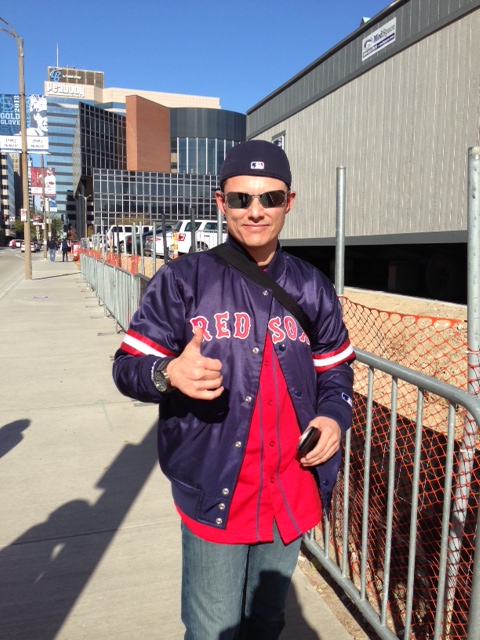 That's Edward Lima. He's a Red Sox fan. He came to St. Louis for the game. From Mexico City.
Best Fans? Everyone has a claim.